Maia Kayser, Lead Animator For Rango
Geeks We Love: Maia Kayser, Lead Animator at ILM
ILM lead animator, Maia Kayserr, sat down with me last week to give us an inside look at the making of Rango, and while it seems that this particular project was unique in the way it was made, the life of a feature film animator is one that requires a lot of skill, patience, and a good sense of humor.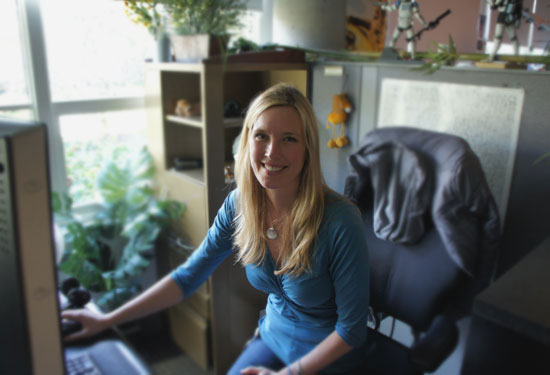 Maia was first interested in studying medicine, but after seeing Jurassic Park, she was turned on to a career in animation: "I was really fascinated with the idea of making something look so real, basically giving it life on the screen." So she headed to school in Germany to study computer arts; 10 years and 14 films later, Maia got the chance to head up the animation team for the character Beans, and says that Rango has been the most fulfilling experience of her career thanks to the solid relationships that have developed between team members. Find out what she has to say about becoming an animator, "cartoons" for adults, and whether or not ILM will be working on more animated films in the future after the break.
How do you think the scale of men versus women in animation is tipping these days?:
Maia Kayser: "I've been noticing that now, more and more women are getting into it. It used to be a lot more men; for whatever reason it attracted more men. It's a very creative thing, so you'd think that it would attract women as well. But seeing classes and schools, there's a good mix of men and women now. It requires a lot of patience, and a lot of work, but it's so satisfying to see these characters come to life on the screen."
What's the job like? Do you spend long hours in front of the computer?:
MK: "You definitely get into your crunch time. In the beginning, it's more normal 9-5 or 9-6, but then crunch time will hit and we'll be working overtime to make sure that we meet our targets and be able to deliver on time. Usually in visual effects the crunch time comes in the last month or two but for Rango, we'd get busy, then it would calm down a little bit. It was more like a wave."
What's the main difference between working on an animated feature versus special effects shots?
MK: "It's very different. It's like comparing apples and oranges. It's very different in the sense that live action you're actually matching to the live action plate, and trying to synchronize to try and make it look real. In animated features, there's more freedom because all the actors are animated. In an all CG environment, the more you can "cheat." There's more freedom."
Do you think the 3D trend will last?:
MK: "I'm excited about it. I don't know if it's going to last, since I don't know if people are always going to want to watch the movie with glasses. I'm not sure, but I think at the same time it's exciting; some movies are coming out in 3D and are looking really good. The other thing is that, technology is changing so much right now, and it's evolving, and you don't really know where it's going to be headed. I'm curious to see how it's going to pan out. It's an exciting time."
Animations aren't just for kids anymore, right?:
MK: "Animated features seem to be a big thing right now. If you think about it, 15 or 20 years back, you didn't really see animated movies. And the thing I love about Rango is that it's an animated movie for adults, mainly. I really like that."
Do you think we'll see more animated features coming from ILM in the future?
MK: "We so hope so! The idea that we could do visual effects and animated features [at ILM] would be wonderful. We all had such a good time. For me, it was one of the best experiences of my career. I think most animators really love character animation, so we're all really hoping that there will be more. Fingers crossed!"
What kind of advice do you have for men and women looking to get into a career in animation?
MK: "I think the most important thing is to never stop learning and growing. Set your standards high and go after them without giving up. As an artist, always seek for growth because there is no end to your education. Being an artist should always be a learning curve, and that way you'll only get better. Allow for creative risks and experimentation and learn from the process."
Have you seen Rango yet? I loved it! Check it out in theaters now, and don't forget to take a look at the rest of our coverage with a few highly entertaining behind the scenes videos and facts you may not have known about from the making of the film!