The New-Baby Expenses No One Told You About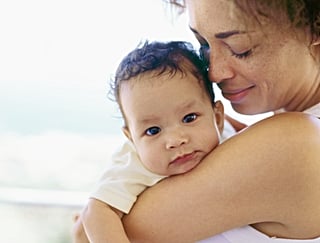 We're thrilled to present this smart LearnVest story here on Savvy!
A new baby brings all sorts of surprises . . . one of them will probably be how many unplanned expenses pop up in the days and weeks after your new son or daughter is born. An even bigger surprise? The amount of money you're going to spend on yourself after the delivery, not necessarily on your new little bundle of joy.
The best way to prepare for this financial challenge is to make ample room in your budget to cover at least some of the items below. Consider this a rundown of what to expect to spend when you're expecting.
Anything But Hospital Food
Hospital food isn't the best, and you'll quickly realize that you don't have to eat it. From then on, you might expect a takeout bag every time a visitor leaves the hospital. But those morning egg sandwiches and evening trays of sushi that you can finally eat again do add up. Two or three nights in the hospital can set you back $50 to $75.
Getting Out of the House
Being on maternity leave feels kind of like being on vacation (except for the lack of sleep and crying baby). You will have a lot of free time, and after a week or two of adjusting, you'll need to get out of the house and find things to do.  You might want to meet friends for lunch and see some grown-ups. You also might want to go for an early evening drink or even dinner with your spouse since the baby sleeps in public right now, and it won't always be like this. Try budgeting $25 to $50 a week in pocket money for small outings.
Read on for more baby expenses.
Made-For-Nursing Tanks, and More
If you're planning to nurse you'll want some of the gear that's designed to make it easier, like nursing tanks and tops. These will set you back anywhere from $20 to $60 a pop.
Even if you skip the made-for-nursing fashions, you won't be ready to wear your pre-pregnancy clothes for at least a couple of months. But you will be more than ready to ditch your maternity clothes.
Shop for a few versatile pants, skirts and tops to get you through the next few months (button-up shirts are handy). And make sure you pick items you can wear out and about, not just around the house. Even keeping your shopping to places like TJ Maxx and Target, this could quickly add up to $100 to $150, or a little more if you're returning to work.
Body Before Baby
When a month or so has gone by and you aren't back to your old self yet, you might start contemplating exercise classes or a trip to the gym.
Fitness activities like Strollerstrides, Baby Boot Camp or mommy-and-baby classes at your local yoga studio can cost anywhere from $12 to $25.  These activities can help you meet other moms and show you how to get back into shape safely. Keep your budget in check by mixing them up with naptime workout DVDs (try Netflix if you already have an account) or walks around the park with your stroller.
LV Tip: The BellaBand that helped you get a few extra weeks out of your clothes at the start of your pregnancy will help you get back into your jeans a few weeks sooner, too.
Baby Extras
And then there's the baby. No matter how great your baby shower was, you are probably going to wind up scrambling for something. Your son might quickly outgrow the newborn diapers you stocked up on, or your daughter will hate her bouncy seat but sleep like an angel in her cousin's swing. And there's a good chance the stroller or baby carrier that seemed ideal in the store won't work for you after all.
LV Tip: Before heading out to the store, troll Craig's List, Freecycle or your local parenting website for used baby equipment and even things like unopened diapers or formula packets.  We found a stroller frame for our car seat for half of what it would have cost new.