Obama's Jobs Plan
Jobs and the Economy: What to Expect in the Next 4 Years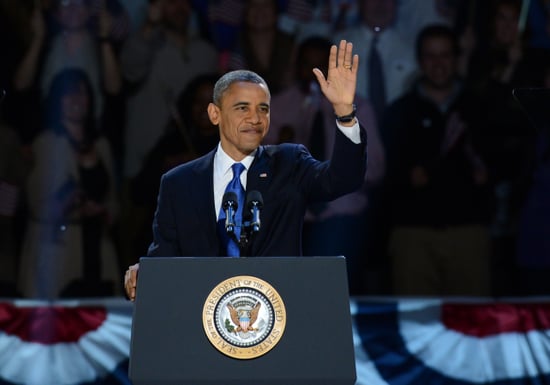 The election may be over, but now the hard work starts — or in this case, continues. President Obama has had the tough job of reviving an economy that's the worst the nation has seen since the Great Depression. And while more than 12 million Americans remain unemployed, numbers are starting to improve. In the spirit of the president's reelection last night, let's take a look at what the next four years will look like under his plan for taxes, job creation, and the national debt.
Jobs
"We can help big factories and small businesses double their exports, and if we choose this path, we can create a million new manufacturing jobs in the next four years," Obama said in his 2012 Democratic National Convention speech in September. That plan seems to be working, albeit slowly. In October, manufacturers added 13,000 jobs after getting rid of 27,000 in August and September.
Through his plan to promote green energy, Obama said he could create more than 600,000 new jobs by the end of the decade.
Something he echoed throughout his 2012 campaign, Obama promised to get rid of tax breaks for companies that outsource jobs overseas; he's also said he will provide incentives for companies so they have more money to hire from within the US.
When it comes to job training, Obama has pledged to put $3 billion into helping nearly 22 million workers.
Taxes
Although in his first term he renewed Bush-era tax cuts for upper-class Americans as a compromise with Republicans, Obama now promises to increase those tax rates. Individuals making over $200,000 should expect higher taxes, as should people making more than $1 million, who will be expected to pay a share of 30 percent.
Obama doesn't want the rest of Americans to experience any tax increases; he is also trying to make tax breaks for lower-income Americans more permanent.
The National Debt
By strategies like increasing taxes on the wealthy and ending the wars in Iraq and Afghanistan, Obama plans to cut the national deficit by $4 trillion over the next 10 years.