Pros and Cons of Family Style Wedding Dinner vs. Plated
Ask a Savvy Bride: The Plated or Family-Style Dinner Debate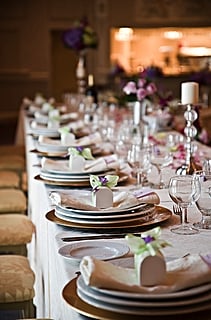 Are you planning or attending a wedding and need help with a finance or etiquette question? Ask for help from our Savvy Bride in our Ask Savvy group.
Dear Savvy,
My fiancé and I can't seem to agree on how we want to serve dinner at our wedding. I'm leaning toward a traditional plated sit down dinner, but he's pushing for family style. What are the pros and cons to each, cost- and experience-wise, that we should be considering?
To see the Savvy Bride's advice, read on.
Savvy Bride says:
The first things I'd consider are cost and the overall tone of your wedding. Once you find your caterer ask for the cost of each, then weigh them side by side. If you're going the fancy route, family style might look a little out of place just as a plated meal would feel awkward at a very casual affair.
One pro of having a plated dinner is that everyone at your table gets their food at the same time. It's elegant, the portions are controlled for you, and it's more traditional. The cons, however, are that guests can't easily get seconds and one table might be finished eating before a nearby table even gets served, which can be pretty irritating, especially if you're the table waiting!
As for family style, let's start with the cons. Having a large platter of food placed in the center of the table can get messy, the plates are difficult to pass, it can be hard to serve, and there could end up being a lot of wasted food. With that said, if you're looking for a relaxed, casual environment, where guests have more control over their meals and maybe even some leftovers, family style might just be perfect for you!
On a personal note, when I was trying to make this exact decision, my caterer told me it was going to be more expensive to serve family style because of the extra amount of food they needed to make and the labor of wait staff serving off the main platters on the table (they were opposed to self serve), so be sure to ask questions regarding the cost comparison.
This is a very personal decision that will set the tone of the meal, so weigh your options and hopefully you can agree on what's best for you and your guests. Good luck!
Ask anything budget-, etiquette-, or planning-related — well, almost anything — by posting your questions in the Ask Savvy group, and I'll find the right expert to help you out.
Source: Flickr User bensonkua