Rise in Harassment By Debt Collectors
Debt Collectors Are Getting Desperate and Dirty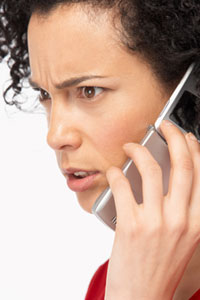 The bad economy isn't just affecting consumers struggling with debt; it's making debt collectors more desperate, too. According to the Federal Trade Commission, complaints about harassing phone calls from debt collectors increased by 50 percent last year, and will continue to rise this year.
What kind of harassment, you ask? Keep reading to find out.
In addition to repeated phone calls (which are kind of a debt collector's MO, aren't they?), reports of late-night calls, obscene language, and threats of violence, jail time, and job loss have all risen. Yikes.
Interestingly, a separate study shows that Americans are more on top of their credit card bills than they've been in years — so why the rise in aggressive debt collectors? One industry representative says consumers are simply complaining more often, and realizing it's easier than they thought to sue collectors for harassment.
Have you ever received threatening calls from a debt collector?