Should I Use Credit, Debit, or PayPal When I'm Shopping Online?
Web Shopper's Dilemma: Credit, Debit, or PayPal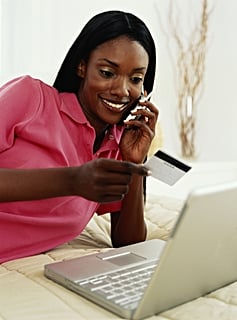 You're about to purchase that lovely dress you've been eyeing online, but when you're checking out, you face a dilemma — should you pay by credit, debit, or PayPal? It's the age-old question of online shopping, and the worry of having your identity stolen can eat at you. Turns out, if someone has used your account illegally, you're more like to get your money back with a credit card, because it offers the best legal protection for shoppers. The New York Times says:
"The strongest protections are when you pay by credit card," says Carole Reynolds, a senior lawyer at the Federal Trade Commission. Under the Truth in Lending Act, consumers' maximum liability for unauthorized use of their credit card is only $50, and when a card is used online, it's zero.
The catch is, the refund of your money will go smoothly for all three if you report it immediately. In the case of debit cards, there's a law that protects consumers against identity theft, but the protection wanes off after a while. There are set deadlines of reporting fraud for debit cards, and if you miss it, you'll encounter a huge tangle when you're trying to get your money back. The same goes for PayPal, and according to the New York Times article, you'll have the hardest time getting your money back from PayPal. The lesson to learn in this is to always be on top of things during money transactions and carefully monitor any suspicious behavior. I'm curious, which method of payment do you prefer, and why?