Speaking Up at Work
Do You Make It Happen, or Wait For Someone Else To?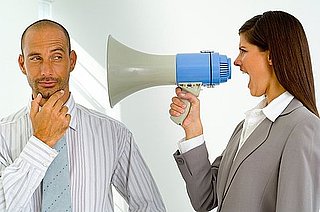 A few weeks ago I was offering some solicited career advice to a good friend, who is five years into working at her dream firm but routinely suspects her efforts are being ignored by her manager. While she is quick to complain to friends and family (heck, aren't we all?), we ended our conversation with her realizing she needs to initiate a careful conversation about her concerns with her manager or else continue to suffer in silence. The notion of taking personal responsibility for professional happiness and success is echoed in a recent New York Times piece. The interviewee, a successful businessman, noted:
If you're in a difficult situation, you have to make something happen rather than sit back and feel sorry for yourself.
When you are bummed about a career setback or stump, do you "make it happen" for yourself, or do you wait for your manager or circumstances to change?