Stay-at-Home Dads Talk Breadwinner Wives
Stay-at-Home Dads Talk Breadwinner Wives, Leaving the Workforce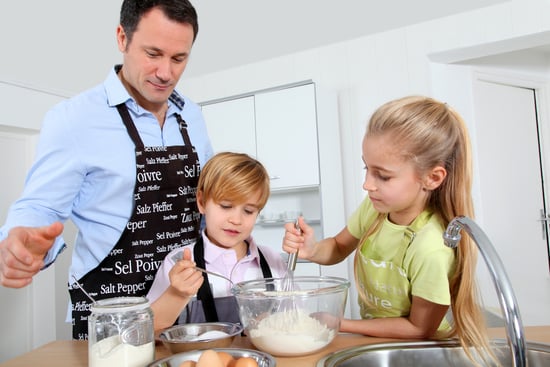 With so many interpretations of the "modern family," the stay-at-home dad is becoming a more talked-about role. In fact, statistics show that house husbands are gradually on the rise. According to the census, 32 percent of married fathers in 2011 were primary caregivers of their kids. That's up from 26 percent in 2002.
The topic of house husbands surfaced again in the media when results of a recent Pew study revealed that 40 percent of households with children under 18 have mothers who are the sole or primary income provider for the family.
Just who are the great men behind these great women? I talked to two stay-at-home dads who shared what it was like to leave their careers behind and how they deal with being married to women who are the main providers in the family. 
Pat Byrnes, 53, Chicago, IL
Married to: The Illinois Attorney General
Kids: Two daughters, ages 5 and 8
Byrnes was a guy who wore many professional hats before taking up the role of a stay-at-home dad. The blogger at Captain Dad is a self-described "former aerospace engineer, ad copywriter, voice actor and comedy writer, and performer who had always wanted to be a cartoonist." His dream of becoming an illustrator was finally taking off when he first became a dad, but he knew that "something had to give."
Read on to see what he has to say.
How did the idea of becoming a SAHD come about? What is life like for your family?
"There was literally no discussion — or protest — about who would stay home with the baby. I worked at home and made my own hours; my wife ran a big office. When we got married, we had agreed that we would not do things 50/50. The only way things would work if it was 100/100. So I churned out cartoons while the girls slept or, later, went to school, and the kids consumed every other waking moment. My wife would race the Chicago rush-hour traffic at the end of each day to help me survive the remaining few hours until the kids were in bed. Then she and I would finish any lingering work we may have before shutting our own eyes. And so it continues. The trappings may look different compared to other families, but in any important respect, it's no different from what goes on in any home with kids."
What was it like leaving the workforce?
"As a freelancer, mine was a slow fade from the workforce rather than a quick cleaning out of my desk and turning in my ID badge. I still published and illustrated a few books and produced a handful of advertising illustrations — at first. But the constraints on my time and schedule, particularly after my second daughter was born, made it increasingly difficult to field phone calls, let alone to meet deadlines. So I had to try to keep my visibility alive with cartoons alone. I am still hoping that as long as I still turn up in The New Yorker now and then, few will notice that I have massively scaled back my hours.
"I have a book that came out only a couple weeks ago, which I am hoping will serve as a loud reminder that I'm still around. It is called Captain Dad: The Manly Art of Stay-at-Home Parenting. With that title, it should also explain my diminished professional presence to anyone who has cared to notice it."
How does it feel to have a breadwinner wife?
"I am a huge fan of my wife. So huge that I have to restrain myself from bragging about her to passersby. Thank you, by the way, for feeding me this opportunity. She is a fundamentally good person. And I am gratified at how readily people apprehend that about her from the work she does as the Illinois attorney general. My taking the more hands-on role in raising our children is the only thing I can do that can compare to the importance of her work. So I am proud of what I do at home, because letting my wife do what she does so well is my way of making this a better world."
What's next for you?
"In just over a year, my younger daughter will be in school full-day. I will have six-and-a-half hours to work, five days a week for most weeks. I am not sure how long it will take to resurrect my career. My industry has changed so much in the decade I will have been withdrawn from it. It won't be easy, but it was necessary. Kids are what perpetuate human life on Earth, not careers. And they give back a greater sense of achievement. As for my career or what's left of it, I should take the advice I'm always giving my kids: whatever the case, it will be an adventure."
Chuck Vitello, 40, Morrisville, NC
Married to: A marketing executive
Kids: One son, age 7
Vitello, who blogs for StayAtHomeDadBlog.com, started out as a science and math high school teacher before transitioning to an office job at a science catalog company. It was a segue into the marketing field, and he worked his way up the ranks before leaving his full-time marketing job to become a stay-at-home dad. 
How did the idea of becoming a SAHD come about? What's life like for your family?
"My wife and I both had good careers. Once our son was born and maternity leave was over, we put our son in day care. . . . We realized after a couple of months that we only see him for an hour in the morning and an hour or two in the evening. On weekends we were consumed with errands, shopping, [and house chores]. We realized that this was no way to raise a child. We wanted to be there for him. . . . We wanted to be parents that raise their child by themselves, not by a nanny or day care. Since my wife's career was more advanced than mine and she made enough money where we could get by with some 'cuts' around the house, we decided that I would stay home and raise our son, do the [errands and chores], so when my wife gets home from work, she only needs to focus on our son.
"Our weekends were wide-open family time, since I was able to get everything done during the week. I love being a stay-at-home parent. I see a major difference in kids who have parents that stay home — from attitude, behavior, and development. I feel even more strongly in being a stay-at-home parent now than when I started. I see all of the good it has done for him and our family over the past seven years. I think we are a stronger family because of it."
What was it like leaving the workforce?
"Throughout my stay-at-home career, I picked up small marketing consultant jobs here and there to keep my skill set up to date. This upcoming Fall, when my son is back to school, I am considering working with recruitment firms to find part-time contract work in a marketing support role for companies that need an extra hand completing and managing projects.
"At first, I didn't miss working since I was so busy at home. But now that my son is in school, I have more time to get things done, and some of the downtime can be filled with 'paid' work. I look forward to some additional adult interaction come this Fall." 
How does it feel to have a breadwinner wife?
"It was a little strange at first. All generations before me had the male making the money and wife staying at home. So I felt that some people, when they found out I was a stay-at-home parent, had this internal disapproval while externally nodding their head and saying niceties out of discomfort. I don't know why it made people uncomfortable. It is a job, after all — just not a paying one. I suppose anything outside of the norm makes people instinctively uncomfortable. Now, it doesn't bother me at all that my wife is the breadwinner. I am proud of her career accomplishments and that she, too, is a modern-day pioneer in breaking stereotypes. She is a female executive crashing through that glass ceiling!"
Any misconceptions you'd like to clear up?
"A male can be just as loving and nurturing as a female. All men are not child-raising buffoons. We can change diapers without making it seem like toxic cleanup, we can cook dinner without burning down the house, we can do grocery shopping without buying everything from the frozen dinner aisle, and we can dress our kids without putting the shirt on backward or mixing plaids and stripes!"