Things to Do When You're Laid Off
Money Scare: 5 Things to Do When You're Laid Off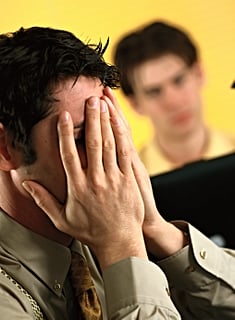 In the spirit of Halloween, we're addressing the many different scary financial situations people will face if they're not careful or if luck just isn't on their side. Yesterday, we talked about bankruptcy, and today we're addressing what to do when you're laid off. Read on to find out how to protect yourself.
Bring these items with you: Don't get so upset over your soon-to-be unemployed status that you forget to bring these very key items home. Back up a list of your contacts and get a layoff letter from your employer so processing will go smoothly at the unemployment office. Also remember to collect your last paycheck and have your boss write you a recommendation letter.
File for unemployment: Contact your State Unemployment Insurance Agency ASAP after you've been laid off. In many states, you can now file over the phone or online. Make sure you give complete and correct information of things such as addresses and the dates you were employed so your claim won't be delayed. For more information, visit the Department of Labor's website.
Update your LinkedIn: It's natural to want to hide your laid off status from the world, but make sure you're not doing that on LinkedIn because it may hinder your job search efforts. Do things like reach a 100 percent on your LinkedIn, craft your headline to reflect your new dream career, and create a robust summary that describes your skills and achievements. Be sure to add in a sentence like, "Actively pursuing chief administrative officer or chief human resources officer role in a dynamic, collaborative environment," to show viewers what type of position your seeking.
Read on for more tips.
Restructure your life: Being unemployed doesn't mean it's time for you to veg out in front of the TV all day, watching reality show reruns. Employ a rigid schedule in your life, wake up early and treat job searching as a full-time job. Volunteer your services during your downtime because it will be a good filler for your résumé and make it a goal to arrange at least one meeting a week.
Stay positive: It's good to have a positive outlook during your job hunt, because negativity will just bring you down. Read up on inspiring career stories on people who came from humble beginnings like Oprah Winfrey, or reread our Chronicles of a Job Hunter series, in which an anonymous blogger shared the intensely private details of what it's like to be unemployed. Surround yourself with friends and don't be shy about asking them for job search support. Keep yourself busy and keep your head up — there's nowhere to go but up from here!