Tips to Help Your Morning Routine
5 Little Ways to Freshen Up Your Morning Routine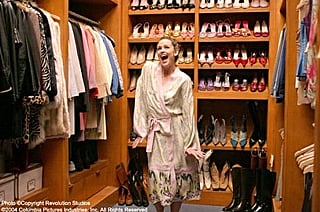 Monday, Monday, can't help that day! I know, heading back to work can feel like a drag, but dragging your feet isn't likely to help kick start your day, and lagging behind can leave you with a mountain of to-dos by the time you call it quits. So, let's start the morning off right. There are a few easy changes you can make to your morning routine that might just make you more productive by the time you sit down to tackle your a.m. emails.
Start your morning playlist earlier: You might already have a go-to morning jam, but maybe it's time to mix it up. Pick your favorite song, maybe even the one you were dancing to Saturday night. Hit play on your iPod or computer before you hit the shower — don't wait till you're headed to the bus or car — and by the time you're out, you'll already be getting in the groove.
Make breakfast at home: A lot of us grab our breakfast grub on the go, but if you wake up a little earlier to chef up something easy and delicious, you'll be leaving home happier — and more awake too!
Start the commute earlier: If you can, try setting the alarm just a little earlier. Instead of heading straight to the bus or train right away, catch some fresh Summer air and walk part of the way. You'll get your metabolism going, and endorphins flowing, plus a little mood boosting before you get to the office.
Brighten your morning with the rest of my tips after the jump.
Make a morning coffee date: It can be hard getting together with friends during the week. Why not play catch up over a quick morning café? Chatting with a good friend is sure to get you in good spirits before you head to work.
Tidy up: Making up my bed and my room before I head out for the day never fails to energize. It's a small task, but just the extra effort of making things neat before I leave my place for the day gets me going — and always feels great to come home to!
Have any of your own tips that help fight the Mondays? Be sure to share below!