Their Wedding Registry Is Out of Our Price Range
Ask a Savvy Bride: We Can't Afford to Buy From Their Registry!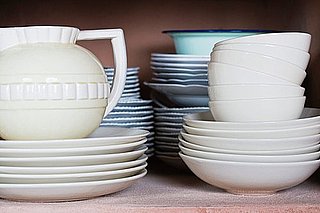 We all know that being a guest at a wedding can be expensive, especially when the bride and groom have an expensive registry. If you've had a hard time finding a gift in your price range, weigh in and offer your two cents on Callie's question below. You can also submit your wedding-related finance questions in our Ask Savvy group.
Dear Savvy, My husband and I are attending a friend's wedding this Summer and their registry is chock full of expensive items — things well out of our price range. The groom is a fraternity brother of my husband's and we've only met the bride-to-be a few times so I'm having a hard time justifying spending over $200 for a wedding gift. I know most couples don't like receiving gifts they didn't register for, but can we make an exception this one time?
Not to be Cheap Callie
To see what a savvy bride has to say about this, keep reading after the jump.
Savvy bride says: While one would hope that brides and grooms would register for things people can afford, unfortunately they have free rein when it comes to picking the items they want for their future as husband and wife. With that said, those who don't think about other people's budgets could be doing themselves a huge disservice. I happen to agree that $200 is a lot to spend on a couple you're not that close to, so my advice would be to absolutely purchase something that is not on their registry. So they aren't stuck with something they really don't want, get your gift from a store where they are registered so they can exchange it for something else if they decide to go that route. I'm sure you're not the only guest who feels this way so just do what you can — buying them a gift they aren't registered for is better than not buying them a gift at all!
Ask anything budget-, etiquette-, or planning-related — well, almost anything — by posting your questions in the Ask Savvy group, and I'll find the right expert to help you out.