What to Do When Filing For Bankruptcy
5 Steps to Take When You're Filing For Bankruptcy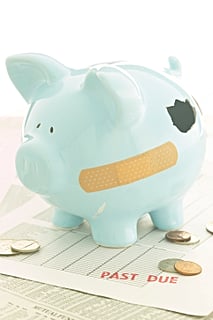 Bankruptcy may sound scary and it should be. Filing for it should always be looked at as the last resort. It's a difficult and emotionally exhausting process, which requires the aid and expertise of an attorney. The legal costs can run up to thousands of dollars, and the effect on your credit score is quite damaging. Read on to see if bankruptcy is right for you.
Alternatives to bankruptcy. Are you really all out of options? You need to have given some serious effort to paying off your debt. Make sure that you've tried to lower the interest rate of your debt or negotiate better terms. You can also seek help from a credit counselor. Greatly downsize your living expenses with a smart budgeting plan and find ways to earn extra money.
Know the ramifications. Your life isn't going to be one clean slate after filing for bankruptcies. You'll still be responsible for some debt like student loans and tax debt. Although you filed for bankruptcy, anyone who you cosigned or guaranteed the loan with is still obligated to pay and may even have to pay off the debts you're off the hook for. Your credit score will be greatly damaged for years, which means that it'll be very hard for you to take out loans and the interest rates will be very high. You can also face problems when getting a new job since a lot of employers now request a credit report from potential hires.
Gather documents. You need to start gathering financial documents together for your lawyer. Get a hold of records of your debt, which includes credit card bills, unpaid medical bills, loan statements, and more. Find documentation of the assets you currently hold and monthly income statements. Your attorney will help you figure out what else you need.
Read on to find out more.
Seek help. Filing for bankruptcy is a complicated process and definitely something that you don't want to make mistakes with. Find good professional help to walk you through this process. Bankrate recommends asking for references from legal professionals, not settling for the cheapest option, checking certification, and spending a day at your local bankruptcy court to see what kind of lawyer might suit you. You should also make sure you're asking prospective lawyers the right questions.
Work to build up your credit and better habits. You need to make sure that you won't fall back into the same bad habits. Educate yourself by reading up books on personal finance and start visiting sites like SavvySugar, LearnVest, or Wise Bread, to develop a smart saver's mentality and to learn how to live within your means. Get a secured card or personal loan to start building up your credit, but remember that you might have to wait a while before you'll be approved of a secured credit card.
Do you have any advice for people who are filing for bankruptcy?