What Hiring Managers Won't Tell You
Shhh! 5 Secrets Hiring Managers Aren't Telling You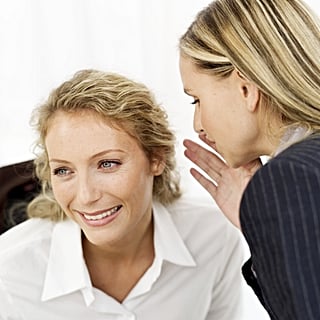 Job hunters get the short end of the stick during interviews — the hiring managers hold all the cards, and if you don't get the job, you're left wondering why. Sometimes going over the interviews countless times can be frustrating and will harm rather than help. Instead of beating yourself up over a job you didn't get, use it as a chance to hone your interviewing skills for the other available job positions. A friend of mine, who helps with the hiring process at her company, recently shared some of her interviewing experiences with me. Here are some secrets that interviewers are holding back from you:
It takes 10 minutes. It's sad but true. Most employers have already decided in their minds within the first ten minutes if you're a no-go or if you have potential. The first few minutes are very crucial so be sure you follow good interview protocol, such as arriving early for the interview, but not too early, dressing for the part, and showing enthusiasm.
You'll get a generic rejection response. They won't really tell you the real reason you didn't get the job, because it's just customary not to. They may be too polite to tell you that you actually don't listen very well and cut in when they're still talking, or maybe your answers don't seem very genuine. It's not likely that you'll find out exactly what you did wrong from them so it's important to find out on your own. You can perhaps do this through mock interviews with your friends. If you've already been doing that with your peers before the interview, try a new set of people to practice interviewing with. They might give you different feedback.
Read on for more secrets hiring managers won't tell you.
Yes, your experience matters, but poise and genuine interest are really important as well. My friend says the two key things that an interviewer gravitates to is how the candidate carries herself and how genuine her interest and enthusiasm is for the company and position. More qualified candidates are being passed over all the time because they don't have these qualities. Hone this area by attending networking events and doing more interviews. Take a video of yourself to see how you carry yourself during a mock interview.
Even if we get along fabulously, it doesn't mean you're a shoo-in. My friend tells me that even though she gets along great with certain interviewees, and her colleagues can hear her laughing up a storm, it doesn't mean that the candidates will get the job. Don't get too comfortable with the interviewer. Don't focus on giving her a good time. Instead, it's important to try to impress her and make her think that you'll be an asset to the company.
There is such a thing as following up too much. Don't overwhelm the hiring manager with a continuous flow of emails. Send your thank-you after the interviewing, and call or email for an update about two weeks later. Being too persistent will come off as being naggy, which will annoy interviewers.