Who Buys McDonald's
The Ridiculously Rich Want More Fast Food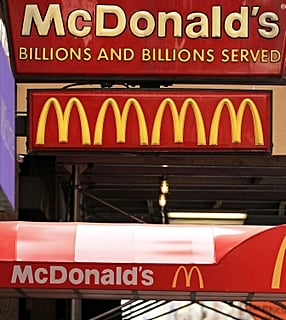 They're loving it! The mega rich can dine in the finest restaurants and sip on the most extravagant wines, but apparently all they want is a good ol' cheeseburger. Or at least, that's the trend we're seeing now as the result of the recession.
According to a study by American Express, "ultra-affluent" customers have increased their fast food budget by 24 percent, reports The Wall Street Journal. In comparison, the rest of the firm's US customers increased their junk food spending by only eight percent. The "ultra-affluent" category includes people who spend more than $7,000 per month and earn a certain income level.
Keith Gutsell, an IT risk manager at a Chicago bank, says eating these quick service meals helps him feel more thrifty. "Subconsciously, I think I'm saving money by spending less on food, but my spending somewhere else must be going up, because the amount on my credit card is not going down," he says.
Although eating cheap meals on the go will save them big bucks now, it will result in higher medical bills in the long run. Have you been consuming more fast food to save money like the fabulously wealthy?