Who Is Kat Hantas?
How 21 Seeds CEO Kat Hantas Created a Business From the Perfect Cocktail
Kat Hantas is a perfectionist when it comes to her drinks. As she says, "Something less than perfect is not worth the calories." Her love of a well-mixed drink inspired her to start infusing tequilas with cucumber, citrus, and any other simple ingredients she had at hand in her kitchen. It was not long before her friends were trying it and asking for their own bottles, and that is when Kat knew she had made something special.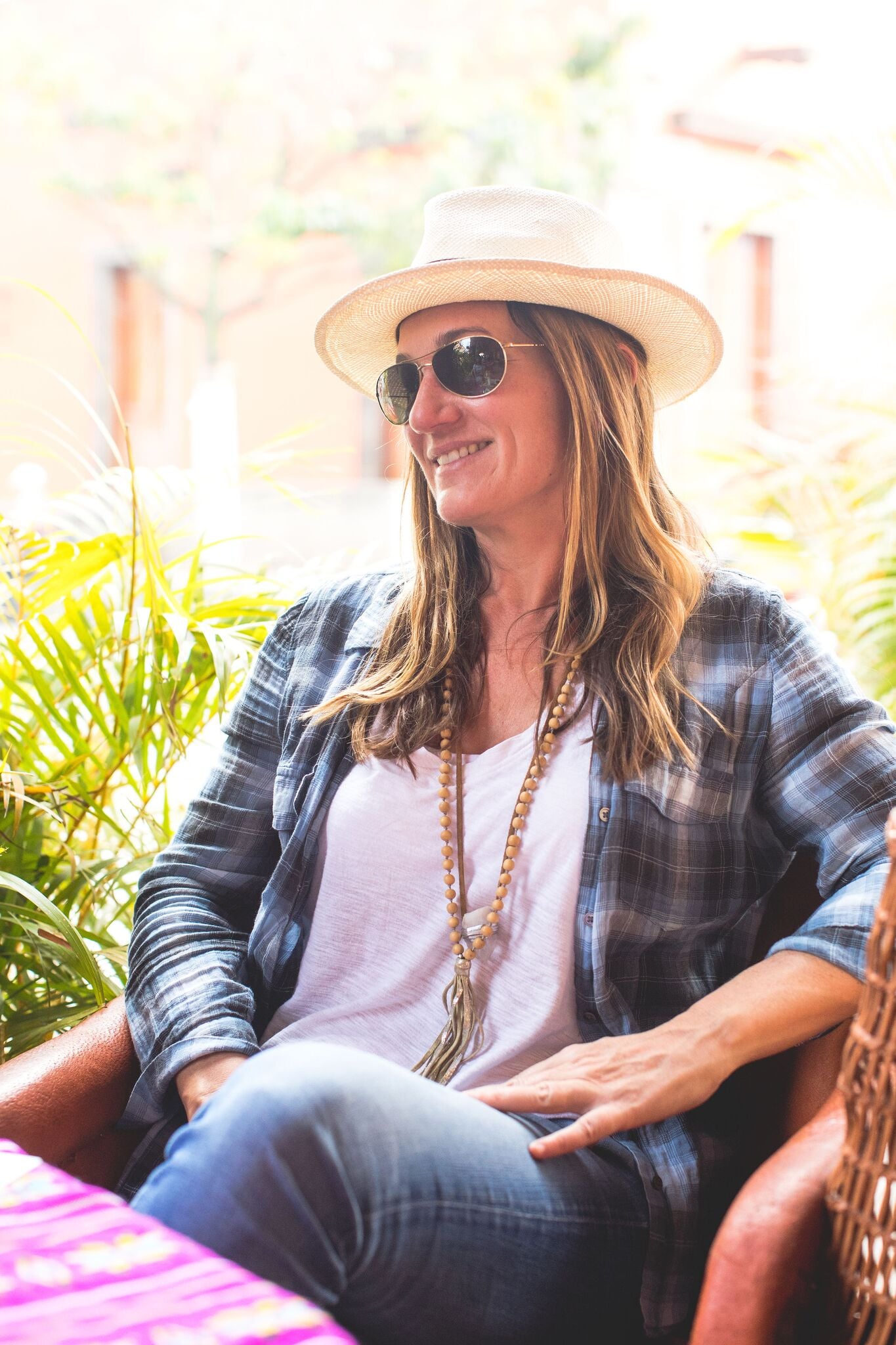 Partnering with her sister and her best friend, they created 21 Seeds Tequila, a company that infuses fresh ingredients into their tequilas with flavors like grapefruit hibiscus and cucumber jalapeño. Keep reading to find out more about Kat, from what inspired her career to the feel-good music that helps her power her happy!
Power Your Happy Q & A
What advice would you give your 22-year-old self?
It's OK to admit you don't have all the answers. I wish I had found a mentor in my early career. I was afraid to ask for help for a couple reasons; all wrong. I now know that there are plenty of people out there that want to help, you just have to ask them. No one is going to volunteer to do anything for you, and that's OK; that's just the way it is. But if you ask, you may not get the answer you want the first or fourth time, but you will find a yes out there somewhere.
What talent or passion have you been able to use in your career in an unexpected way?
I have a great talent for creating cocktails that people find exceptionally delicious and balanced. I just don't like to drink cocktails that aren't perfect, so it only makes sense that I hold myself to the same standard at home. And that, I guess, is where it all began. I care about it all. The temperature, the amount of ice, the balance of flavors. I now own an all-natural real-fruit-infused tequila brand, 21 Seeds, that allows me to tinker and make perfectly balanced cocktails for our website so you guys at home don't have to think about it ,and simply enjoy!
When did you realize you were on the right path, either for this current project, or in general?
Whenever I start to worry about losing what I've got, I know I am onto something, from finding my husband to having my kids to now starting 21 Seeds. There is a certain level of anxiety that kicks in whenever I am really happy with either my family, my friends, or my work — a little voice inside that says, "Man, I really don't want to lose this feeling right now." That's when I know I am where I need to be.
What does "finding your happy" mean to you? Do you feel you've "found it"?
To me, finding my happy is something I do as many times in a day as I can. It's not a destination. It punctuates my day throughout my day. At the end of the day, I take stock: "Did I have more happy moments than sad ones, anxiety-filled ones, forgettable ones?" If the answer is yes, I know I am winning.
Speed round: What powers your happy​​?
Music, I have it on all the time like a soundtrack to my life. It can change a bad mood; it enhances a good mood; it cements memories for a lifetime. I often communicate with people by sending them songs.
Guilty pleasure?
Doughnuts. I'm obsessed and look for any occasion to create a doughnut moment.
Favorite curse word?
F$&k.
Happy place?
Drinking a Spicy Skinnyseed Margarita in my rocking chair on my back porch in our old farmhouse in the Hamptons watching the sunset in the summer.
The one thing you can't leave home without?
My phone.
Favorite junk food?
French fries.
Favorite healthy food?
Sushi.
Favorite workout?
SoulCycle.
Favorite splurge?
Real estate.
Feel-good music?
"Lovely Day" by Bill Withers.
Favorite thing about your appearance?
My eyelashes.
Prized possession?
My grandmother's gold Buddha and gold heart necklace. She had a big belly and a big laugh and when she would laugh the necklace would jiggle and make a jingle sound. I wear it often, and when I hear it jingle, it makes me think of her.
First thing you do when you wake up?
Roll over and hug Quincy, my husband.
Last thing you do before going to bed?
Rub my dog Pizza's belly.
What's your favorite thing about your current role?
Seeing people's positive reactions to how delicious our tequila is and knowing we created it. In a room of people trying it for the first time, we inevitably have three or four folks who say to us, "I have not touched tequila since college! Thank you. I can drink tequila again." Those are my absolute favorite moments in my current role.