Who Is Susan Tynan of Framebridge?
How Susan Tynan's Custom-Framing Obsession Turned Into a Booming Business
As POPSUGAR editors, we independently select and write about stuff we love and think you'll like too. If you buy a product we have recommended, we may receive affiliate commission, which in turn supports our work.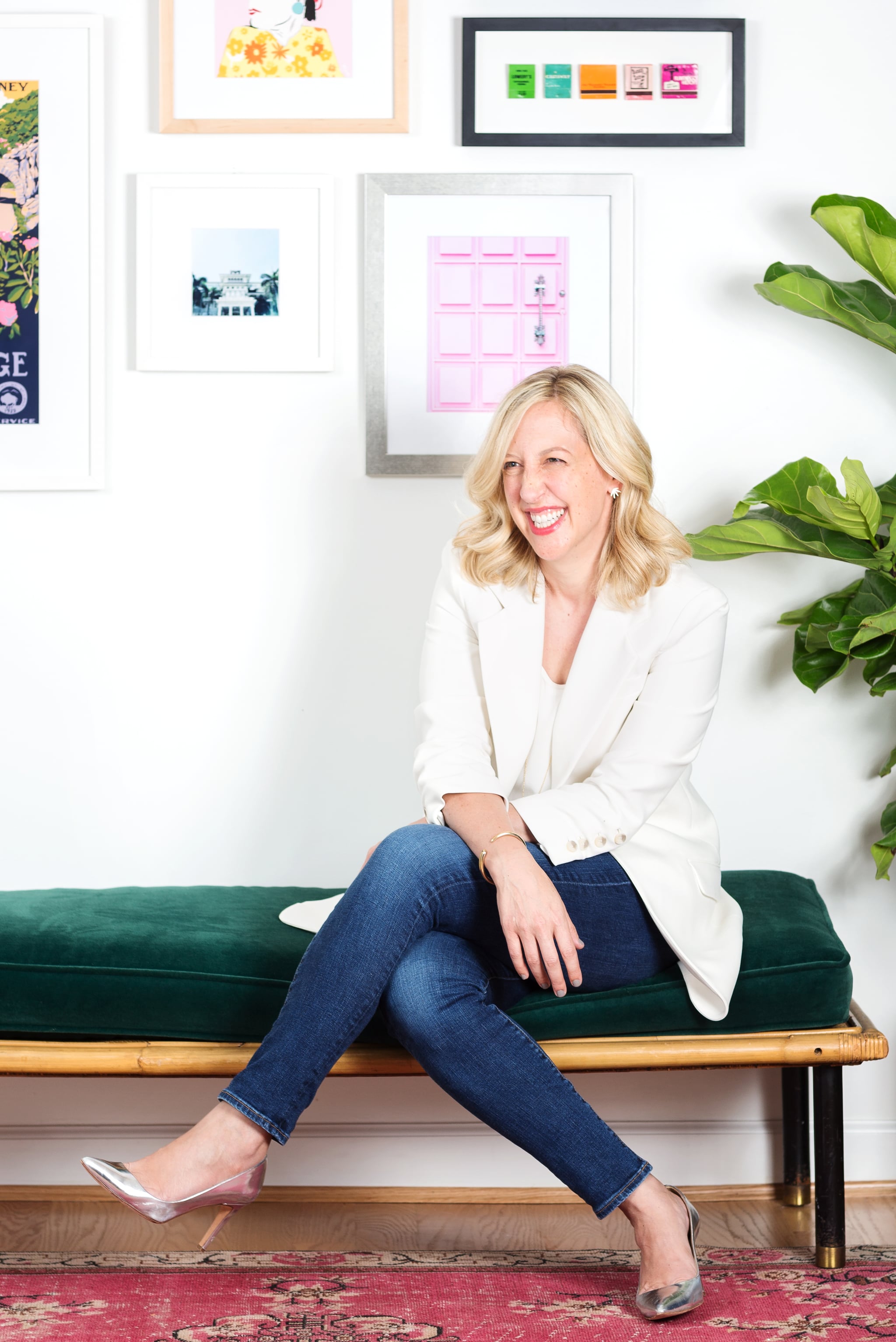 Susan Tynan was enjoying an interesting career in business, working for several internet startups, and raising two little girls, when she became obsessed with making custom framing easy and accessible. She founded Framebridge to make it easy for everyone to frame the things they love. Three years in, Framebridge has over 150 employees and frames the most amazing photos, art, and artifacts of their customers. Though a busy CEO, Susan took a moment to share with us what fuels her passions in our Power Your Happy Q&A.
Power Your Happy Q&A
What advice would you give your 22-year-old self?
Even boring jobs are building skills you're going to use in your future. Make sure you're learning and don't burn bridges! My whole career is thanks to an interconnected web of people I've met along the way.
What talent or passion have you been able to use in your career in an unexpected way?
I have a lot of energy. It's a good thing because starting a business takes a lot of it. I realize I have to have enough energy for everybody. That's what this business was originally made of: my belief in it and my drive to create it. And I had to transfer that energy to investors and team members. And now, customers believe in it, which feels great.
What is the one thing that influenced your career today?
I worked for the White House budget office under [Barack] Obama. I had a brand-new baby at home, and yet I felt so happy. I believed I was working on something important, so my busy schedule felt worthwhile. I learned that I always wanted to feel like I was working on something important and that "balance" was less about hours and more about personal satisfaction.
What does "finding your happy" mean to you? Do you feel you've "found it"?
I'm pretty close. I'm really driven by pride so creating Framebridge, a company I'm really proud of, makes me happy. I'm proud of my team too and flattered they joined me.
Speed round: What powers your happy?
I love people so being surrounded by my family or my team or my friends really powers my happy. Spending time with such interesting and nice people makes my life full.
Guilty pleasure?
Southern Charm on Bravo
Favorite curse word?
The F-word, for sure. It's certainly impactful.
Happy place?
I always tease my husband that I just need him plus a craft cocktail. So, wherever that is, I'm happy. And the beach!
Heels or flats?
Hmm, I believe I'm heels, but nine times out of 10, I'm running around in Vince slip-ons.
The one thing you can't leave home without?
Gold Macbook
Favorite junk food?
Pizza
Favorite healthy food?
Salad
Favorite workout?
SoulCycle
Favorite splurge?
Everything delivered to me. All the delivery apps. I'm busy, so I truly get everything on demand. Beauty, dinner, you name it.
Feel-good music?
Sia. I love that a woman in her 40s can write songs with as much swagger as "The Greatest."
Favorite thing about your appearance?
My smile!
Prized possession?
Nespresso machine.
First thing you do when you wake up?
Check in on my kids because they are so sweet-looking when they first wake up. I want to catch that moment.
Facebook:
"Like" Framebridge on Facebook
!
Instagram:
Follow Framebridge on Instagram
Twitter:
Follow Framebridge on Twitter
Catch up on all of our inspiring Power Your Happy Q&As!
Image Source: Veronica Sequeira