Why Cabbies Don't Want to Take Credit Cards
Why Cabbies Prefer Cash Payments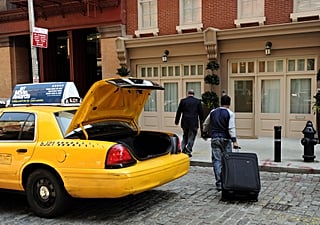 I've been in many cabs in which the driver wouldn't let me get in until he was sure that I had cash. Many times you'll hear the excuse that their credit card-processing machine isn't working and cabbies might persistently push you to go to an ATM and pay them with cash.
Although you may think you have a right as a customer to pay with the most convenient form of payment, know that the reason why taxi drivers don't want to charge your card is because many cab companies charge them a fee for using the machines. A few months ago, hundreds of cabbies protested at the San Francisco City Hall saying that the five percent fee for processing the credit cards is too high. Factor in high gas prices and low incomes, and it makes a tough job even harder.
Every time I know I'm going to cab it, I always make sure to have some cash on me and I try to make it as convenient as I can for both the cabdriver and me. After all, if the cabbie gets upset over a credit-card payment, not only does it cause me unnecessary stress, but it can also disrupt my plans if he decides not to take me to my destination.
I know everyone probably has their own opinion on this, so I'm wondering if you think it's your right to pay with a credit card or if you think every passenger should make an effort to carry cash?