Why Should I Go to Grad School
So You Want to Go to Grad School?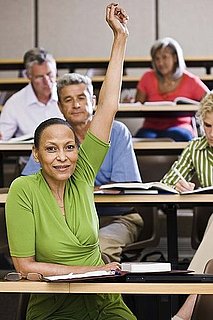 I know quite a lot of people who are studying for the GMAT or the GRE. There are many reasons why people want to further their education and there are lists of them all over the Internet, but here are some of the reasons that I've heard personally:
Changing career — This is one of the most common reasons and a good one as well. If you want to jump into certain field when you work in a totally different industry, graduate school will speed up the transition. Schools like diversity so don't think your chances are slim if you don't have a related background. For example, I've met all kinds of MBA students, from a former news anchor to a nonprofit worker.
Meeting a spouse — Yes, this is actually one of the incentives that I've been hearing about quite a bit. You'll be meeting lots of people with similar interest and goals so who knows what kind of romance will blossom from those late night study sessions.
To see the rest of the list, read more.
Advancing position and higher salary — Sometimes you face roadblocks in your career advancement, and the only way to jump them is to go for more schooling. Oftentimes companies will offer to pay for your school fees if the higher degree is a requirement for promotion in your firm.
Networking — Getting to know your classmates is an excellent way of networking. Schools organize a ton of activities for students to get to know each other and learn to work in teams. Remember, you are mingling with potential investors, partners, or colleagues! The guest speakers your school will roll in are excellent contacts for you to know as well.
Unsure of what to do — There are those who turn to graduate school to take the time to figure out what they want to do. It might be a more expensive option of going about things, but do what you think will work for you.
Life experience — Graduate school is supposed to simulate the working environment. It is a good way of getting a structured education and real-life experience in a short period of time.
I'm sure everyone has their own motivation on why they want to return for more schooling. Have you ever considered going back to school or does the thought of exams and textbooks turn you off?