Why You Should Visit the Library
12 Reasons to Visit Your Local Library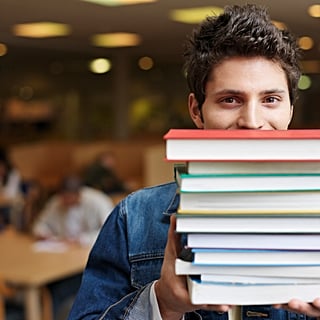 SavvySugar readers are huge fans of visiting the local library, and there's a new reason to love the reading establishment even more: libraries are now lending out ebooks! Amazon just rolled out its library lending program today, and there are 11,000 libraries participating. Basically, you'll be allowed to check out books for two weeks before it'll be deleted from your digital library.
I'm a huge fan of ebooks just because they are so convenient, so it looks like I'll have more reason to visit the library (not that I need any more!). Here are 12 more reasons you should make a trip down to your local branch:
Books are free: Of course, the most compelling reason to go to the library are the free books! With paperbacks costing an average of about $6, and new hardcovers costing double or triple the price, visit your local library to go easy on your wallet. If you're looking for books in foreign languages, it's good to check out the branches in the ethnic neighborhoods — they will have a wider selection.
Free programs: There are plenty of fun programs and events going on at your local library so be sure to check them out for some budget-friendly entertainment. For example, at the San Francisco Public Library, there is a sing-along family concert coming up, a health workshop, and even a bilingual Chinese and English story time for children.
Great excursion for kids: Many of the free programs are kid- and family-friendly, and the library is a great place for a field trip. Spark the love of reading early on by getting your kid a library card, and he'll be excited to be able to choose any book to bring home. Borrowing and returning books also creates and teaches kids a sense of responsibility.
Silence is golden: Working at cafés can be great, but if you want some peace and quiet, the library is the best place to be. It has a good atmosphere for work and research with a ton of information at your fingertips.
Free Wi-Fi: When you go to cafés and restaurants, you have to buy a drink or two to have access to the "free" Wi-Fi. But at the library, it's truly free! You're not obligated to buy anything.
You can bring back other items for free: It's not just books you can access for free. Many libraries offer a great selection of DVDs, CDs, magazines, audio books, and more.
Deadlines push you to read: Sometimes you can leave a book hanging around, unread and forgotten. Faced with a deadline, you now have a timeline that'll push you to actually open the book and soak it up.
Read on for more reasons to love the library.
Bookstore browsing substitute: Now that there are less bookstores around, you can visit your local library for satisfy the thrill of just being able to browse shelves for books. Somehow, browsing for books online seems less gratifying than plucking out interesting books from shelves.
Like-minded people: It's a comfort to be around like-minded bookworms, and you might be more motivated just from looking at people hard at work. It's also a nice way to feel like you're part of the neighborhood.
Pick a librarian's brain: Librarians can be great resources for either helping with your research or recommending books that you might be interested in. It feels more personal to have a real person to truly cater to your reading needs versus a smart algorithm.
Better test scores: A 2005 Illinois School Libraries shows that students who often visit the better-stocked and better-staffed libraries have higher ACT, reading, and writing scores versus those who don't. Further proof that libraries can make you smarter!
Book sales: Libraries often sell used books for a steal. If you're hankering over a particular book, get it at a library sale for cheap to add to your permanent home collection.
Do you have more reasons to love your local library?