Iesha Irene Talks About Changing Careers and Becoming a DJ
Starting From Scratch: How DJ Iesha Irene Is Turning Her Lifelong Passion Into a Dream Job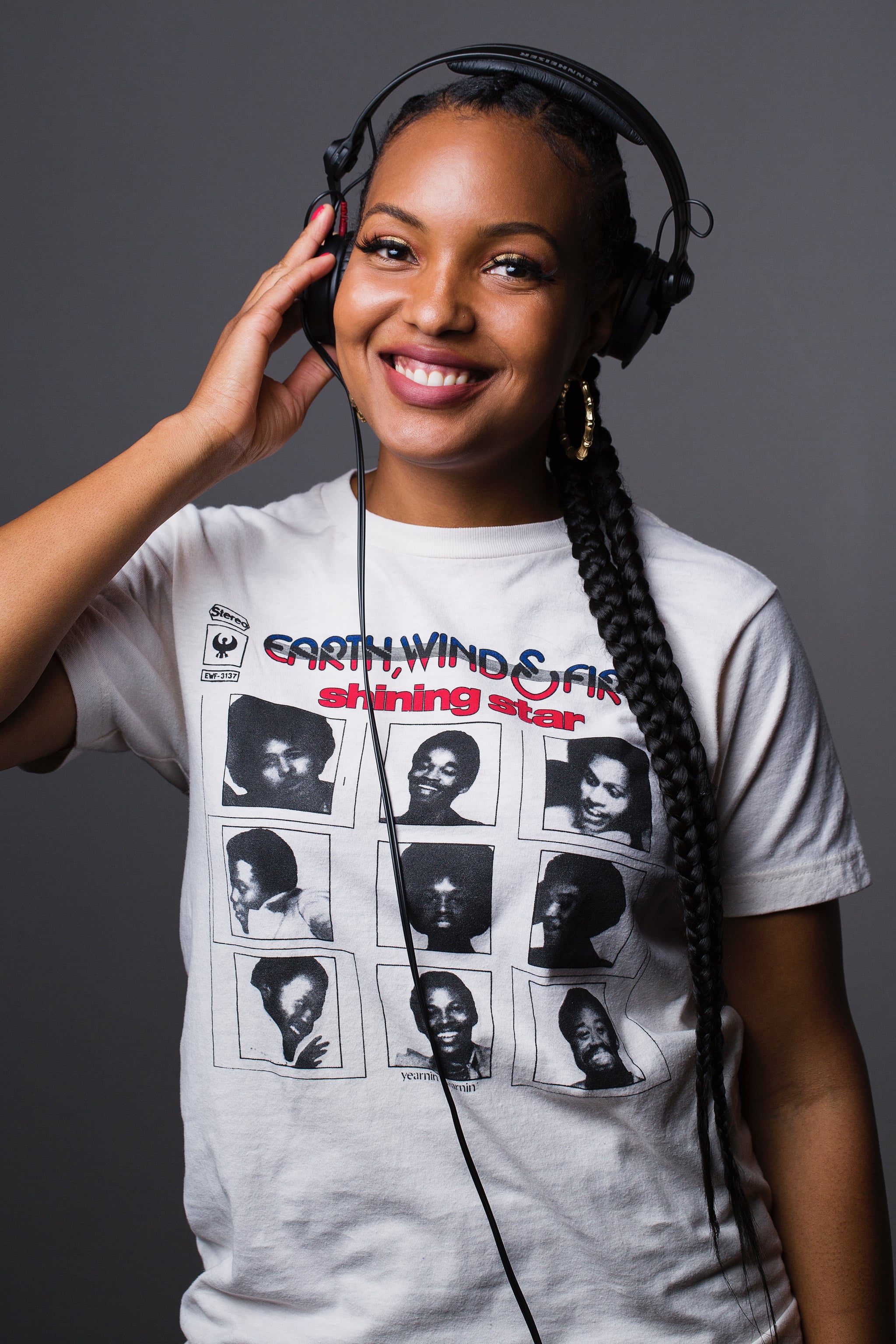 High school can feel like your entire world. You're taking in massive amounts of information all day, every day, trying to juggle friends, frenemies, and maybe an extracurricular activity or two (if you were anything like me, you were also blowing your allowance on Cold Stone ice cream and tiny shirts from Forever 21). As the days turn into months, you can't help but feel like things are going to be this way forever, even as you face mounting pressure to figure out what you want to do with "the rest of your life." It can also be hard to tune out the inevitable criticism about whether or not your chosen path or passion counts as a "real job," especially if you're a creative. More often than not, it takes a couple of career detours to help us fully realize what we probably should have been doing all along — but the good news is that it's never too late to follow your dreams.
Iesha Irene Daniels knows this all too well. The 33-year-old DJ has always been obsessed with playing music but only recently took the terrifyingly exciting leap to turn her longtime passion into that "real job." And I do mean longtime passion: Iesha and actually I went to high school together in our sunny Southern California hometown, and her musical prowess was obvious all those years ago. Back then, she had dreams of becoming a singer — "I was in show choir!" she reminds me during our phone call — but has since taken her stage presence in a different direction. After working in corporate entertainment for years, LA-based Iesha decided to make a career out of the one thing she's always loved: DJing. Here, Iesha explains what motivated her to pursue her lifelong passion, gets real about the struggle in starting from scratch, and sings the praises of her musical hero, Pharrell Williams.
Britt Stephens: I remember how much you loved music back in high school, so what you're doing now seems very natural to me. And as someone who's also obsessed with playing music for people, I'm endlessly inspired by you becoming a DJ. How did we get here? What made you decide to get into the industry and pursue DJing professionally?
Iesha Irene: My dad is actually a DJ, so there's full disclosure there. He didn't [have] a whole career with it; he was more like that uncle that DJs backyard parties and things of that nature. I would help him load his car with the vinyls, and sometimes I would play music with him, too. I think I was always subconsciously doing it but didn't realize I could make a career out of it.
When I lost my job, I had more time to think about what I liked. And one day, I was online looking for jobs, and I was falling asleep — I mean, literally, it was late, and I was just like, "OK, I'm tired." I went to Google, and it was actually the anniversary of hip-hop, and the doodle was these virtual turntables. I was up till 1 a.m. just playing with these presets, and I was like, "Oh my God. I want to DJ." Then I thought, "Well, how do I do this?" I decided to take a class at Scratch Academy to learn the basics, because I already know about music, right? I just needed to learn how to move about the turntables, and the mixer, and the controllers. Once I took that class, I moved out of my apartment to buy all the equipment, which is expensive. I moved back in with my parents for awhile and just took that time to really practice. Family and friends started booking me, and then it just kind of snowballed after that.
But, it's still a grind. I mean, to be completely honest, I'm sleeping on my sister's couch and I found a part-time job, so I'm still in the process of figuring things out and trying to make it a full-time career. But it's going really well. I did a Grammys party already; I've DJed for Barbie [Mattel], T-Mobile, the list goes on. I have an event next week, and I did a wedding two weeks ago. I've already done some really major things in such a short time. It's been really great.
BS: You mentioned getting laid off; I've been there, and it is not a cute feeling or experience. Remind me what you were doing before you pursued DJing?
II: I was actually working in entertainment on the corporate side; I worked for Sony Pictures Television, Revolt TV, and Rolling Out Media in Atlanta. It can be a little unstable. I was just like, "Well, I still love entertainment; How do I do it this way, and make it fun?"
BS: Totally. And I'm really happy to know that your dad was a DJ because it's clear — even when you're just bopping in the car on Instagram Stories — that you're not just someone who loves music. You have a lot of music knowledge; you're kind of a music historian. Can you talk a little bit about that? Being that we both grew up in black households, I'm going to guess that a lot of it comes from your parents.
II: Absolutely. I've always loved music. And to your point, if you grew up with black parents, you cleaned [the house] on Saturday listening to Earth, Wind and Fire, Chaka Khan, and Anita Baker. It's just a very integral piece of our upbringing. I wanted to be a singer growing up. I always danced; I was the kid that was dancing at the party where grown folks are like, "Come on, come on. You just need a little dance." That was me.
BS: Same!
"I spent a lot of time trying to do what people wanted me to do, or what looked better on paper, and I wasn't happy. And now it's just like, 'Damn, I'm really going back to who I've always been.'"
II: I was actually in show choir when we were in high school. I couldn't even read music, but the instructor let me sing Mariah Carey's "Hero." That's how I got in [laughs]. So, music for me has always been there, and when I was younger, my dad had all the vinyls lined up on the floor, and I would just look at them and read and find out who producers were and things like that. So when it was time for him to DJ, he'd be like, "Where's that Janet Jackson?" I'm like, "Oh dad, it's over here!" When I got my DJ equipment, my mom said, "You've always been this person." She started crying. She was like, "I'm so happy. I'm so proud."
BS: That is so sweet.
II: I think I spent a lot of time trying to do what people wanted me to do, or what looked better on paper, and I wasn't happy. And now it's just like, "Damn, I'm really going back to who I've always been." And so, to your historian point — which is so true — I'm very interested in the process. Who made this song? Who wrote it? How did they do on the Billboard? I'm just very fascinated by the facts and how the composition of a song is made. And being a singer, you have to know those kinds of things . . . how to harmonize with the sopranos and altos and tenor one and two.
BS: It makes me think of — I'm sure you've seen it — the Quincy Jones documentary on Netflix. He said something that I've thought about so much since; we've had the same 12 notes for over 700 years, and he wanted to learn all about how different artists used them. It makes you realize how amazing music is, the fact that Quincy Jones and Mariah Carey have the same 12 notes as say Tekashi69. Anyway! Speaking of composers, do you have a favorite? Is there someone that you look up to in the business that makes you say, "That composition is on another level?"
II: I am Pharrell fanatic. I have been a Pharrell Williams fanatic before I even knew it was him. Does that makes sense?
BS: Yes, it does.
II: SWV had a song called "Use Your Heart." It was 1996, I was 11, and that was my favorite song on the album. I did not know the Neptunes produced that, but I've loved them since I was that young. I am so in love with Pharrell. When we were high school I would skip school and go to his autograph signings [laughs].
BS: Oh my god, I love that. Much cooler than the sh*t I used to skip school for.
II: I'm so fascinated by how he keeps pushing the culture forward and the fact that younger artists want to work with him. The trap stars; the Lil Uzis; I mean, he did Ariana Grande's Sweetener album from top and back, and it was amazing. He's just so fly, and Chad [Hugo], too. They sought each other out, and I love that.
BS: It's so true. He also worked on one of my favorite albums, Tyler, The Creator's IGOR.
II: And sometimes he doesn't even take credit. He's unproblematic, that's a big thing, and he . . .
BS: Ages beautifully.
II: Right. So, there's whatever that secret is, that vampire blood. All he does is work, you know what I mean? He just works. For producers or musicians in general, if you take time away from the craft too long, you might feel like, "How can I jump back in with these kids? My sound is so different." I think the fact that he just keeps going keeps him young and fresh.
BS: You're right. He's never had a moment where his sound wasn't relevant. During that early 2000s heyday, when The Neptunes were everywhere, you knew that sound immediately. And even though you still know that sound, it still feels fresh.
II: Yes. And one more thing, because I can talk about him all day, and I'm not going to. But I also love that he pays attention to the people before him. If you listen really hard, you'll hear Curtis Mayfield; you'll hear Earth, Wind, and Fire; you'll hear James Brown. He really paid attention and studied the greats before him and was able to evolve that sound. I think it's very important to study those people, no matter what craft you're in.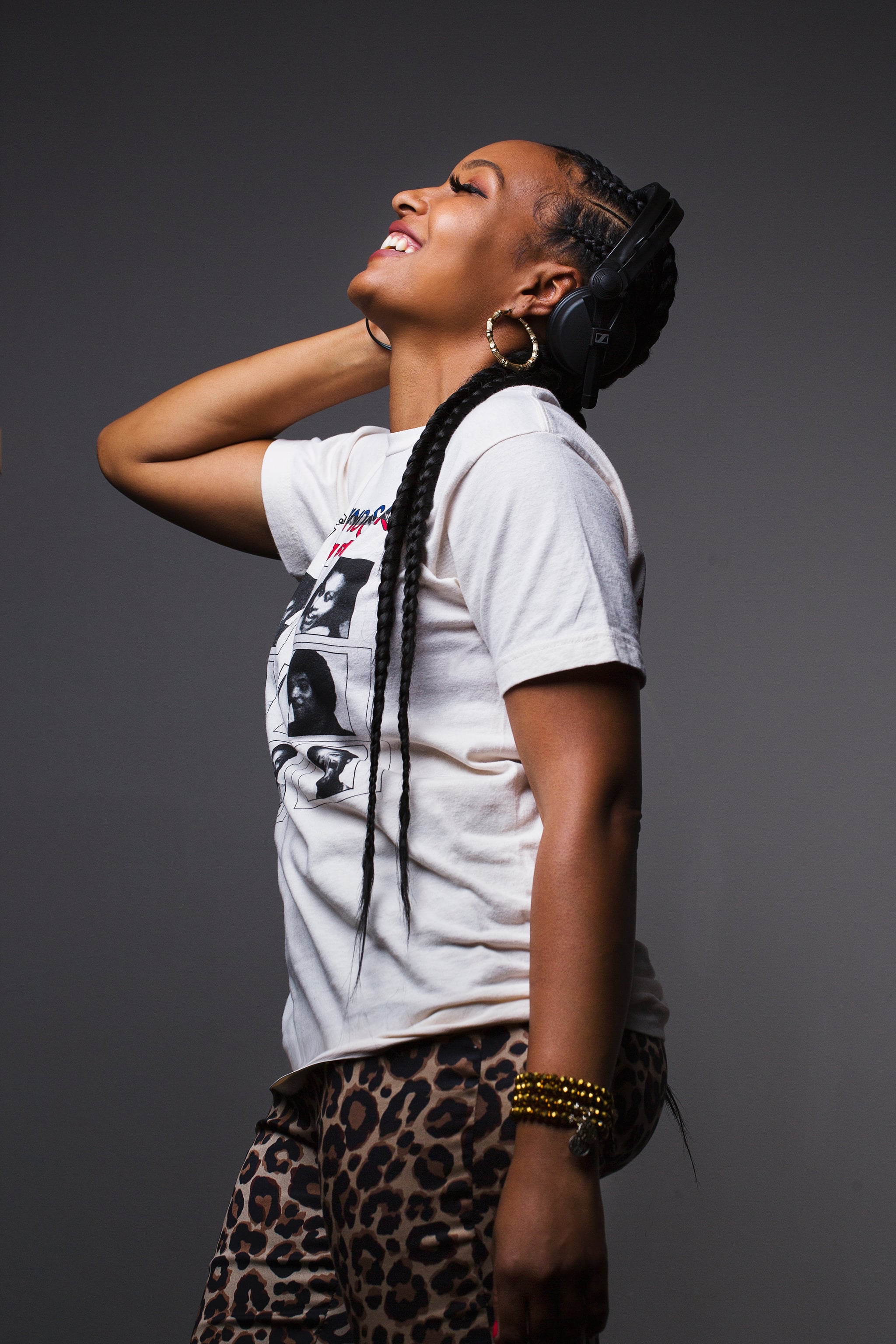 BS: I personally want to know, what are your three favorite songs to play right now? And maybe two or three favorite throwback songs you love playing right now, too.
II: Well, my favorite song of the Summer is Young Thug's "The London."
BS: I am obsessed with that song.
II: Exactly. The song is so smooth, and it's really one of my favorite hotels, so it makes me want to go there! I think Travis [Scott]'s vocals really make it sexy. Post Malone's "Wow" — I literally [said], "Wow!" when this song dropped. I love the beat; it's fun, catchy, and a great song to dance to. And Mustard and Migos "Pure Water" is another good dance song. You can't go wrong with Migos, they're unstoppable right now. Recently, I was in a wedding party, and at the last minute, we needed a song for the bridal party's introduction because the DJ didn't have our personal selections. So I suggested this song, and it was the perfect upbeat song to walk in to.
For throwbacks, The Gap Band's "Outstanding" — what more can I say? It's such a groove. Charlie Wilson's voice is so amazing. I've never seen anyone sit in their seat when this song comes on. It's such a joyful song, and it transcends generations. "Ascension (Don't Ever Wonder)" by Maxwell is a great warmup when the party is just getting started and everyone is still chatting and at the bar. And, Pharrell featuring JAY-Z's "Frontin" or Snoop Dogg, Pharrell, and Charlie Wilson's "Beautiful." I just love Pharrell. That's all.
BS: What's one song or album that people would be surprised to see in your library? For example, I bang with a lot of country artists, and it usually shocks people.
II: Oh. Herbie Hancock, or Kacey Musgraves, or Brandi Carlile. My stuff is all over the place. There's YG in there; I love that gangster West Coast stuff. I love that sh*t, I really do. But I would say Herbie Hancock or something like that. [People are] like, "You listen to jazz; you listen to Coldplay?" Yeah. I listen to all that!
BS: I mean, going back to great composition though — Herbie Hancock is just genius composition.
II: Absolutely. Sometimes you just want to hear vibe stuff that you're not necessarily playing all the time, because everybody wants to hear the same songs, right? So, when I get in my car, I want to hear Terrace Martin. He's a jazz artist. Also George Benson and Robert Glasper. You don't always want to hear lyrics [laughs]. It can feel like content overload; that's one of the things about DJing. There's music everywhere, and you're never going to have everything.
BS: I love that you said that, because even as a music-lover, it's exciting and overwhelming. There's this album out, and then someone's recommending this playlist, and then someone else is sending me a song and I'm like, "I want to listen to all of that. I need more ears." So, where do you want to go next?
II: I think being on the radio would be really dope. I have a journalism background, and combining all that would be great. I think being a tour DJ at some point would be fun to experience. You brought up watching me do this and starting from scratch, and . . . it takes a lot of guts. I really want to incorporate that into my story and share my experience and speak to people who might be interested [in the business] but afraid to get started. I've taken a chance, and I'm literally starting over. There are days when I cry! I'm just like, "Oh my God, why am I a creative?" You're a Libra; you get it [laughs]. We get inspired by everything, and that doesn't always pay right away. Being an adult adult, it's just . . .
BS: We have bills.
II: Right! And [changing careers] is not a risk that everyone is willing to take. When I first started, I was a little too vulnerable and too new to talk about it. But now that I'm doing this, I want next year to be more about sharing my experience — and hopefully get on a tour or be a radio DJ or something cool like that.
"It's about staying the course; you only get one life. Listen to yourself, and just start doing it."
BS: What advice you do have for another woman — and especially another woman of color — who wants to start DJing or working within the industry? What should she expect?
II: As cliché as it may be, you need to follow your heart, you know what I'm saying? You're never going to be happy suppressing that little voice and the things that you love doing. Your family may not understand you. They might support you, but they might not get it. So, you can't really explain everything to everybody. You just have to go with your gut, know it's going to work, and stay diligent. You have to be on a calendar. You have to take small steps, and you might have to work backwards. But you have to have a plan. You're going to cry. You're going to cry, but there will also be days when you think, "Damn, I love what I do. I'm really excited."
It's about staying the course; you only get one life. Listen to yourself, and just start doing it. It may not pay right away, and you may still have to work a full-time job. But if it's what fulfills you and gives you happiness in the midst of chaos, then I would definitely suggest doing it. Not everybody is going to understand it, and you're probably going to deal with crap at work or from your family, but just find that thing that makes you happy.
BS: That's such great advice, for anyone really. Whether you're starting from scratch out of high school or college, or making moves later in life.
II: I wish I had done it sooner. This is the only thing I've ever loved. But I'm happy that it's never too late and that you can always go back to the thing you love — no matter what it is.