I Started My First Job During COVID — How Will I Go Into an Office?
POPSUGAR Photography | Olivia Luchini
POPSUGAR Photography | Olivia Luchini
I spent a good portion of the pandemic frantically applying for jobs. I graduated college in June 2019, just a few months before whisperings of a new coronavirus began circulating, and though I had an exciting internship lined up for 2020, my position was eventually cut short due to the economic effects of COVID-19. The next thing I knew, it was mid-2020, the world had changed, and there I was: recently graduated, living with my parents in my home state of California, applying for every publishing job I could find.
Heartbroken and desperate for work, I began sending out several applications each day, just hoping to get an interview. I didn't care where the jobs were located because so few were being posted, and my main focuses were paying rent and moving forward in my career. As an entry-level employee in the middle of a global pandemic, there wasn't much room to be picky. If the job was based on an unsteady rock in the middle of a lake, I would have applied to it.
In October, I finally got that coveted email requesting a Zoom interview for my dream position. It was from the top publisher in the US, and I was thrilled to see a light at the end of the tunnel that COVID had pushed me into as an entry-level employee. The position I was interviewing for would be full-time and my first permanent, "grown-up" job. No one knew how long remote work would remain, so I didn't flinch when I found out the office was in New York City, a country's width away from my home. When I was offered the position, I happily said yes.
Starting my first ever official job from home was less climactic than I'd anticipated. My company mailed me a laptop, and in the time it would take to create a new Twitter profile, I was set up for my brand-new job thanks to the power of the internet. A position I had worked my entire life toward had manifested itself as a Lenovo ThinkPad in my childhood bedroom. Despite the fact that I was thrilled to be working in my dream industry, I often felt like I was living in a sort of make-believe, since going to work had been replaced with logging in.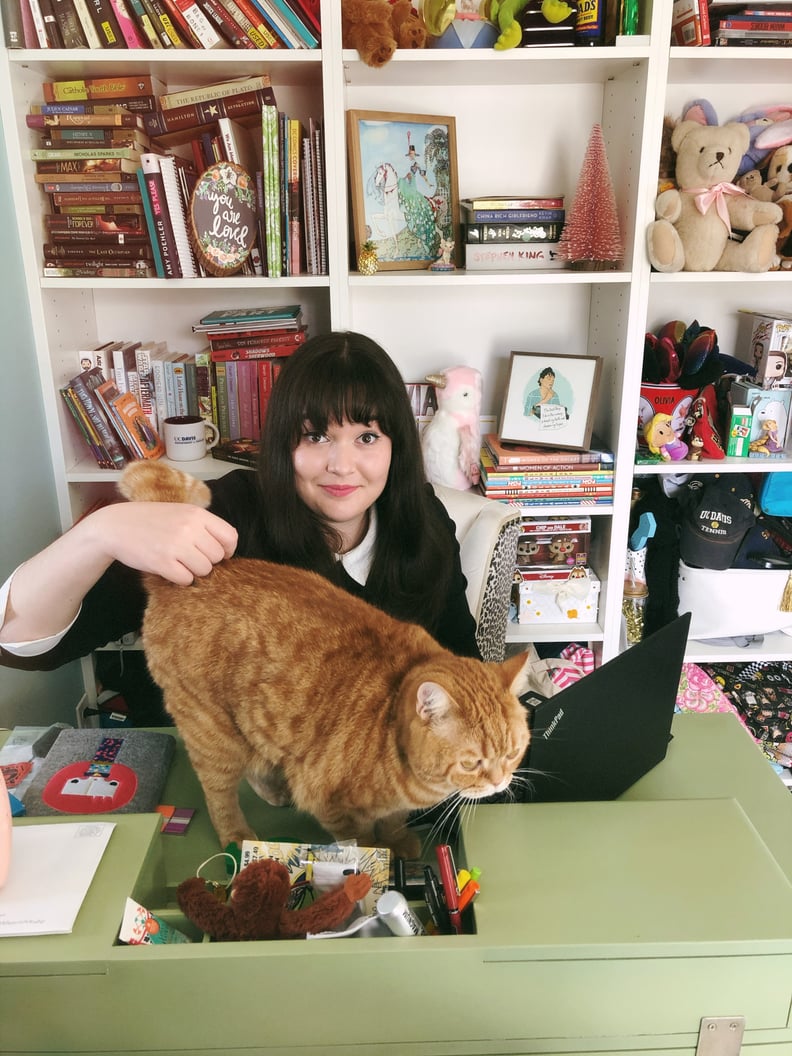 Today, I am fully vaccinated, and that large, intimidating office thousands of miles away is reopening in September. I find myself planning a cross-country move and imagining the morning commute to the office four days a week for our hybrid schedule. Months ago, the idea of these events filled me with hope, happiness, and sheer excitement. Right now, I am filled with nerves at the idea of going into the office.
I have never met a single one of my coworkers outside of my 13-inch screen. I have never walked through the doors of my office. I have never even toured the apartment I will live in. I feel as though I am cannonballing into the next phase of my life with a blindfold on because everything is moving so quickly and I have no idea what to expect.
There is a micro-generation of folks in the same shoes as me. We began our professional lives remotely, and it's all we know. We have gotten into the rhythm of "going" to work in sweatpants with our pets on our laps, both trapped and comforted in the familiar ambience of our homes. In June 2019 when I first left college, going into an office would have been a natural next step. These days, it feels foreign and unfamiliar. A year-and-a-half of remote work has ill-prepared me for life in an office where you're expected to wear pants that have a button instead of an elastic and not have cat hair on your sweater. I look forward to moving to New York and beginning the next chapter of my life, but I'm simultaneously wary of developing in-person relationships with my coworkers, being so far from family in case of another international emergency, and learning to commute farther than bed to desk in an entirely new city.
I'm sure others from the classes of 2019, 2020, and 2021 are going through similar internal debates, and I wish us all the best. Hopefully, we can learn the new rhythm quickly and give ourselves grace as we adjust through feeling uncomfortable with this new way of working. It's an intimidating feat, but we're all in this together.