How to Do a Group Thanksgiving For Under $40
Our friends at Coupons.com and savings expert Jeanette Pavini put together a Thanksgiving dinner menu on a budget, so you can host this year's festivities without breaking the bank.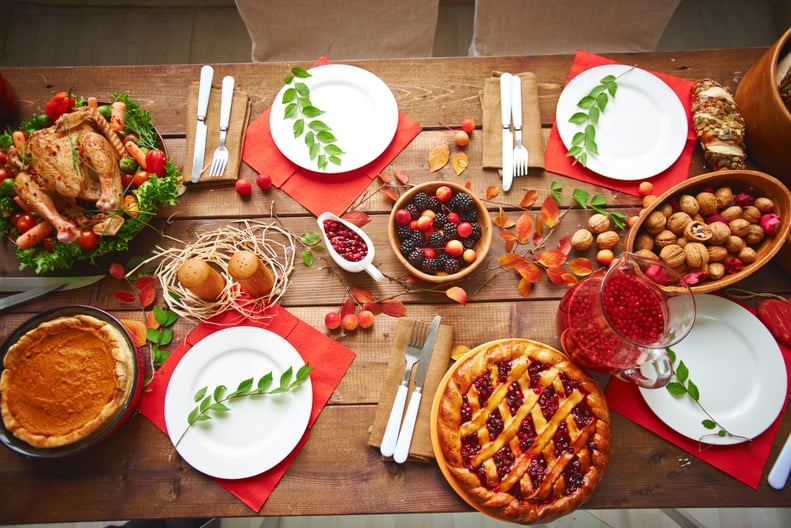 According to the American Farm Bureau, the average cost of a Thanksgiving dinner comes to $49.04. You can purchase the same items and ingredients using coupons from Coupons.com totaling $39.12, which means that's a saving of almost 20 percent! So get your scissors ready, it's time to start clipping some coupons.
Menu:
Turkey
Green beans
Cranberries
Stuffing
Sweet potatoes
Rolls
Pumpkin pie
Total Cost: $39.12
Thanksgiving on a budget breakdown:
Butterball Whole Turkey
Original price: $1.98/lb ($31.68)
Sale price: $15.84
Coupons: $3
Final price: $12.84
Green Giant Valley Fresh Steamers Green Beans (2)
Original price: $2 each / $4 total
Sale price: $1.79 each / $3.58 total
Coupons: $0.60
Final price: $2.98
Ocean Spray Fresh Cranberries
Original price: $2.49
Sale price: N/A
Coupons: $1
Final price: $1.49
Kraft's Stove Top Stuffing (2)
Original price: $2.99 each / $5.98 total
Sale price: $1.33 each / $2.66 total
Coupons: N/A
Final price: $2.66
Pillsbury Crescent Rolls (2)
Original price: $2.50 each / $5 total
Sale price: $2 each / $4 total
Coupons: $0.75
Final price: $3.25
Betty Crocker Pie Crust Mix
Original price: $3.69
Sale price: $1
Coupons: N/A
Final price: $2.69
Betty Crocker Mashed Sweet Potato (2)
Original price: $1.59 each / $3.18 total
Sale price: $1.25 each / $2.50 total
Coupons: N/A
Final price: $2.50
Libby's Pumpkin Pie Mix 30 oz
Original price: $4.29
Sale price: $0.30
Coupons: N/A
Final price: $3.99
Clover Milk Gallon
Original price: $5.29
Sale price: N/A
Coupons: N/A
Final price: $3.73
Carrots 1/2 lb (3)
Original price: $0.17 each / $0.51 total
Sale price: N/A
Coupons: N/A
Final price: $0.51
Celery - 1/2 lb
Original price: $0.98
Sale price: N/A
Coupons: N/A
Final price: $0.98
Cool Whip
Original price: $2.99
Sale price: $1.49
Coupons: N/A
Final price: $1.50