10 Essentials Every Intern Should Have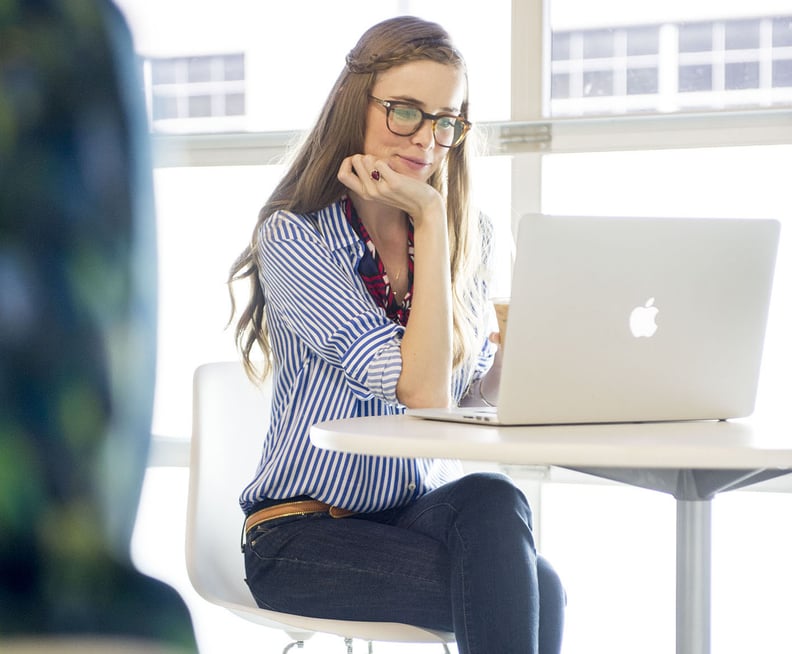 POPSUGAR Photography
POPSUGAR Photography
Whether you're a new grad or are still working toward your degree, internships are great opportunities to get your foot in the door. If you've just landed your first interning gig, you may be wondering what you should bring along. Consider these 10 essentials — from a positive attitude to a workplace wardrobe — before you head into the office.
Good attitude. This is a new opportunity, and you should make the most of it while you can. With most intern contracts lasting for a semester or so, it's important to not go into a job with a negative attitude. Being approachable will make it easier to network with your co-workers and set the tone for a great internship experience. Who knows, you may just end up getting hired. Everyone had to start somewhere, and it doesn't hurt to start off with some positive vibes.
Workplace attire. If you've ever held a job at a retail store or restaurant, you may be accustomed to wearing a set uniform. But with internships, it's a whole new game for which you will need to look the part. Plan to be working side by side full-time employees, which means you won't want to come in looking like you just rolled out of bed. Just because you're working in the office doesn't mean there's not a chance to still look fashionable and stylish. You can easily dress up casual items for a workplace setting. Items you should consider adding to your wardrobe include a blazer, skinny jeans, tights, blouses, sweaters, dresses, and a skirt. It's not as hard as you might think to transform a casual item into workplace wear by just dressing it up a bit.
Notebook. During your internship, you'll need a safe place to keep all of your notes in. While many may prefer sticking to technology, notebooks are a hard copy of everything you want to remember. Your notebook will have just about everything you'll learn and/or need for the duration of your internship, whether it's memos or ideas. Just be careful not to misplace it! You may just reference it again in the future.
Pens. If you're planning to carry a notebook, pens are the quintessential pairing. You can't take great notes without a good pen, right?
Reliable bag. One accessory that is vital to any intern is a bag of your choice. Whether it's a handbag, a tote, or even a backpack, you want something that won't rip at the seams during your internship. If you want your bag to carry items such as your laptop, notebook, and lunch, you'll probably want to opt for something a little larger. But if you prefer to keep your bag on the small size, other great options are clutches or satchels.
Reusable water bottle. While you're in the office, you'll want to stay hydrated to stay on top of your game. Instead of using plastic water bottles, consider investing in a reusable one. It's good for the environment, and you'll have something stylish to keep your H2O in.
Watch. Keeping an eye on the clock is key, whether you're meeting deadlines or making it to the office on time. Although most people now rely on computers or cell phones to check what time it is, a watch is still the classic option. Besides, when you're in a meeting, it's probably better to glance down at your wrist rather than whip out your cell phone. Bonus: your watch won't nearly need as much charging as any electronic.
The right shoes. Your workplace attire wouldn't be quite complete without a great pair of shoes. There's a shoe for every taste, ranging from flats to booties. Take into consideration what your duties will be as an intern, and you can adjust your choice shoe. Just be careful to break in your shoes ahead of time — that way you won't be dealing with blisters later!
Beauty bag to freshen up. Have you ever had to be somewhere right after work? Whether it's a dinner with co-workers or a last-minute meeting, keeping a few basic items nearby is a surefire way that you can freshen up with no hassle. Hair ties, bobby pins, stain remover, mints, and perfume or deodorant are great items to keep handy at your desk or in your bag. You never know when they'll come in handy, but you'll be thankful when they do.
Willingness to learn. As an intern, you're there to gain experience and pick up new skills. Don't be afraid to challenge yourself with new projects since it's all part of the learning process. Your co-workers are there to assist you, so don't shy away from asking any questions you may have. If you really want to show some initiative, brainstorm some ideas of your own that you want to work on. In the end, if you get to work on a project you're enthusiastic about, your internship will not only be more rewarding, but you'll also walk away with some good memories.