nc pork barbecue (crock pot)
ok, so i made a sunday feast. the menu: nc bbq, slaw, green beans with vidalia onions, fried green tomatoes, leftover corn on the cob, and cumcumber/onion salad. i am stuffed!
i love eastern north carolina bbq and stop off of I95 on my way to myrtle beach to get some every year. eastern nc bbq is vinegar based and this version i made is leaner that what i get there, but still good. it is a combination of two internet recipes. the slaw i used is from a cookbook called hot dogs from almost heaven.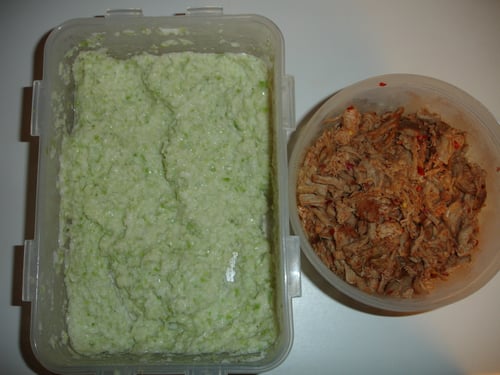 nc pork barbecue (crock pot)
internet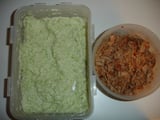 Ingredients
crock pot nc style pork recipe
part 1-the rub:
3-6 lbs pork tenderloin
1 T paprika
2 T dark brown sugar
1/2 tsp salt and pepper
part 2-basic nc bbq sauce:
2 C cider vinegar
2 T salt
1/2 T cayenne pepper
1/2 T black pepper
1/2 T paprika
1 1/2 T red pepper flakes
1/2 C light brown sugar
1/2 T hot sauce
Directions
mix the dry rub ingredients and rub over pork. put in large plastic bag for several hours or overnight. cook pork in crock pot on low 10-12 hours.
mix the ingredients for sauce and chill overnight.
when pork is done and tender, chop into fine degree. you can use a knife and fork. i cut it up into small pieces and shredded with clean hands. when finished pour desired amount of sauce over pork to taste. this sauce is sort of hot so be sure to test it to see what you like.
WV Cole Slaw:
1/2 head cabbage, finely shredded (i used a food processor-much easier). place in a 2 qt. bowl. in another bowl, blend together 1/2 cup mayo, 1 T vinegar, 2 T granulated sugar, and 2 T milk. whip with a fork or whisk. blend into shredded cabbage.
this is great for hot dogs also!
Information
Category

Main Dishes