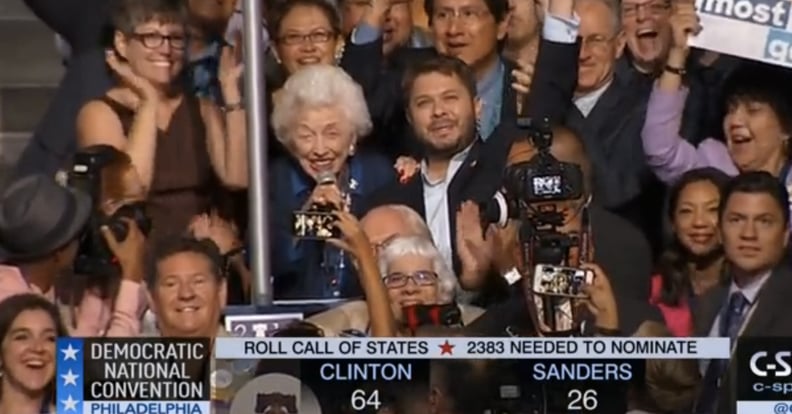 Arizona honorary delegate Geraldine "Jerry" Emmett, 102, helped nominate Hillary Clinton for president Tuesday during the roll call vote. On behalf of her state's delegation, Jerry proudly cast "51 votes for the next president of the United States of America — Hillary! Rodham! Clinton!"
Hillary's nomination is a historical moment for American women, but it's not the only one Jerry has witnessed. On the convention floor, we spoke to her about how far we've come. Jerry had tears in her eyes as she recounted going with her mother to vote for the very first time after Arizona adopted women's suffrage.
"See, I can remember when my mother got to vote for the first time. I was about 9 years old and I lived in a little town, about 400 people. On election morning, the men would go around and say, 'Hear ye! Hear ye! The polls are now open!' But the women wouldn't vote. So that year, they passed a law in Arizona that gave women the vote. And my mother got to go vote! We — all her relatives and all her friends — went down and clapped when she went to vote."
Jerry said that before women were treated as equal citizens "they weren't allowed to do anything, except have children and send them to school and take care of the whole family." And later in her life, as a seventh and eighth grade teacher, she remembers young female students being turned down for opportunities. "I saw intelligent little girls that had lots to offer. And they were never considered."
Now today, in 2016, we have a woman one step away from the highest office in the land. Jerry has seen and made history. As for Hillary's rival's slogan, "Make America Great Again," Jerry said, "I agree with Hillary: we're already great."