Ben Carson Says Middle East Airstrikes Could Be "Merciful"
The GOP Debate Moment That Made the Entire Audience Boo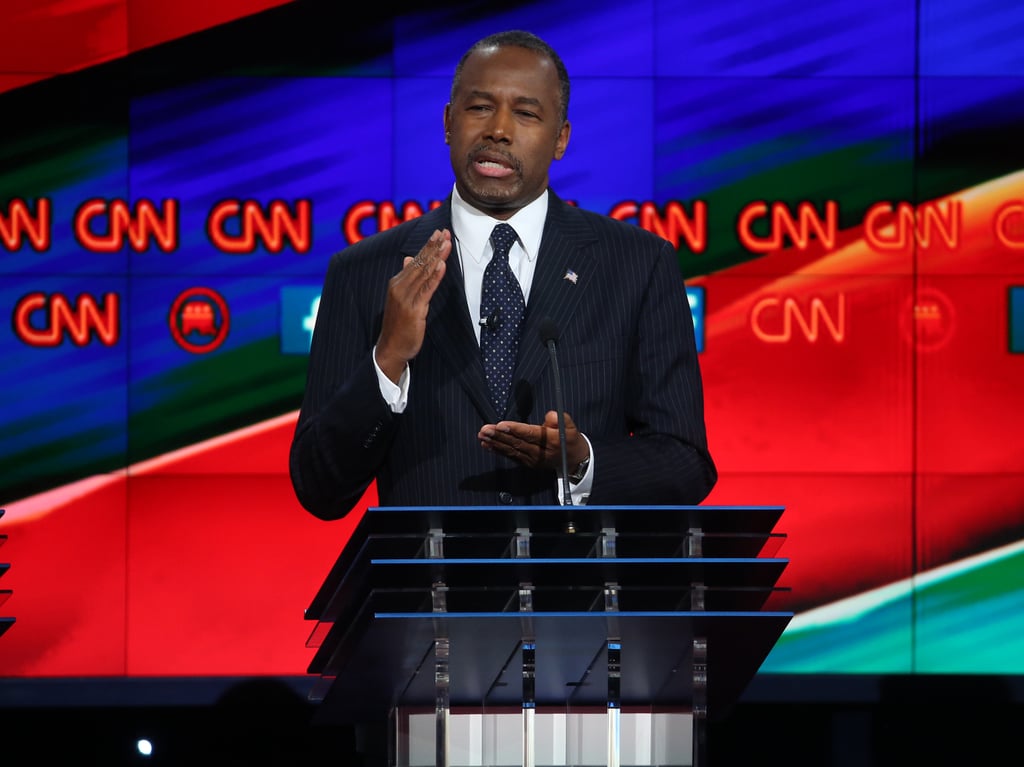 During Tuesday's GOP debate in Las Vegas, Ben Carson got tangled up in a controversial argument that sent a wave of boos through the audience. CNN moderator Hugh Hewitt asked the presidential hopeful whether he would be able to strike a balance between the good character that stems from his professional experience with ill children and the ruthlessness required to wage the war on terror.
The retired neurosurgeon — who stands out from the other Republican candidates as the "kind" guy — said he would sacrifice the lives of innocent children and civilians in a Middle East airstrike if necessary.
"You have to be able to look at the big picture and understand that it's actually merciful if you go ahead and finish the job rather than death by 1,000 pricks," he told Hewitt.
While the displeased audience booed the moderator's attempt to shame the candidate in a follow-up question, Carson restated that he would try to reach the best possible solution under a national security threat: "'Ruthless' is not necessarily the word I would use, but tough, resolute, understanding what the problems are, and understanding that the job of the president of the United States is to protect the people of this country and to do what is necessary in order to get it done."
People on Twitter weren't happy with Hewitt's question either:
The crowd at the #GOPDebate just booed the moderator for saying the U.S. shouldn't bomb innocent civilians.
— Tom McKay (@thetomzone) December 16, 2015
Who is the white haired moderator? He's trying to do the gotcha questions and just got booed for his stupid question. Not funny #GOPDebate
— Jamie McKinney (@jamac89) December 16, 2015
Wow! CNN moderator booed for handling @RealBenCarson . As usual Ben came back with class. #GOPDebate
— BethGifford (@BGif) December 16, 2015
Why would CNN moderator ask if Dr Ben Carson would be OK with the deaths of thousands of innocent children? Inappropriate
— Be the Shark (@AllOutOfHope) December 16, 2015
It joined Chris Christie's comment as one of the more memorable ones from the night.