Girlfriend Records Philando Castile Killed by Police
Another Black Man Was Killed by Police and His Girlfriend Live Streamed It on Facebook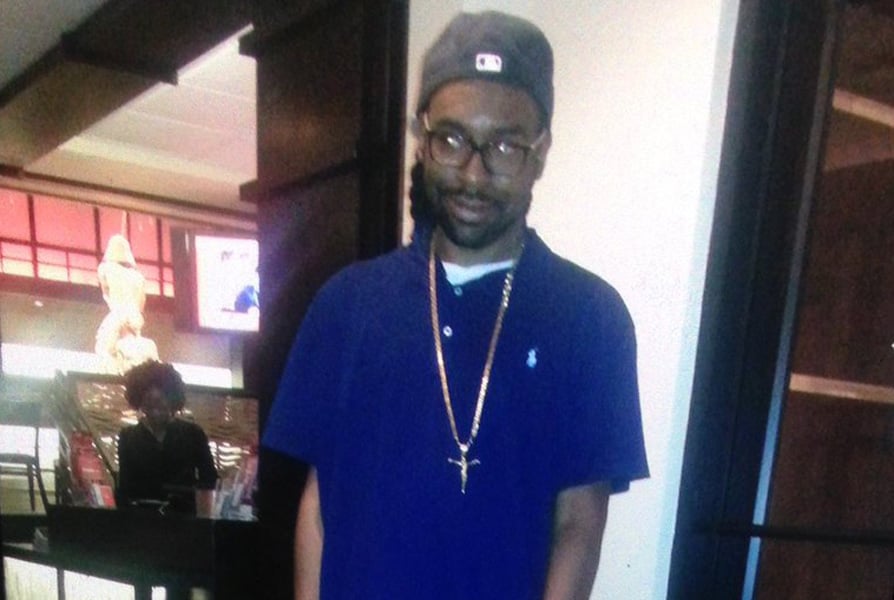 Philando Castile, age 32. That's the name of a black man who was shot and killed by police Wednesday after he and his girlfriend were pulled over in Falcon Heights, MN, for a broken taillight while his girlfriend's young daughter watched from the back of the car, according to reports.
His girlfriend, identified as Diamond Reynolds, apparently recorded the aftermath of the shooting and streamed it using Facebook's Live feature. You can see a video of her recording here, but it is incredibly graphic, showing footage of Castile slumped over with blood soaking through his white shirt as he suffers through some of the last minutes of his life.
In the video, you can hear Reynolds saying that Castile was reaching for his ID and wallet from his pocket when he was shot multiple times. "Police shot him for no apparent reason, no reason at all," she said, adding that Castile had a license to carry a gun and notified the officer that he had his weapon on him. "I told him not to reach for it; I told him to get his hands out!" the officer can be heard shouting.
Here's more about what we know so far about the Castile and incident, including that he was a supervisor at a local school cafeteria and beloved by the school community.
Update: man shot by police in #FalconHeights died at HCMC. His mom identifies him as Philando Castile, 32 #wcco #cbs pic.twitter.com/OKxMP0VG65

— Jennifer Mayerle (@jennifermayerle) July 7, 2016
Reynolds said Castile explained he had a concealed carry permit, was reaching for an ID when shot 4 times. Her 4-y.o daughter was in the car

— reported.ly (@reportedly) July 7, 2016
Witness told me she heard St. Anthony officer tell man to take hands out, heard 4 gunshots about 30 seconds after car pulled over.

— Ted Haller (@TedHallerLegal) July 7, 2016
This baby saying "it's okay, I'm right here with you" to her mama. This shouldn't be her reality. #FalconHeightsShooting

— Johnetta Elzie (@Nettaaaaaaaa) July 7, 2016
This was the car he was in when the shooting occurred. Technicians are photographing the front passenger seat. pic.twitter.com/EkKbfie3w3

— Libor Jany (@StribJany) July 7, 2016
Police confirm #FalconHeightsShooting is officer-involved. St. Anthony PD. Victim is at HCMC. Woman & child were in car.

— Ted Haller (@TedHallerLegal) July 7, 2016
Gf of #PhilandoCastile speaks to crowd gathered @ gov mansion @StarTribune pic.twitter.com/DRRRtXvKRz

— Leila Navidi (@LeilaNavidi) July 7, 2016
#PhilandoCastile mom:I never thought "my son would be killed by persons that were supposed to protect and serve him" https://t.co/QxYsBciSEI

— New Day (@NewDay) July 7, 2016
Phil Castile listed as J J Hill Montessori cafeteria supervisor on the school's website. pic.twitter.com/f8VHc8D9mj

— Iris Pérez (@msirisperez) July 7, 2016
His yearbook photo. #PhilandoCastile isn't just a hashtag. He worked with kids. His life had value. He was murdered. pic.twitter.com/2rd5spD154

— Wendy R (@WendyRMonkey) July 7, 2016
Message from #PhilandoCastille colleagues and students pic.twitter.com/3wzUePomM2

— Chris Egert (@cegertKSTP) July 7, 2016
In a statement on Thursday, the police department said that "a St. Anthony police officer effected a traffic stop on Larpenteur and Fry in the city of Falcon Heights, Minnesota. During the stop, shots were fired. One adult male was taken to the hospital. We have been informed that this individual is deceased," according to ABC.
This is the second police shooting of a black man that is going viral in less than two days. On Tuesday, Alton Sterling was killed by police as he stood outside a convenience store selling CDs, prompting widespread outrage and protests.
Say their names.
Shout their names.
Wail their names.
Give justice to their names.#PhilandoCastile #AltonSterling

— Gaby Peña Fraga (@gpena) July 7, 2016
#PhilandoCastile you mattered.

You matter.

— Swoope (@MrSwoope) July 7, 2016