How Can You Help Aleppo?
How You Can Help Syrians Caught in the Crosshairs of a Devastating Civil War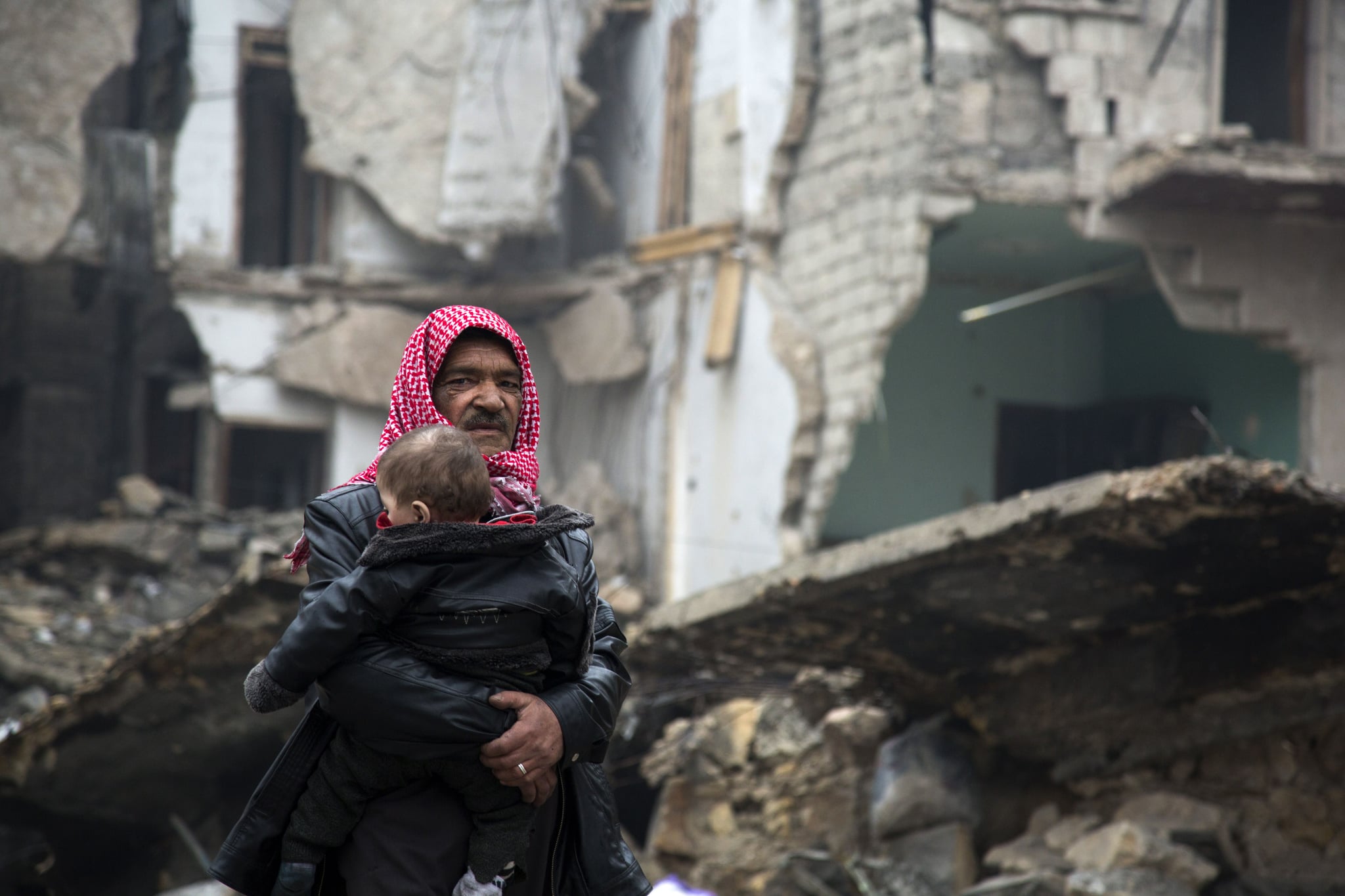 Update:
Since December, when the United Nations described the situation in Aleppo as "a complete meltdown of humanity," the conflict in Syria between rebel forces and President Bashar al-Assad has spiraled into further calamity. On April 4, Syrian forces reportedly dropped sarin gas on civilians in the rebel-held area of Idlib. While the attack certainly occurred, killing at least 70 people, including children, the Syrian government has denied its involvement and blamed rebel forces. The United States government suggested otherwise in a statement. Below is a list of nonprofits you can donate to or volunteer with who are directly assisting innocent civilians caught in the crosshairs of this tragic civil war.
Original Story:
The conflict between progovernment militia and rebel forces in Aleppo has taken a devastating turn. On Dec. 12, a United Nations human rights office confirmed that at least 82 civilians were killed by Syrian troops as they closed in on what was formerly the nation's largest city. As activists and civilians tweet their final messages from the besieged city, a UN humanitarian spokesperson, Jens Laerke, referred to the dire situation as a "complete meltdown of humanity."
To briefly contextualize Syria's current political climate: Syria has been in the midst of a civil war for five years, one that was triggered by the Arab Spring in 2011.
Russia has gotten involved at the behest of Syrian President Bashar al-Assad, who is one of Russia's most important international backers. As a result, Russian forces have been bombing rebel-held territories, claiming the attacks are targeting ISIS.
While millions have fled Aleppo since the civil war began, the remaining civilians are currently experiencing daily airstrikes and many have lost their lives in execution-style killings.
The UN Security Council is reportedly holding an emergency meeting on Dec. 13, and CNN's sources inside Aleppo also said a ceasefire and evacuation agreement has been reached. Apparently, civilians and rebels will begin evacuating the war-torn city as soon as the evening of Dec. 13 or Dec. 14. What's happening in Aleppo is cruel and overwhelming, but now is not the time to feel helpless. There are still ways you can help those affected. Ahead, we've listed some organizations that are focused on providing aid:
1. Doctors Without Borders
Doctors Without Borders provides medical assistance to war-torn countries. On Nov. 17, one of the organization's hospitals in Aleppo was hit by an airstrike and more than 20 workers and patients were killed. Despite the tragedy, many aid workers have remained in the city and will continue to help its civilians going forward.
2. The United Nations High Commissioner For Refugees
The UNHCR focuses on providing refugees across the globe with necessities such as hygiene kits, sleeping bags, and medicine. As of Dec. 12, the organization was distributing relief items to the thousands displaced from Aleppo.
3. The White Helmets
The Syrian Civil Defense, also known as the White Helmets, is made up of volunteers who search locations that have recently been bombed and rescue any trapped civilians. The brave group has saved more than 73,530 people from attacks in Syria. To donate, click here.
4. Oxfam International
Oxfam International is helping those affected by the Syrian civil war by providing showers, clean water, and toilets in refugee camps. It also provides refugees with medical aid, as well as legal counseling. To provide Oxfam with the urgent funds needed for Syrian refugees, click here.
5. Islamic Relief USA
Islamic Relief USA is a volunteer community that provides aid to those who need it regardless of gender, race, or religion. While it is a widespread organization that touches on many global issues, you can choose to donate to Syrian refugees in particular.
6. Planet Syria
If you don't have money to give, you can still help. Planet Syria is a nonviolent activist organization that seeks to spread information on Syria's current political climate and encourage peace talks. Its statement reads, "Slowly, with the support of our real allies, we hope to reconnect with the tolerance and coexistence we have known for millennia and build a Syria better than before." To stand in solidarity with Planet Syria, simply sign its statement and share it online to spread awareness.