Just a few years ago, it might have been surprising to see a labor activist walk the red carpet at the Golden Globes, or sit down for a Q&A with the stars of a major new movie. That was then. Now, in the era of #MeToo and Time's Up, leaders like Ai-jen Poo — director of the National Domestic Workers Alliance and Caring Across Generations — are not just leading cultural change, but joining the pop-culture conversation. Poo, whose work at NDWA focuses on advocating for the rights of caregivers like nannies, housecleaners, and eldercare providers, recently paid a visit to LA to celebrate the Ruth Bader Ginsburg biopic On the Basis of Sex. The event came almost one year after Poo joined Meryl Streep on the Golden Globes red carpet to advocate for Time's Up, and as it turns out, her life's work shares a fascinating connection to the film.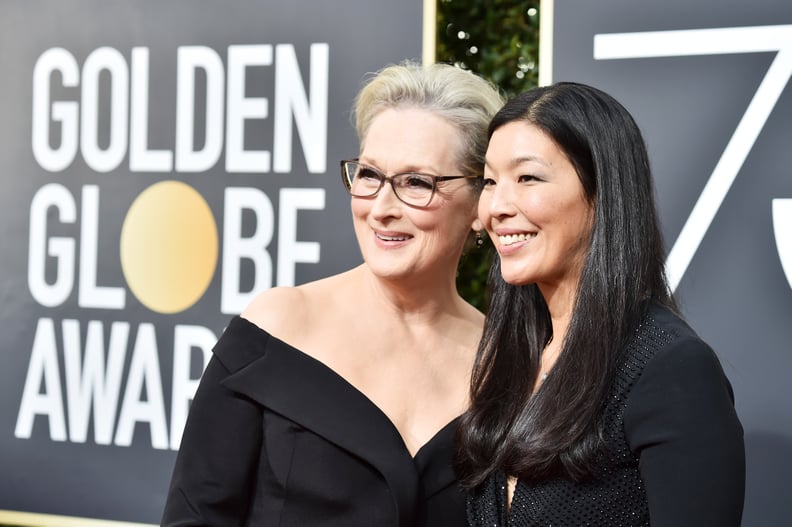 Streep and Poo at the 2018 Golden Globe Awards. Image courtesy Getty / Frazer Harrison.
Even the most dedicated of RBG fans might not be aware that some of the justice's first groundbreaking cases revolved around caregiver rights. As depicted in On the Basis of Sex, she represented Charles Moritz in a Supreme Court case early in her career. Moritz was an unmarried man caring for his mother, but because he wasn't a woman, the law didn't allow him the tax deduction that would have made it possible for him to hire a caregiver to take care of her, so he could work outside the home — by law, only women could do that, because it was assumed that only women served as caregivers. Several years later, Ginsburg also represented Stephen Wiesenfeld, who became a single dad after his wife died in childbirth. (This case is covered in the recent documentary RBG.) Wiesenfeld was then denied the right to his late wife's social security benefits, because as the law was written, only widows — not widowers — were entitled to those funds. Ginsburg saw taking the cases as a powerful way to destabilize not just this law, but a whole network of laws, that discriminated around gender. And, spoiler alert: she won both cases.
Caring Across Generations is an organization that brings together family caregivers, people with disabilities, seniors, and other stakeholders to build a more caring culture and economy around this kind of work — and to recognize that this work transcends gender, race, and country of origin. We caught up with Poo shortly after the screening event to discuss how the way we portray domestic workers in movies and on TV matters, how our treatment of the people who work in our homes has ripple effects, and a new tool that can help you secure benefits for childcare providers or housecleaners if you employ them.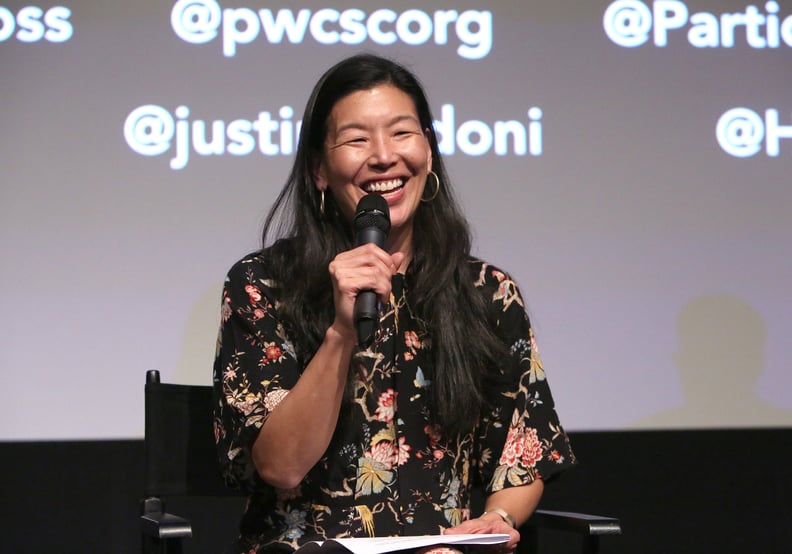 Poo at a special screening of On the Basis of Sex. Photo courtesy Getty / Jesse Grant.
POPSUGAR: Why do you think it's important to pay attention to how caregiving is portrayed in pop culture?
Ai-jen Poo: Well, one big reason why we haven't been able to really value caregivers and raise wages for domestic workers is because that work has been so devalued — and because of this association with women and women of color, in particular. We have this incredible opportunity with all of these changes that are happening in our culture to actually flip the script on this. Our campaign is going to be called #WeKnowYouCare, and it's really going to be trying to inspire men who are in caregiving roles to speak up more publicly about the challenges of caregiving, and really try to raise awareness about its value, and particularly draw attention to all the different kinds of people who are doing it — including men.
PS: So this conversation could hopefully make people rethink some of those stereotypes — and not just about women, but about what it means to be a man and masculinity?
AP: That's one of the things that, especially in this #MeToo movement, is so important. As we start to call out toxic masculinity, and the problems with the way that dominant norms of masculinity have played out and created a lot of harm and trauma in the world, it's also really important for us to be able to talk about what is our vision for masculinity that actually is strong and is powerful — but doesn't come at the expense of women. That it's about how we can actually all be in this together, and not this zero-sum version of masculinity.
"We have to start the conversation about what is it that we actually want to replace toxic masculinity."
I think caregiving is one place where men are really showing up in powerful ways that are contributing to families and the economy. And to be able to highlight that, and have that be a part of what it means to be a man in the 21st century, just feels like a huge opportunity. There's almost, like, the flip side of the #MeToo conversation. We have to call out the culture of violence that enables sexual violence. And we have to start the conversation about what is it that we actually want to replace toxic masculinity.
PS: It's been a year since the #MeToo and the Time's Up movements took off. What do you think has shifted in the broader culture, and what do you think still really needs to be nudged forward?
AP:I think we've got an opening that is not closing. A year ago on the red carpet, we talked about how courage is contagious, and how women have been inspired by one another with the way that survivors have come forward across industries, across communities: athletes, domestic workers, people in media, people working in the fields. A silence has broken, and not only are people courageously talking, people are also courageously listening and supporting each other. We're going to show up for each other in all of these different ways, whether it's at a march, or a protest, or showing up at the polls, or running for office.
PS: Something that you discuss in your TED Talk is how the way we treat caregivers — who are disproportionately women, and women of color, and immigrants — has ripple effects on the way we treat each other as humans in society. I don't know that people necessarily always draw those parallels from what happens inside their homes to what's happening at the border, for example, as you brought up.
AP: We're so immersed in the cultural norms, and the power dynamics that shape everything in our lives, and this hierarchy. This idea that to whom we just have so many stories around us about why some people are smarter than others, and deserve more than others. And it's become so deeply seated in our culture that we take a lot of it as truth, even when it's right in our own home. Inherently, I think a lot of us know, "God, what could be more important than the person who takes care of my child?" — or takes care of my grandmother, in my case. There isn't anything more important than that. And yet, it's so normalized that these people should not have benefits, and should not earn a living wage or have any kind of economic security. These stories are not truths, but things that have become embedded in our culture . . . if we're going to try to undo inequality, we're going to have to try to unlearn those stories, too.
PS: Tell me about this National Domestic Workers Bill of Rights that you are working on with Senator Harris and Senator Jayapal. Eight states that do have their own Domestic Workers' Bill of Rights, but can you explain why it's so important to have this legislation at a federal level?
AP: Absolutely. A lot of people don't realize that there's a very long-standing exclusion in our law that domestic workers have been excluded from some of the most basic rights as workers that a lot of us have taken for granted and don't really think about because we just assume we have them. Even something like protection from sexual harassment and discrimination — the federal laws basically require that you have 15 employees or more in order to be covered by those laws. That basically excludes the entire domestic workforce. There are all these ways that domestic workers are either intentionally excluded or fall through the cracks of our existing protection. So, we need to address that. It's been 80 years. It's time.
PS: You also are working on this revolutionary idea that allows people who do employ caregivers and want to do better in their role as employers, help them get benefits.
AP: Yeah! We're so excited. Yesterday was the big launch of Alia. A lot of people tell me: "I have a house cleaner. I want to do the right thing, but I don't truly know what that is." It's not actually easy to figure that out. We just really believe that if you make easy for people to do the right thing, they will. And with Alia, if you have somebody clean your home, all you have to do is just sign them up, and, basically, they can have access to benefits for the first time. It's pretty revolutionary. We're excited to bring it first to cleaners and then, potentially, to everyone who works in a non-traditional setting.
PS: Wow. So this could be transformational for a lot of people just in the gig economy as some point?
AP: Yep. That's the vision. If it can work for housekeepers who work hidden in homes across the country, it can work for just about anyone, I believe.
Correction: an earlier version of this article referred to the Wiesenfeld case, not the Moritz case, as the trial depicted in On the Basis of Sex.