As many of us navigate Zoom meetings and makeshift offices, Alexandria Villaseñor is dealing with a different kind of "work from home." The 15-year-old climate change activist is continuing her tireless efforts to bring attention to the environmental crisis happening across the globe — virtually. She's accustomed to striking alongside Greta Thunberg and speaking at UN Women's Day, and even founded her own youth-focused organization. But amid the coronavirus pandemic, she had to shift her strategy.
Villaseñor is doing what Gen Z does best: creating unique solutions and reshaping traditional ideas to fit the unforeseen circumstances that've been handed to her. One clever step forward? A virtual climate change rally in partnership with Gap for the brand's new Be the Future campaign. I had the chance to speak with Villaseñor about this upcoming global event, her advice for burgeoning activists, what she wishes adults understood, and so much more. Read our conversation below.
On her journey to environmental activism
Villaseñor's journey to activism started when she was 13. In November 2018, she traveled from New York City to her hometown of Davis, CA, to visit family. During the trip, the Camp Fire broke out, quickly becoming the deadliest and most destructive wildfire in the state's history. Despite being nearly 100 miles away from the fire itself, Villaseñor and her family still felt the dangerous effects of the smoke and poor air quality — so much so that Villaseñor ended up returning to NYC because her asthma put her at risk.
"I was upset and I wanted to find out why that was happening, because [in] California, we don't really have a start or an end to our wildfire season," she explained. "I started researching and I started to see the connection between wildfires and climate change. That was a pushing moment for me, when I realized that I needed to do something. After seeing what was happening, I decided to take everything that I've seen . . . and turn it into action."

"After seeing what was happening, I decided to take everything that I've seen . . . and turn it into action."
Villaseñor began striking, first at her school, and then a month later in front of the United Nations headquarters. Her strikes started as a solo movement but quickly grew, at times attracting thousands of young people from across the globe — including Thunberg. Villaseñor held these weekly protests for over a year, and "was striking all the way up to when the pandemic happened."
Behind the scenes, Villaseñor also launched an organization called Earth Uprising. "We focused on climate education because we realized how important it is to bring young people into this climate movement," she told me. That's why she's excited to partner with Gap and reach even more of her peers. "It's amazing because often in this movement, I feel like we are kind of in this echo chamber where everyone has already seen our work and heard our message," she said. "With Gap, it's a way to get a new audience, [who] are able to hear our message, and that way we can grow the climate movement. We can get more people that care about what we're doing."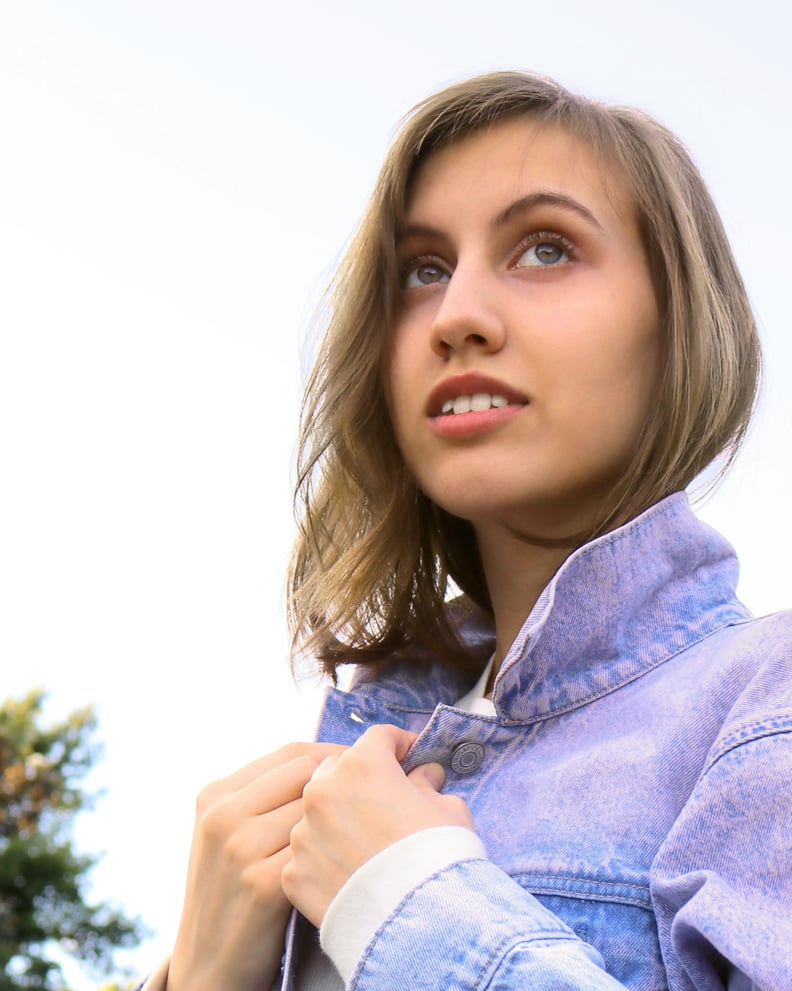 On leading Gap's virtual global climate rally on Aug. 14
As part of her partnership with Gap, Villaseñor and Earth Uprising will be leading a global climate rally on Friday, Aug. 14, where youth can unite in the hopes of a more sustainable world. "We've created this call to action where we're asking people to post about what kind of future they will be," she explained. The rally will take place on Instagram, where Villaseñor and other activists will use the hashtag #BetheFutureThatWill to share their commitments to the movement. For example, Villaseñor pledges to "#BetheFutureThatWill . . . make environmental justice a reality." A simple yet inspiring action that most anyone can fulfill.
On how the coronavirus pandemic impacts activism
Activism obviously looks different while the world battles COVID-19. As Villaseñor told me about Friday's event, she acknowledged that there have been significant changes to how young people approach activism — some for the better. She's seen youth take to social media even more during this time and it's become "one of the greatest tools and resources during the pandemic. . . . [It's] a way that we can get our messages out there even farther," she said.
As social distancing began, Villaseñor told me Earth Uprising took time to reflect on their mindset and course. "I think that any change first starts with reflection," she said. She asked herself, "'What even is a direct action in this? What made our movement what it was?'" Then, she started to focus on how to change things for the better. "We had to use social media even more once the pandemic started. I saw so many more campaigns and initiatives launched on social media bringing in more people, which was amazing."
TikTok has offered an advantage to young activists too, Villaseñor noted, referring to the teens who allegedly shifted attendance expectations at Donald Trump's Tulsa rally. "Organizing is happening really on every social media platform," she continued, adding that amid the pandemic, conversations about making the climate change movement "even more intersectional" are ongoing, as more activists express their support for Black Lives Matter. The question at the top of her mind: "How can we make sure communities that are really being affected by this crisis are the ones who are able to get their message and voice shared, and be at the forefront, and making sure we focus on active role solutions to the climate crisis?" This is the type of growth and reflection Villaseñor hopes will lead the movement into an even better place.
On her advice for teens who feel they're "too young" to get involved in activism
Villaseñor doesn't see age as a limitation. "You're never too young to take action. You're never too young to be involved," she told me. She fondly recalled a quote from fellow activist Greta Thunberg, who said, "You are never too small to make a difference."
"I think that really at whatever age, there's so much impact that you can have because at whatever age, you have a message that's powerful," Villaseñor said. "I've noticed that people really listen to young people . . . we haven't really lived in this system that a lot of adults have been ingrained in. Young people, we just say what's on our mind. Especially, even littler kids than me, I've seen them just straight up say, 'This is what I want.'"

"You're never too young to take action. You're never too young to be involved."
"When we see young people say what is really on their minds, it's something that adults really need to hear. I think that at any age you can do something impactful."
On what adults can learn from young activists
Intergenerational work is key to activism, according to Villaseñor. "There is a lot of stuff that young people can learn from adults and there are things that adults need to listen and hear from young people," she explained. "I think one thing young people bring to the table is our out-of-box solutions and innovations."
Today's youth haven't been jaded by the expectations and boundaries so many adults adopt as they grow up. "Young people haven't had their minds made up about how this world works and we still think that anything can be possible," she said. "I mean young people's dream is to literally do everything; at least that's mine. When we focus on what needs to happen, I don't overthink about, 'Oh, what is politically or economically possible?'"
Instead, Villaseñor and many other young people are looking forward, past the "nos" and toward the "yeses" in life. "That's why we're always focusing on systemic change. Having systems change and having brands and corporations change . . . like what Gap is doing," she said, referring to Gap's sustainable fall line. "Everything around sustainability is what we're always pushing for brands to do, to change their practices and be more sustainable. Seeing a brand is actually doing that is incredible because it shows other brands that yes, they can do that too. It's not impossible."
On taking the first step toward activism
Villaseñor has protested with Thunberg and given TED Talks, but in her mind, all activism starts with one step. She recommends that young people who are ready to get involved first "find a group or an organization in their community that they resonate with" and learn from them. "A lot of young people, we get into this and don't really exactly know what we're doing, but that's the best part is that we are learning as we go along."
She also suggests finding ways to contribute to the movement from home. "Phone banking is a great option, as well as writing letters to city council members," she recommended. Villaseñor emphasized the importance of taking action at the community level, and to continue speaking out at home. "I promise city council sometimes works better than different levels, like Congress — city councils are so effective."
On why it's important for young people to raise their voices today
Villaseñor had some words of motivation for her peers in particular, to remind them of their importance. "We're the ones who are ultimately going to be impacted the most by climate change and what's happening to our planet," she said. "Climate change, it's going to affect every aspect of our life." She listed off a few examples: where young people live, where they end up going to college, what kind of jobs they hold, and whether or not they decide to have a family.
"So many conversations happen where young people honestly don't even want to have kids because of what's happening to our planet," she told me. "It's extremely upsetting because we're going to have to always keep in mind what's happening with the climate crisis when deciding about our future. I think that's one of the main reasons why young people need to be involved in making their voice heard, because we're going to be the ones affected the most by this. It's extremely important that we start doing something to prevent some of the most catastrophic predictions."
On what gives her hope for the future
Whether you're striking on the steps of the Capitol or fighting for justice in your own community, activism can be exhausting and intimidating. Still, Villaseñor has an optimistic outlook on the path forward.
"I think the one thing that keeps me hopeful about my future is when I take action," she said, explaining that taking tangible steps gives her "a sense of hope." "I'm only 15. I won't be able to take part in our political system for three more years — which is far too long in my opinion — so I feel like best way for me to make my voice heard is when I'm out protesting, taking direct action and doing something around organizing, because that way I have a say in what's happening."