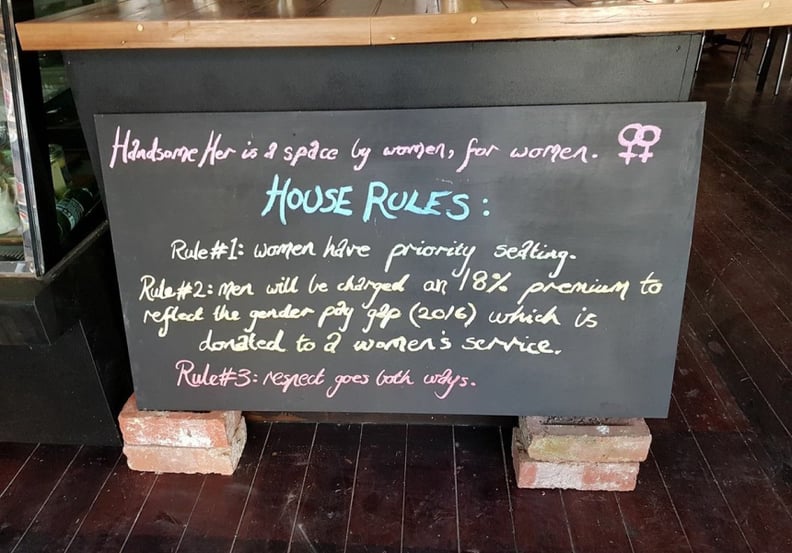 Twitter user @PaigeCardona
The sign runs down the house rules for Handsome Her, namely that women have priority seating and encouraging respectful interactions in the café. But the second rule is what caught fire: "Men will be charged an 18% premium to reflect the gender pay gap (2016) which is donated to a women's service." A photo of the house rules made its way onto social media, and the global reaction was instantaneous — and resoundingly positive. "Well, it's been a hectic couple of days. Who would have thought one little chalkboard would cause such a stir?" a message on the cafe's Facebook page read, "Notes from the real world - yesterday and today we were jam-packed with customers showing their support."
Australia suffers from an incredibly high wage gap of 18 percent, a figure that is roughly the same as the current differential in the United States. While there are activists in both countries who seek to heighten knowledge of the issue across all sectors, it's rare that it's broached in such a public way in a place of business. Handsome Her's manager, Belle Ngien, told CNN,"All we really wanted was to raise awareness and start conversations about the gender gap." And that's exactly what she got.
As is to be expected, some individuals on social media weren't as impressed with the effort, instantly taking offense with the Handsome Her's stance. But the negativity was greatly outweighed by an outpouring of love and support both online and in person, with Handsome Her seeing men and women coming to the store in droves to applaud them for drawing much-needed attention to an issue close to their hearts. "I had a woman bring her daughters in today and when she came up to the till and saw our gorgeous vulva stones and our period sticker packs," the owners said on Facebook, continuing, "she beamed, thanked us for what we were doing and said "what a beautiful place to take my daughters"... I swelled with pride."
So here's to you, Handsome Her, for rekindling the dialogue in Australia — and let's hope that the messaging behind a "man tax" comes stateside very soon.