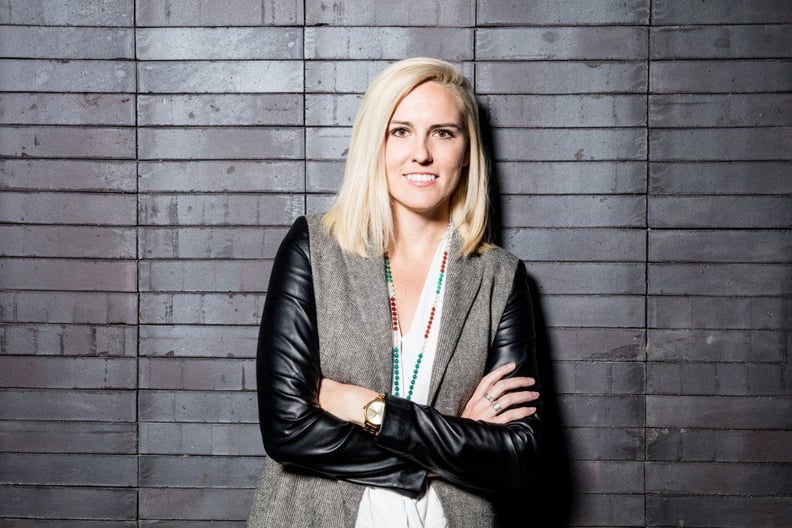 Photo courtesy Kimpton Hotels & Restaurants
Photo courtesy Kimpton Hotels & Restaurants
Lauren Bucherie is Director of Music & Brand Activations for Kimpton Hotels & Restaurants and is based in Austin.
It was just three weeks after I'd made the tough decision to walk away from pursuing a job in the music industry — my real passion — when a phone call changed everything.
I've always been fascinated with music and how it affects people. I grew up in the suburbs outside of Las Vegas, in a place called Green Valley. Growing up, my mom used to make home videos set to music. I remember seeing montages of myself playing or dancing around with Rod Stewart's 'Forever Young' or 'Love Me Do' by The Beatles in the background.
My family isn't particularly musical in terms of playing instruments, but my parents are definitely fans of music. My dad would always have Motown playing, and one of the first records my mom bought for me was The Jackson 5. Both of my parents have led entrepreneurial lives, so I've taken after them in wanting to pave my own path.
As I got older, I was interested in music as it related to television and movies and was curious about how to break into that as a profession. I always paid attention to soundtracks and noticed how specific songs influenced me as a viewer. It was something I always had an affinity for, and I discovered music supervision, which I still wouldn't quite say is considered a mainstream career.
When it came time for college, I went off to study business at the University of Nevada, Las Vegas — partially to placate my parents. I knew I wanted to work in the music industry, but having a degree in business gave more of a sense of security.
I would look up the people behind the soundtracks to my favorite television shows or movies, track down their contact information, and reach out with a cold email.
My advice? Find the people who are already doing what you think you want to be doing and make those connections. When I was 22 years old, I did it the old-fashioned way. I would look up the people behind the soundtracks to my favorite television shows or movies, track down their contact information, and reach out with a cold email. Half of the time, someone responded. If someone whose work I admired was speaking on a panel, I would sign up, go to the front of the room, and introduce myself afterwards. Creative industries are very relationship-based, but you have the power to create those connections. It won't always be a yes, but you'd be surprised how far passion and enthusiasm will go to crack open a door.
After backpacking through Europe postcollege, I took a leap and moved from Las Vegas to Austin. In Austin, I continued my education at MediaTech Institute, a production and media engineering school.
I worked on the soundtrack for the short film Silo, which ended up winning at the Louisiana Film Festival. After the film won, I gained the attention of a few filmmakers, which paved the way to work on soundtracks for other independent features. In Austin, my career in music supervision was short-lived; there just weren't as many opportunities to work in that field since most movies are made in Los Angeles.
At the same time, I took a job with Mike McCarthy, the producer for the band Spoon. It was unpaid, but I didn't care — I just wanted to be in the studio while Spoon was recording. My dad always told me to be fully present in every project, because you never know when that project will come back to you, and I've found that to be true.
After identifying a need for a platform for all the amazing artists I knew who were still relatively undiscovered, I launched The Sessions along with a friend. It was a music production company specializing in live events, concerts, and music videos. It was partially inspired by a venue and collection of artists called Hotel Café in Los Angeles. We wanted to create an intimate space for artists where we could also film their shows to provide them with much-needed and well-deserved exposure.
People in Austin started attending the shows and sought us out to curate and develop artist content. We were bringing audiences closer to artists and filming their shows in unique ways. Our primary focus was content, and brands would reach out to us because we had the relationships with musicians. Luckily enough, our work was recognized, and we were able to collaborate with clients from Livestrong to Austin City Limits to W Hotels at the time.
I've learned not to sweat the small stuff — the things that stress you out at 23 really don't matter in the grand scheme of things. It was an interesting time in my 20s; we made very little money, but I made industry relationships that I still have to this day. I got to work with Fitz and The Tantrums, The Civil Wars, and Shakey Graves before they became big. It's been so rewarding to follow their journeys.
On my 27th birthday, I was selected to be featured in an AOL series called "Makers" in New York City to talk about The Sessions. All these incredible women were featured on the website.
For anyone searching for a job who's trying to balance their passion: don't give up on your dream, but find temporary ways to make it work.
For anyone searching for a job who's trying to balance their passion: don't give up on your dream, but find temporary ways to make it work. It's a reality that most artists or creatives work in something else when they are first starting out to pay the bills. If you're not able to make a living in what you're passionate about right out of the gate, keep it in your sight line until you can quit your day job and pursue your dream full-time.
In 2014, I made the tough decision to sell my half of The Sessions to my business partner. I realized that after building this incredible platform, it had gone in a different direction that was more commercially driven, when what initially drew me in was working with the artists.
Anytime you go after something "unconventional" or unknown, failure in one way or another can and probably will happen to you. But the lessons you learn through failures are equally as important as those learned from success. Both define your character and prepare you for what's to come. Breaking away from The Sessions helped me re-evaluate my career as an individual and what that meant for my professional relationships.
I actually took a pause from music in general and tried to convince myself I was at peace with it. Music has always been the way I've communicated throughout life, but I got to a point where it wasn't paying the bills. I reluctantly got my real estate license, which was the family business, in early 2015 as a backup plan. Deep down, I knew it would be temporary.
Three weeks into settling on a real estate agency, I got a call from Kimpton, which became my silver lining. They had seen my work with The Sessions and were looking for someone to lead music programming in Austin. It felt like I was abandoning my dream for a moment, but it turned out the dream wasn't ready to let go of me.
I came on as the director of music programming at the Kimpton Hotel Van Zandt for a year and a half before transitioning into a larger role with the brand. What I love is the music discovery element and being able to build relationships with up-and-coming artists in the point of their careers they need it most.
Building off my interest in pairing music to soundtracks and how that affects the mood, now I get to soundtrack the guest's stay at our hotels and restaurants. Working at Kimpton, it's amazing to feel like I'm working in music like I want to but am supported by the hospitality world at the same time.
Between hotels, bars, and restaurants, Kimpton encompasses over 140 unique brands. Nothing is copy and paste. My role is to curate each sonic identity to fit where you are, both in terms of the history and culture of the location and the actual environment — whether it's the lobby or a rooftop bar. I help determine the type of experience we want our guests to have. It's been an incredible experience to evolve this role as we're looking to launch some exciting things in the coming year.