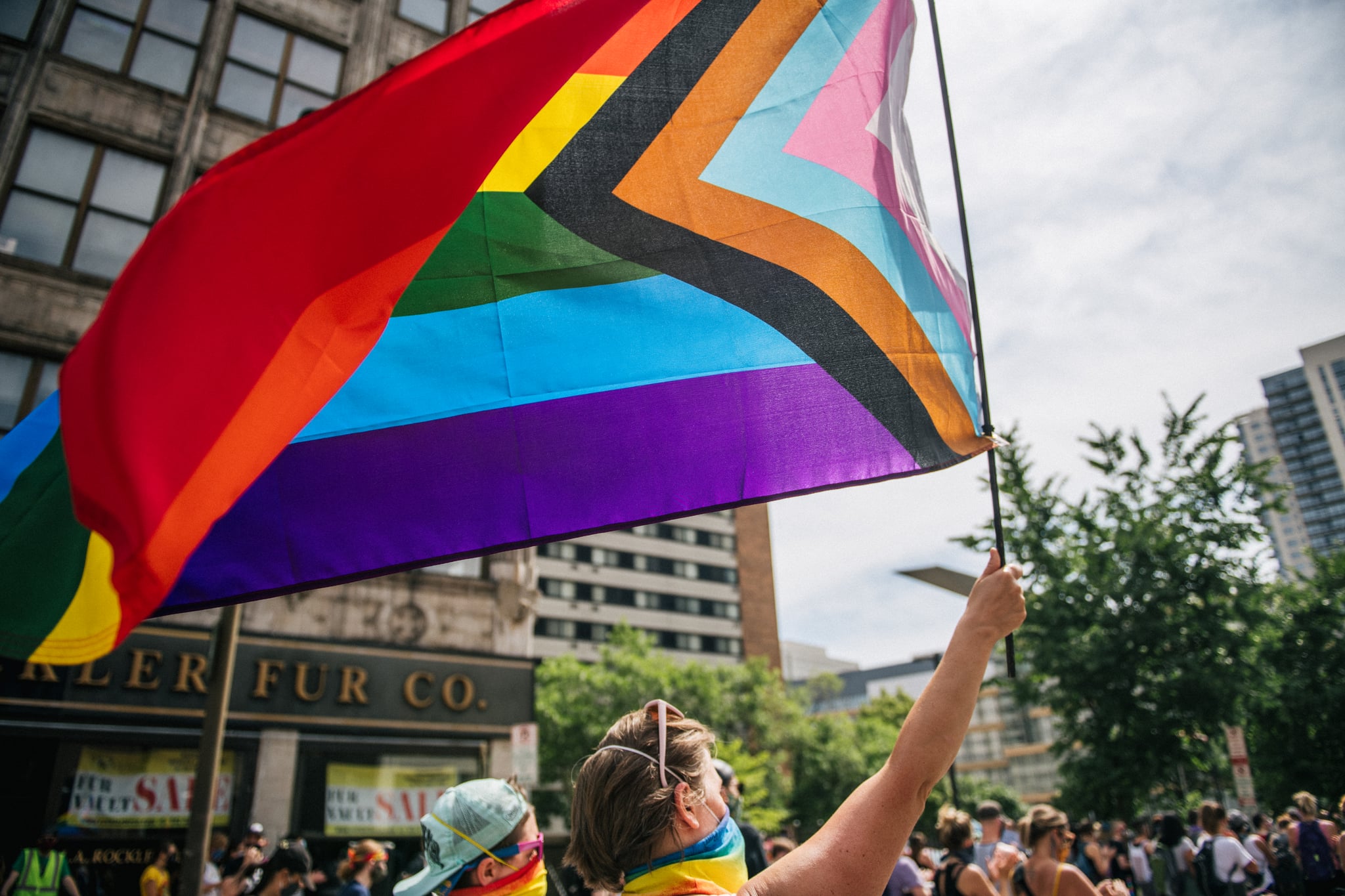 In many ways, the past couple of years have been remarkably grim for the LGBTQ+ community. State lawmakers have introduced more anti-trans bills [1] than ever before; hate crimes are on the rise [2]; and anti-LGBTQ+ rhetoric has been normalized [3] in political debates. In November 2022, a gunman killed five and injured dozens more [4] at an LGBTQ+ club in Colorado Springs, CO, leaving the community stricken even harder with grief.
At the same time, members of the community have made great strides. For the first time ever, LGBTQ+ candidates were on the ballot [5] in all 50 states in the 2022 midterms, and Congress passed [6] federal legislation protecting the right to same-sex marriage in December 2022. High-profile celebrities, from Pedro Pascal to Gabrielle Union [7], are speaking out [8] against anti-trans laws.
The simultaneous groundbreaking visibility and increased threats go to show that change is possible — but not if LGBTQ+ community members and allies stop fighting.
There are small and big ways we can all support the LGBTQ+ community today and beyond, so we asked experts and advocates for their best actionable tips. Keep reading to find out why you should attend school-board meetings, which organizations to donate to, and more.
Educate Yourself
Start small. Learn different terms [10] for gender identities and sexual orientations, as well as concepts that pop up in news coverage. A number of resources [11] already exist — including pronoun guides [12] and explainers on why words like queer have a complicated history [13].
Language can be the first step, but learning goes far beyond that. Kenrick Ross, Executive Director of the National Queer Asian Pacific Islander Alliance (NQAPIA), explains that most people simply do not grasp how many threats LGBTQ+ individuals face daily.
"I think many allies don't see the full scope of how we have actually really moved backwards. They need to understand and get educated about how much anti-LGBTQ+ legislation is moving across the country right now," he says.
That's why it's crucial, experts say, to understand the complexity and intersectionality of issues affecting LGBTQ+ people. That looks like staying up-to-date with LGBTQ+ news written by queer journalists [14] and listening to queer voices on social media [15].
Amplify LGBTQ+ Voices
Allies should seek to amplify accurate information, and should prioritize organizations and advocates who center queer voices. For example, for information on trans issues, the National Center for Transgender Equality [16] might be a good place to start, and then you can share their resources with others.
This sharing piece is crucial, Ross says: "Allies and other people might be able to access spaces that are not accessible to queer people, and amplifying information and having conversations in those spaces can go a long way."
Jorge Reyes Salinas, Communications Director for the LGBTQ civil rights organization Equality California, says that often people don't have time to read through long articles or spend time researching issues. However, allies can do their part by making information more accessible in their own social circles and communities.
"Write a summary about it or say, 'Hey, check this out, this is what's happening' or 'When you get a chance, watch what's going on in Colorado, watch what's going on here, watch the Senate vote happening tomorrow,' you know, elevating and sharing what other LGBTQ+ people are elevating and highlighting and making it a priority," he says.
Be Active in School-Board Meetings
Advocating for the LGBTQ+ community includes making sure that queer and trans kids are safe at school and in their communities. Across the nation, conservative state legislatures are restricting [17] transgender girls' participation in girls' sports, prohibiting talking openly about LGBTQ+ issues in classrooms, and banning books that even mention queer relationships.
The debate often takes place at contentious school-board meetings [18]. One important way to combat anti-LGBTQ+ policies is attending your local school board's meetings. There, you can voice support for the district providing age-appropriate education about the LGBTQ+ community and allowing children to use bathrooms that match their gender identity, as well as advocate that teachers be respectful of students' gender identities and sexual orientations.
Salinas says that conservatives are "trying to manipulate or really change the way that educators are teaching children," and can be strong voices at such meetings. That's why it's so important for LGBTQ+ supporters and allies to also "participate in these settings," Salinas adds: it comes down to educating kids about LGBTQ families and the "importance of diversity."
Be Mindful of Intersectionality
LGBTQ+ rights are not at threat in a vacuum. Sexism, racism, and ableism have compounded effects on the LGBTQ+ community, and many other rights — from reproductive health-care access to voting rights [19] — have been stripped from many Americans this year.
So when you advocate against issues such as racism, gun violence, and xenophobia, you should also be thinking about how LGBTQ+ communities are specifically impacted by them. Queer liberation is inextricably linked to movements for gender equality, climate justice, and racial justice. Advocates suggest always elevating queer voices in conversations about these intersectional issues.
Take gun violence, for example, and the shooting in Colorado — in which the suspect was charged with 305 counts [20], including bias-motivated crimes causing bodily injury. As Ross explains, "Oftentimes, people think, well, you know, gun control is one issue, and LGBTQ rights is another issue. But in Colorado, they're not. They're inextricably linked."
Vote
Many LGBTQ+ folks understandably feel excluded from, invisible, or explicitly threatened in the political sphere. In the past year, hundreds of bills [21] have been introduced across the country that target LGBTQ+ rights. Meanwhile, LGBTQ+ people are underrepresented in politics — making up just 0.2 percent of all elected officials in the United States [22], explains Katie Hultquist, Director of Leadership Giving at Outright International.
So allies need to show up and vote for representatives who support queer rights and sponsor bills that support LGBTQ+ rights. Calling your U.S. senators, House members, and state assembly members is extremely valuable, Salinas says: "You need to show that you are paying attention, you know what's going on, you know what's on the table to be voted on."
Beyond this, people who are not eligible to vote can also help [23]. You can participate in voter outreach, create awareness about the issues that are currently on the table in your local and state and federal elections, amplify candidates who align with your values on social media, and more.
Donate to LGBTQ+ Rights Organizations and Mutual Aid Groups
Informal networks of support have always been a critical source of strength for LGBTQ+ communities.
Because many queer and trans people are rejected by their families of origin and communities, "LGBTQ+ people have found support and solidarity from their chosen family — pulling together within communities to care for and advocate with each other," explains Hultquist.
Many mutual aid efforts are organized by trans people, for trans people, Hultquist adds. This mutual aid can help provide assistance with education, housing, medical care, and more. Donating to such groups — those led by LGBTQ+ members of the community — can be extremely beneficial on a local level. Finding mutual aid groups and community care groups can be as simple as doing keyword searches like "Queer mutual aid groups" along with the name of the city or town you live in, or reaching out to LGBTQ+ organizations in your state and asking them to connect you to local groups.
There are also many state and national level LGBTQ+ organizations that provide health services [24] and mental health support [25]; some are specific to AAPI communities [26] and BIPOC communities [27] that need support and funding.
"Organizations provide life-saving support to our community and are the ones advocating for social and legal change for queer and trans people everywhere and every day," Hultquist says. "They keep queer and trans youth alive. They allow us to celebrate queer and trans love and joy."