Women Will Bear the Brunt of the Government Shutdown — Here's Why
This Friday, Jan. 11, should be payday for federal workers — but 800,000 federal workers impacted by Donald Trump's shutdown won't see a paycheck; they'll see their savings dwindle and their families' financial security jeopardized. Many will struggle to pay rent or make mortgage payments, buy food at the grocery store, or afford their medication. All for a totally avoidable and completely pointless shutdown that Donald Trump could end today by giving up on his racist wall and agreeing to the bipartisan legislation that has already passed Congress.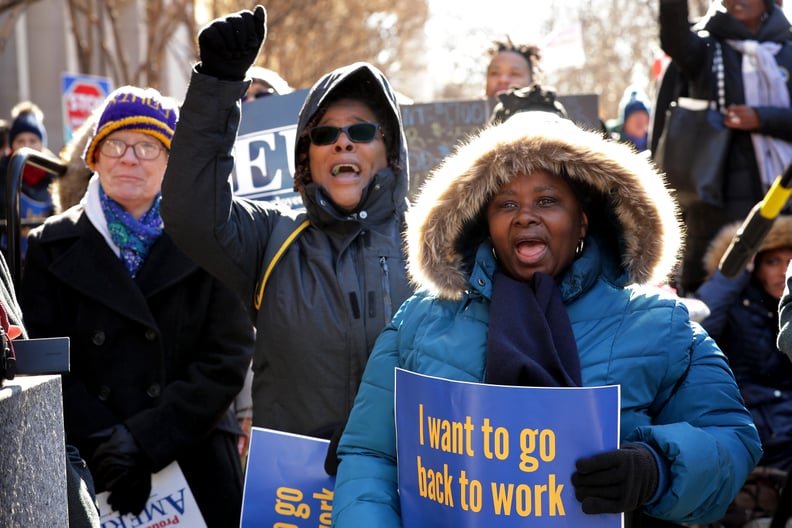 Union workers rally in DC on Jan. 10, 2019.
Women make up the majority of the federal workforce, and in this country, 81 percent of working women live paycheck to paycheck — meaning women are already the hardest hit.
But the shutdown's impact goes beyond pay for federal workers. The one in three American women who experience sexual violence in their lifetimes, the women who rely on government support programs to make ends meet, and the indigenous women who rely on the Indian Health Service will be harmed in the ways they need the most support: health care, food, and housing.
Due to the shutdown, last month Congress failed to reauthorize the Violence Against Women Act, which funds programs that support survivors of domestic violence and sexual assault, including domestic violence shelters and rape crisis centers. While current grants already awarded under the law will not be affected, future grant requests could be delayed, cutting off critical services survivors rely on.
Like most GOP policies, the Trump shutdown impacts women of color, indigenous women, and working class women the most. The Indian Health Service (IHS) — a Department of Health and Human Services program that provides health care to over 1 million American Indian and Alaska Native women — has already stopped receiving federal funding. According to Indian Country Today, 54 percent of the IHS budget goes directly to "tribes, urban programs, and nonprofits for clinics, hospitals, and medical services in Indigenous communities." Healthcare programs for indigenous communities are already severely underfunded, and indigenous women are more likely to be uninsured than any other group. Cutting funding, even temporarily, will severely exacerbate the issue.
And as President Trump digs in his heels and perpetuates this unnecessary government shutdown, more devastating impacts will come within weeks for women and children. Federal funding for food assistance programs Supplemental Nutrition Assistance Program (SNAP) and the Special Supplemental Nutrition Program For Women, Infants, and Children (WIC) is only guaranteed through February. If the shutdown continues and states can't fill in the gap, 32 million working class women, mothers, and children could lose access to affordable food and formula.
Trump's shutdown also puts millions of working class families on the brink of eviction. In a last-ditch effort to protect public housing and Section 8 tenants, the Department of Housing and Urban Development sent a plea to 1,500 landlords, asking them not to evict people who would no longer receive federal rental assistance due to the shutdown. Women, who are increasingly the sole breadwinners and heads of households, will suffer the most. Seventy-five percent of public housing and Section 8 households are women-headed.
For now, these programs are staying afloat because of state and local sources of funding, but funding varies from state to state and a lengthy federal shutdown would force millions of women to scramble to find housing, food, and health care.
And as Trump's manufactured shutdown over a fake "national security emergency" at the border is punishing working women, let us not forget the immigrant women and children who are being held in federal detention in inhumane conditions, are still being separated from their families, and are being barred from asylum from unimaginable violence and suffering.
Donald Trump and Senate Republicans can and should end all of this today. Because here is the bottom line: women can't afford this shutdown. And women should not have to suffer more for Trump's pursuit of a racist and ineffective policy.