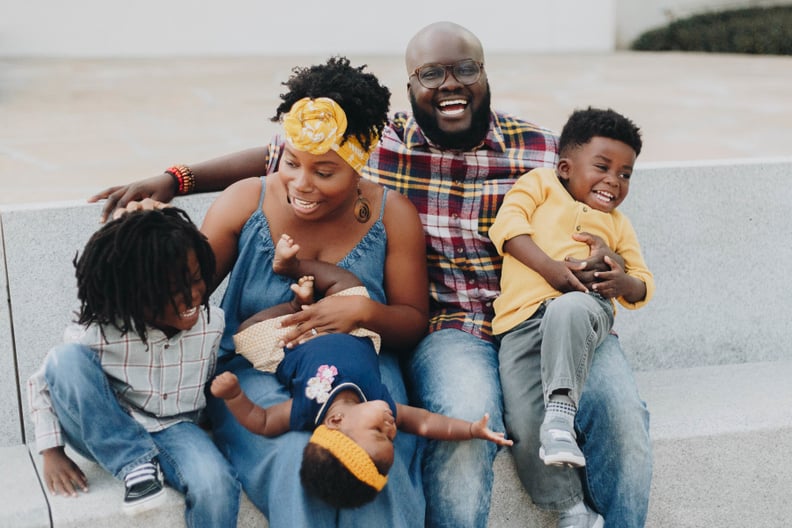 YouTube user: Beleaf in Fatherhood
YouTube user: Beleaf in Fatherhood
Glen Henry is a stay-at-home father of three and a loving husband. He's also a black father in America, and has first-hand experience when it comes to seeing how that role is widely subject to stereotyping and skepticism. As the creator of the successful YouTube channel Beleaf in Fatherhood, Henry not only shares his journey as a father with his audience but also challenges the misconception that black dads aren't around for their kids — a stereotype often heightened by TV and film's portrayals of black families.
Henry remembers the first time he started noticing these preconceptions spilling into the comments section on his videos. Some viewer comments included jabs like, "He's going to leave his family in a week" and "I didn't know black fathers existed."
"At first I was really, really mad," Henry said. "But then I had sympathy, because I was like, 'Man, it's so sad that people really believe this. This is their truth,' and so I felt like I really had the opportunity to prove them wrong."
Beleaf in Fatherhood, which has more than 100,000 subscribers, was recently selected to be one of 47 of YouTube's 2018 Creators for Change Global Ambassadors. The global initiative spotlights YouTubers from 16 different countries (Beleaf is one of seven creators selected from the US) who are making a positive impact with their videos. The program provides ambassadors grant funding, mentorship opportunities, and production assistance, allowing them the opportunity to create more work that matters.
How will Henry utilize his ambassadorship? He told POPSUGAR he hopes to release a series documenting his friend's transition from incarceration to everyday life. Henry's friend, who served nine years in jail, seemed like a lost cause for his family and friends, including Henry. The idea of redeeming yourself and taking back your life, however, inspired Henry to look past his friend's errors.
"He's an amazing person. Once you meet him through the lens, you're going to fall in love with the character and forget all the things in the past," Henry said. "I want to explore the redeeming factor of life and how you can get a second chance. You can do great things with it."
The series might seem like uncharted territory for some of his devoted viewers, but in hindsight, it makes sense Henry would lend his storytelling to this cause. Beleaf in Fatherhood is known for unpacking topics that deal with human emotions and trials, ranging from "my son stole from his best friend" to "why is it always about being black?"
Henry first started sharing his family's adventures and, well, misadventures with audiences in 2015. Beleaf unapologetically displays the Henry family's relatable, and sometimes chaotic, family life. From the time their car was stolen to pretty bad "poopy" days, the channel's honesty and authenticity is what brings viewers back.
Henry told POPSUGAR that Beleaf's mission is not only to inspire families, but to help them reconcile. Whether it's a viewer reaching out to an estranged father or a young person changing their views on parenting, the Henry family has made a positive impact in many of its viewers' lives. Henry's message is gaining more and more viewers with every video upload, not to mention a TEDx talk Henry gave in March 2018. Thanks to YouTube's initiative and the Henry family's undeniable charm, you better believe Beleaf Henry is out to create the change he seeks.