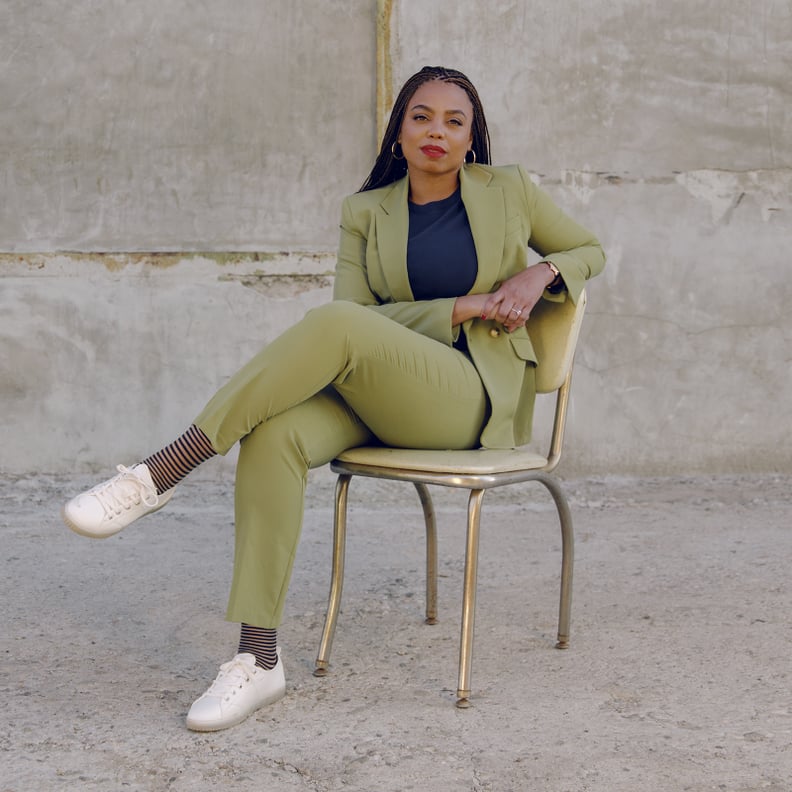 Courtesy of Spotify
Courtesy of Spotify
You probably know Jemele Hill from the 12 years she spent as a reporter for ESPN, or the pandemonium that ensued when she called Trump a "white supremacist" on Twitter while working for the sports conglomerate in 2017. But even aside from the attention that specific moment attracted, she's a woman committed to and unafraid of sparking important conversations. Those are exactly the kinds of conversations you'll hear on Hill's Spotify podcast, which launched in April: the aptly titled Jemele Hill Is Unbothered.
Hill tells POPSUGAR the podcast came from her desire "to have interesting conversations with compelling people." Those people have included guests like Stacey Abrams, Common, Charles Barkley, Soledad O'Brien, and more. But her dream podcast guest is, without question, Michelle Obama. "I'm endlessly fascinated by her life, by what she's been able to accomplish," Hill says of Obama. Hill says Serena Williams is a close second.
"This was my way of stepping outside of the box that I had been put in."
Hill's podcast is an open space for her and her guests to have conversations about politics, sports, pop-culture, and the intertwining relationships between them all. "A lot of people know me strictly as being a sports reporter and being on ESPN, and are not aware that I have these other interests, and all these other things and topics that I want to discuss," she says. "This was my way of stepping outside of the box that I had been put in."
"If sports are already one of the big few things that bring us together, then why couldn't we be able to have some really interesting and thoughtful conversations as adults?" It's a different environment from what she was used to at ESPN, and by default, it's fostered a different way of thinking. "A lot of the creativity is born out of the fact that it's a much different platform," Hill says of working with Spotify. She explains that Spotify has a "much broader base" than ESPN and they function differently. "People don't come to Spotify for some deep dive into sports. I think they come expecting a little bit of everything, which gives me an opportunity to have more freedom."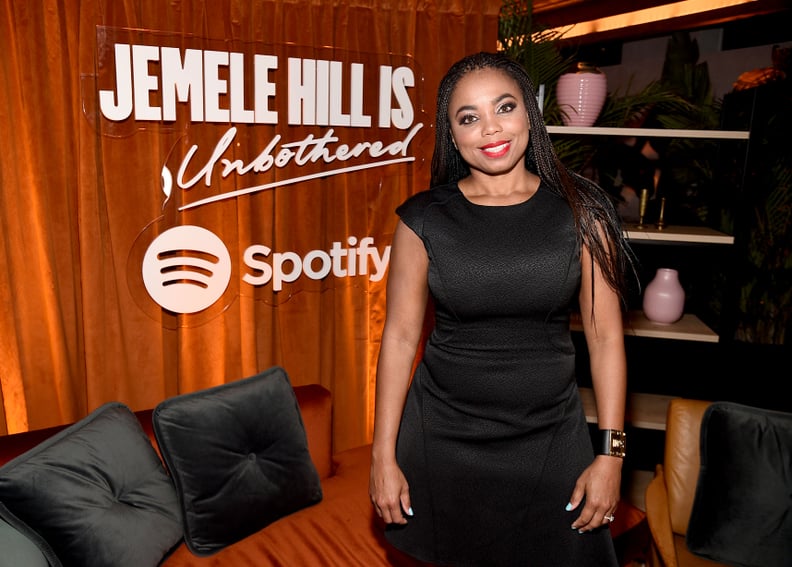 "When people ask me, 'Oh, what made you decide to speak out against the President?' I was like, 'I don't know. It was Tuesday,'" Hill laughs. "I was in the moment and felt like it was something that needed to be said, and that's always been a guiding force in me. I look at things more from a perspective of right and wrong than I do, 'Well, is this a good time to speak up about this?'"
"If we waited for everybody to be ready, we'd still be drinking out of separate water fountains."
Hill says she's not willing to wait for the "right time" to share her views. "A lot of times progress is stalled because people have this idea there's a right and wrong time for things to happen," she says. "If we waited for everybody to be ready, we'd still be drinking out of separate water fountains. That's why the timing of it doesn't matter to me. It's more or less, 'Does it need to be said?' And the answer's yes and that's the time to say it."
Hill has riled up some people with her opinions over the last few years, and when asked about haters, she quotes the great Nas: "As one of my favorite rappers once said, 'Hate is just twisted admiration.' I tend to look at it that without a certain amount of hate, I wouldn't be relevant . . . If I didn't incite any reaction, then I'm probably not saying anything meaningful."
The "setbacks" that Hill faced in 2017 could absolutely be discouraging to someone's professional journey, but she says she got through it by reminding herself of "a pattern that was woven so strongly" throughout her life. "Whenever I experience what some would qualify as a setback or as a failure, I saw later on down the line why that was important." She compared her story to that of Bran Stark's from Game of Thrones. "As much as he irritated me, he knew he needed to have Hodor with him because he knew Hodor was going to hold that door which was going to allow him to be king," she says. "And even though Hodor had to die for him to be king, the reality is that everything happens for a reason."
She adds, "I kind of saw myself in the same way [as Bran] that as tumultuous as 2017 was for me, if it all led me to having my own podcast and having my own production company and moving to Los Angeles and all these exciting professional things that happened, how could I ever regret having said it? I couldn't because it got me to the place that I was destined to be in." And for that reason, Jemele Hill is (still) unbothered.
Check out the Jemele Hill Is Unbothered podcast every Monday and Thursday, exclusively on Spotify.