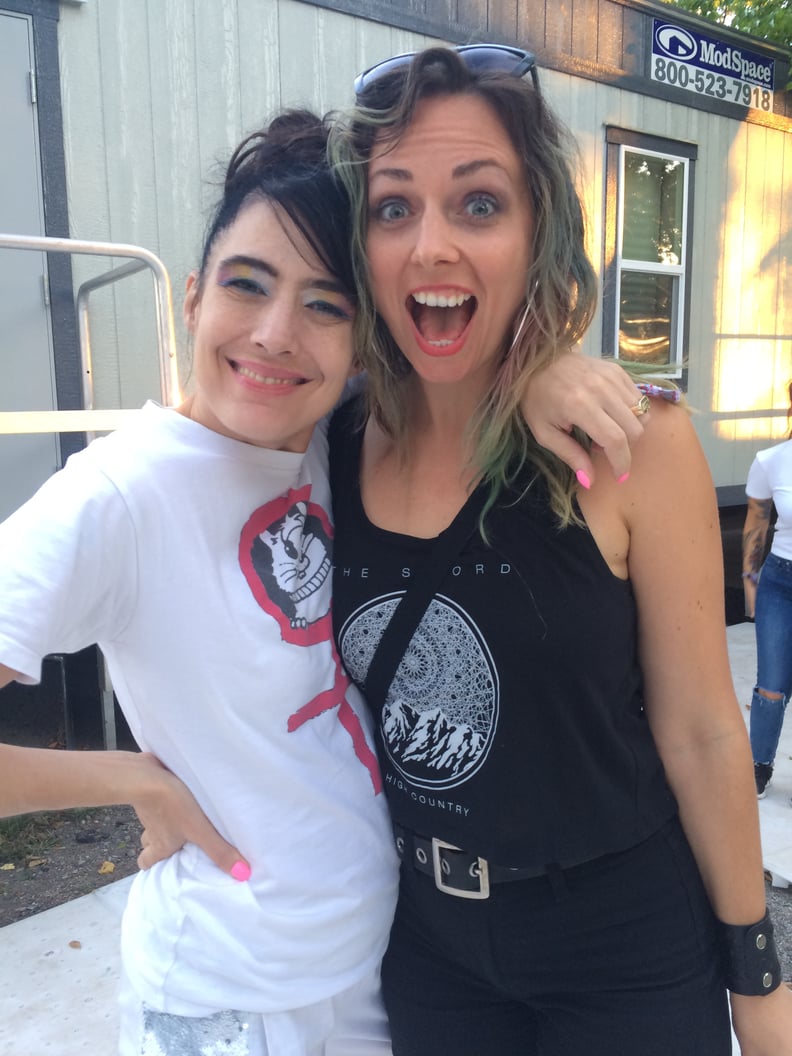 Eden Kittiver
Eden Kittiver
Twenty-eight years after Kathleen Hanna first burst into public as the lead singer of riot-grrrl band Bikini Kill, she's proof the feminist punk spirit she emboldened and inspired in so many others does not have an age limit.
Hanna lends her vocals to "YDTMHTL" (You Don't Tell Me How To Live), the first single from Baltimore hardcore punk band War on Women's new album Capture the Flag. It's a rebellious anthem for anyone who is tired of being told what to do. "I'm in my 40s, and when I listen to it I felt like, that's right, don't f*cking tell me what to do," Hanna said during a conversation with POPSUGAR and War on Women's lead singer, Shawna Potter (pictured with Hanna above.)
Potter describes the song as "a love letter to my 14-year-old self." Hanna seemed like the perfect match; convinced she'd say no to singing on the track, the band asked her anyway. Sample lyrics include: "Your skirt's too short, your dress too tight / You don't tell me how to live / You sleep all day, stay out at night / You don't tell me how to live."
"It's for any young punk coming up that's tired of being told what to do," Potter said.
"It's not just for young punks coming up," Hanna suggested. Her band, The Julie Ruin, released their last album in 2016. "I don't get paid enough for you to tell me what to f*cking do. It's a song for everyone!"
"The idea that there even is leisure time for anyone other than straight white males is a joke, because you're still dealing with the same treatment everywhere you go."
War on Women have always fused activism to their music. At last year's Vans Warped Tour, they brought two volunteers along as the festival bounced across America to educate people on sexual harassment prevention and bystander intervention training. Hanna, intrigued by the effort to take this training on the road, said it can be a hugely important tool that ricochets into other parts of your life.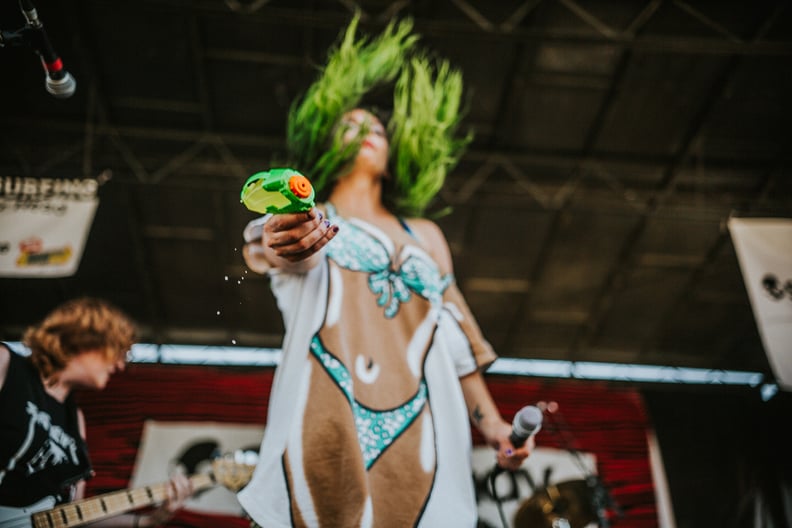 Shawna Potter performing with War on Women
"If you have a club that's more welcoming, people can actually enjoy their leisure time instead of feeling constantly harassed and violated in a place where they're supposed to be having fun," she said. "When you taste a little bit of freedom, you go back to your job and think, 'I don't deserve this kind of treatment here, either.' It might seem like it's really specific to venues or festivals, but it's not. You deserve to have fun in your free time."
"So many people are treated as second- and third-class citizens at their workplaces, when they're walking around, and then you try and go out and have a good time on the weekend, and you're still dealing with sexism and racism and homophobia in every single space," Hanna said. "The idea that there even is leisure time for anyone other than straight white males is a joke, because you're still dealing with the same treatment everywhere you go."
The collaboration came about after Hanna and Potter met at the 2016 Riot Fest, an annual rock music festival in Chicago. The way Hanna remembers it, "We hung out in some weird circle by a chain link fence when The Misfits were playing."
"There's actually very few people who do what War on Women do, to be honest," said Hanna. "There's been so much good music made by women, but I haven't heard that many where they're so overtly signing about sexism and about the patriarchy. That was a real happy surprise for me."
"We do such similar work in the world that I felt an immediate shorthand with them," she added.
That innate understanding — "hanging out with other women who are in bands and grappling with the same issues," said Hanna — is incredibly important, especially when it comes to discussing music.
"What if you just want to write a f*cking love song? Nowadays people are like, 'You're off-brand.' We're just people who are making music and we can make music about whatever [we] want to write about," said Hanna. "If War on Women wants to make a record about colors on the water, they should be allowed to do that. We're more than these categories of feminist musician." Capture The Flag comes at a crucial moment in American culture. More than a year into the presidency of Donald Trump and months into the #MeToo movement that exploded last fall, there's a tension between the old guard and those who are finding their voices and letting their anger become public. Songs on the album include "Predator in Chief" and "Dick Pics," titles that need little explanation.
Potter and Hanna have both been told they're not the "right" kind of feminists, and that they don't pay attention to the "right" things. With such a huge amount of material to work with, not least the omnipotent presence known as the patriarchy, Potter is often asked why she hasn't written a song about a certain subject. There's an art to balancing being musicians and activists, she said.
"I wrote a song about FGM. After the last record we're releasing songs, we're streaming them, we have videos, and hey, here's a song about street harassment or hey, here's a song about the gender wage gap," said Potter. "Someone commented, literally, 'Why are you talking about this? Why don't you sing about female genital mutilation?' So I took it as a challenge, OK, I will. Are you going to buy the record then?"
Hanna can relate. "I get Twitter [messages] where people say all this f*cked up shit, like you can't do this, you're supposed to be this type of feminist. They don't even know what they're f*cking talking about," she said. "They don't even read the interview that they're supposedly getting mad at me about. I know a lot of it is because I'm a woman and a feminist."
Earlier this year, Hanna was accused of antisemitism on Twitter because she was one of 100 artists who signed a letter of support for Lorde after she cancelled a scheduled performance in Tel Aviv, Israel.
"I got ["YDTMHTL"] for the first time and it was the perfect response song for what these people are saying on Twitter," she said. "The next day it's like, Kathleen Hanna For President."
One surprise for War on Women is the academic community's enthusiasm for the band. After seeing professors tag the band online and talk about how they used War on Women's songs in their classes — especially "Say It" and "Glass City" — Potter decided to include a workbook with Capture The Flag. It will include lyrics, the background or meaning of each track, and links to resources about specific issues mentioned in the song. It's written for universities, but could be used in high schools with the right teacher and the right students, said Potter.
With the national spotlight on high schools and teens leading national calls for gun control, it's not surprising that the second single's release got caught up in the furor. In a bizarre coincidence, "Lone Wolves" was released on March 20, the same day a teenage boy shot two students at Great Mills High School in Maryland. One of the victims, a girl whom the shooter was reportedly in a prior relationship with, later died from her injuries.
The song, which is "about the terrorism of entitled, angry white men that isn't called terrorism," said Potter, was initially written in response to the 2016 Pulse nightclub shooting in Florida. It was also inspired by "so many stories of white men who hate women shooting people," the band said on Twitter. Lyrics from the song — "Then the analysts wonder if he got enough hugs / Another cycle of 'too early to mention guns'" — became real and once again played out across the national news. With the massacre at Marjory Stoneman Douglas High School in Parkland, FL, still fresh in the country's conscience, it's a track with morbidly perfect timing.
"I feel like people are feminists younger and younger these days, there's so much information on the Internet," said Potter. "A 16 year old knows as much as me, if not more, about what's going on. It's fascinating to me how smart these kids are because they finally have access to the information."
"How fu*cking cool would that be if War on Women were in the local community college?"
Capture The Flag will be released on April 13 through Bridge Nine Records.