This "Trump-Scented Candle" Has a Toupee on Top — but That's Not Even the Funniest Part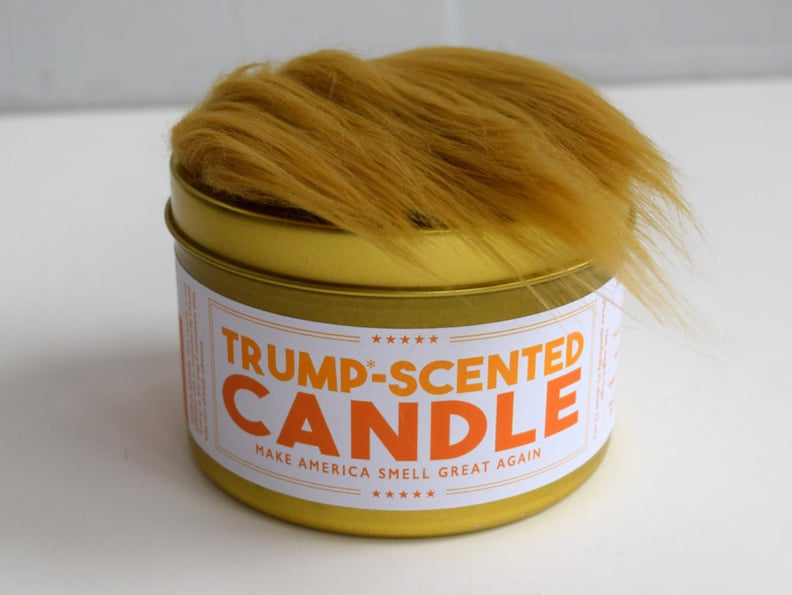 Oh, Etsy, how we love thee. The online retailer is like a freakin' treasure trove of handmade hidden gems, and we just stumbled upon, hands down, the most genius creation on the entire website. Etsy user JDandKateIndustries is currently selling a "Trump-Scented Candle" that's sure to make you double over laughing, regardless of political affiliation. The 12-ounce candle is decorated with a tuft of orange-blond hair that resembles our president's Troll-doll-esque 'do, but that's not even the most hysterical part. The label is decorated with the most LOL-worthy descriptions, including a tongue-in-cheek "warning" and "fire hazard" that poke fun at Trump.
In addition to funny packaging, the Etsy listing's product description is also guaranteed to make you chuckle. "You don't win anymore. You don't win at buying candles, and you don't win at having a nice-smelling home," it reads. "But with a Trump-Scented candle, you will start winning again! (Just at those specific things though.)" It continues by mocking Trump's tendency to repeat words in succession while reading aloud. "The Trump-Scented Candle is a phenomenal deal. Just phenomenal. We've made a great, great candle," it reads.
Whether you're searching for a glorious piece of desk decor for the dedicated liberal in your life or trying to send a strong message to the MAGA-chanting Trump supporter in your family, we'd wager to say this candle would make the perfect gift. For the semiaffordable price of $22, you can make your loved one's home smell like "suntan lotion and steak" — because nice-smelling candles are so overrated, right?
Ahead, catch an up-close glimpse at the hysterical packaging of this Trump-Scented Candle, and then read through a handful of customer reviews to see what people are saying about it. We'll certainly be bookmarking this one for the next holiday season!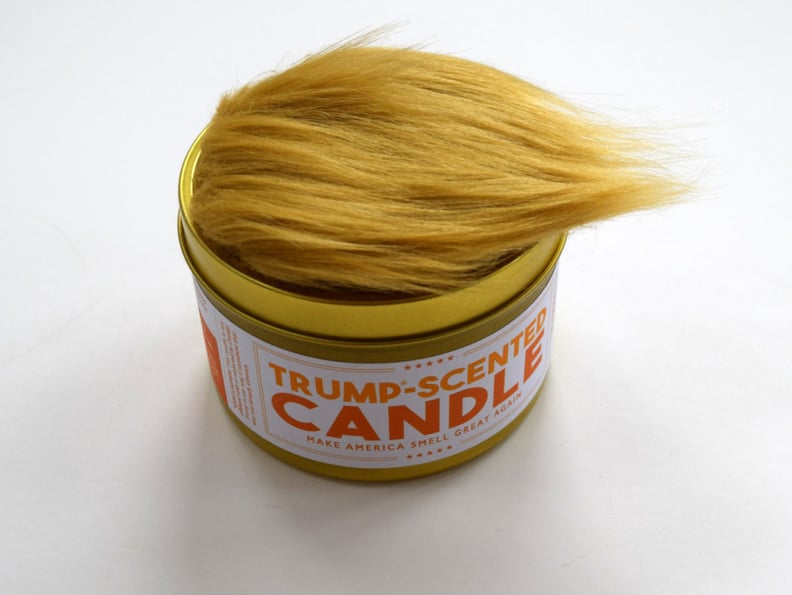 The Candle Features a Cluster of Fake Hair on Top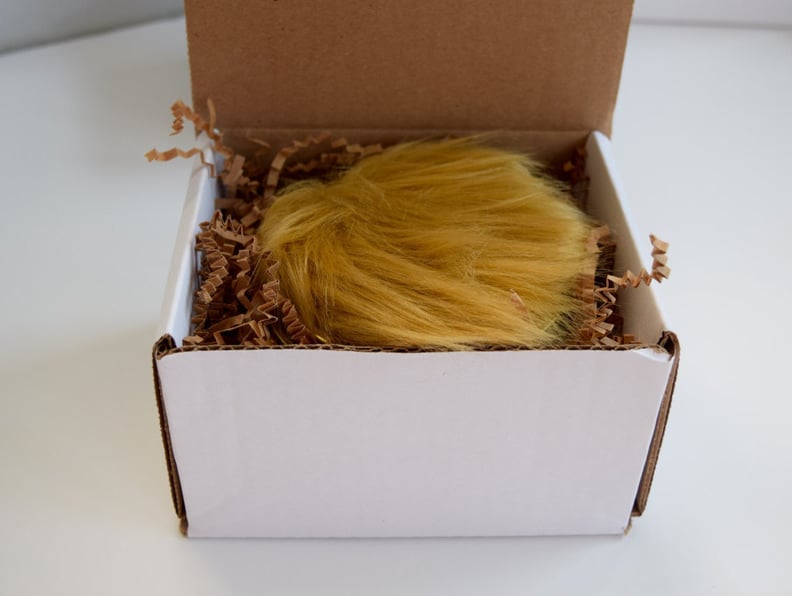 When You Open the Box, It Looks Like It's Just a Wig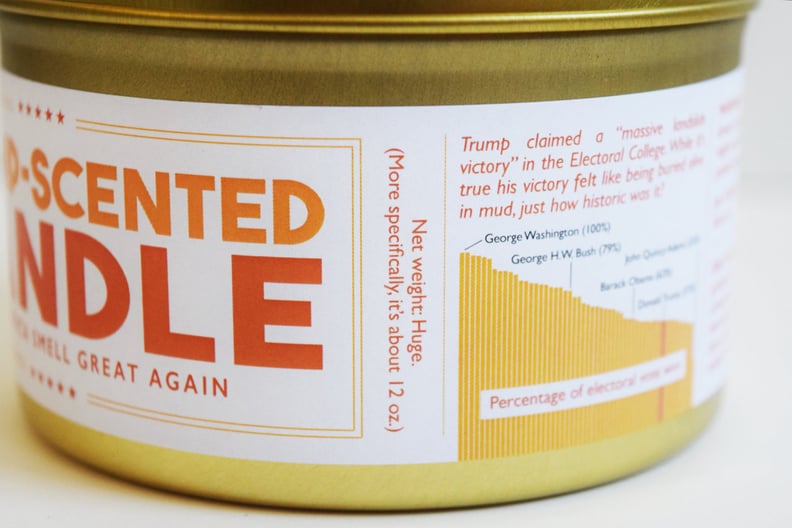 In Case You Were Wondering About the Exact Weight . . .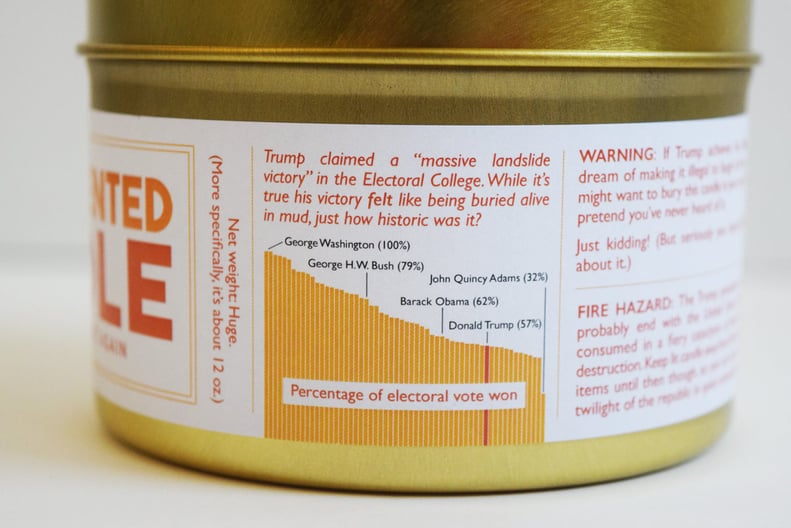 There's This Handy-Dandy Chart on One Side of the Label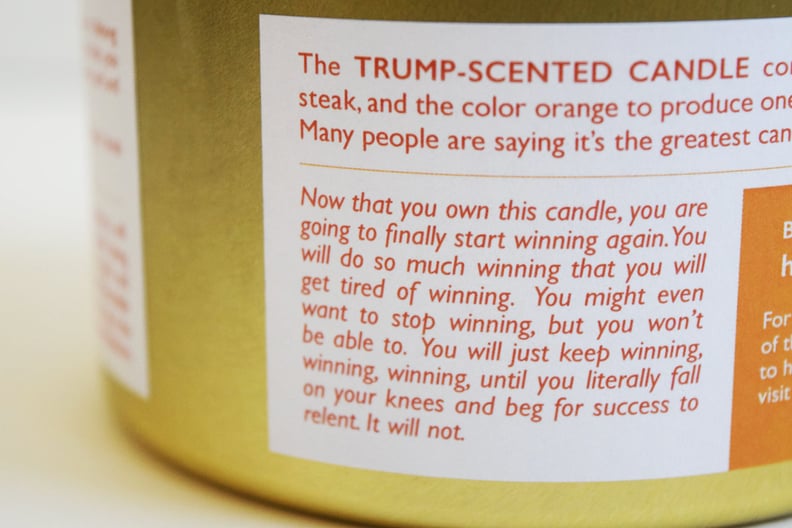 The Candle Comes With a Much-Needed Warning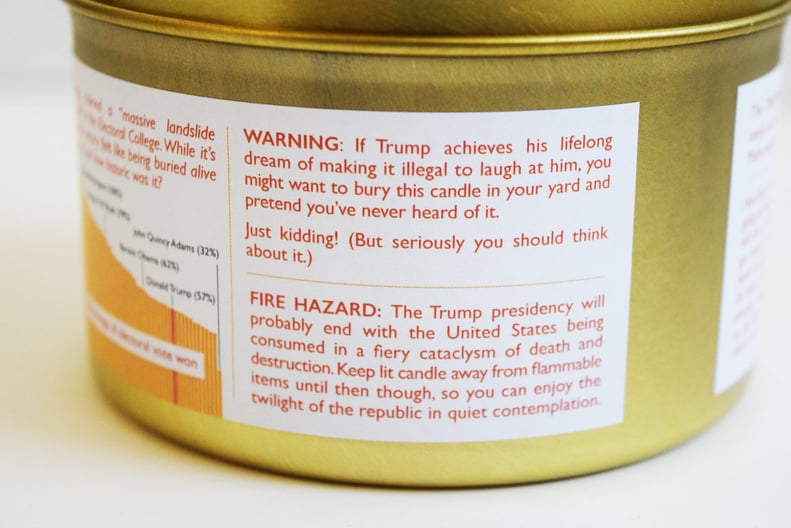 Oh, and More Warnings . . .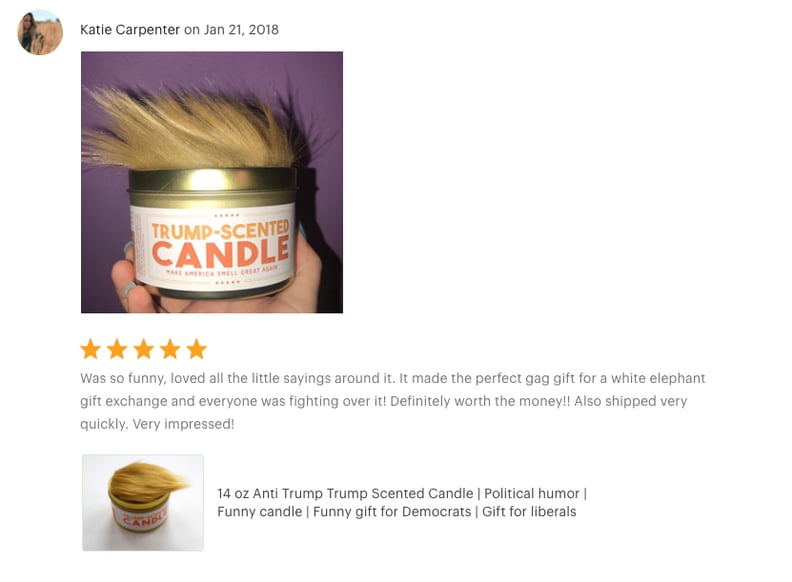 A Majority of Customers Are Giving It 5 Stars

It Makes a Great Gift For Parents!

The Etsy Shop Apparently Has "Great Customer Service," Which Is a Plus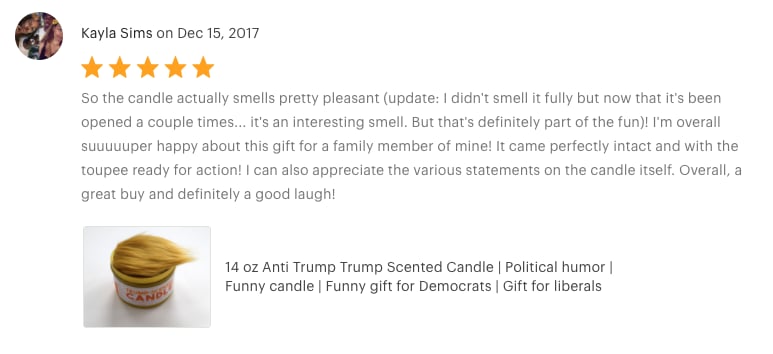 The Scent Certainly Isn't the Biggest Draw to Making the Purchase

The Packaging Deserves an A+

"Bigly Hilarious!"

It's Guaranteed to Steal the Spotlight at Any White Elephant Party

Overall, It Sounds Like a 10/10 Purchase