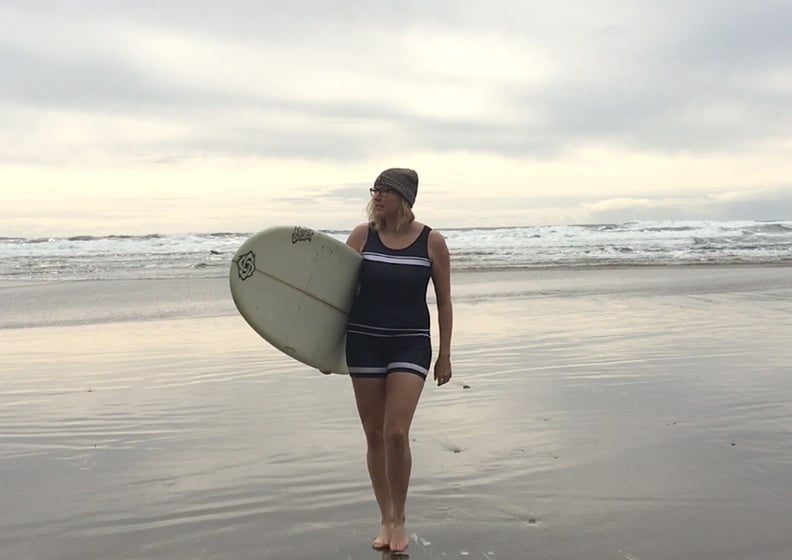 Shopping for swimwear can be a daunting task for people whose bodies aren't what most women's magazines declare to be "Summer ready!" Bathing suits require form-fitting silhouettes and baring areas that are often covered up by clothing. Needless to say, wearing a bathing suit can be stress-inducing for those who aren't willing to or comfortable doing water sports in tiny bits of spandex or nylon.
For others, it's about fashion. Androgynous women or gender-nonconforming folks not only want to be comfortable, but they want to feel good about how they look. That's become easier with the rise of lifestyle clothing brands offering unisex button-ups, denim styles and sneakers, but bathing options have yet to catch up. One-pieces are often too high on the hip, the "butchkini" (a sports bra or bikini top with board shorts) isn't ideal for anyone who wants to cover their midriff, and a rash guard can be a little too much fabric for anyone just wanting to get some sun. These are just a few of the reasons surfer Mel Wells decided to take action and create Beefcake Swimwear.
"It was super challenging, and I spent about two years talking to a bunch of different types of people — different gender expressions, different body types, and listening to what they wanted," Wells said.
Although not a designer (she works for a literary nonprofit in Portland, OR), Wells was inspired by the original genderless bathing "costumes" of the 1920s and is now attempting to re-create the look with new materials. ("Wool is not awesome for swimming in.") Beefcake suits are 79 percent polyester and 21 percent spandex, making them a bit softer, stretchier, and thicker than most swimsuits.
"I originally started this with the idea of making it for my masculine of center queer friends who had been assigned female at birth but didn't necessarily feel comfortable in feminine clothing," Wells said of Beefcake. "But when I asked for fitters on Facebook, a ton of my cis, female, femme friends were like 'Oh my god!'"
"I am an early and earnest supporter of Beefcake," said Caryn Brooks. "I have so wanted a suit like this for so long. I would look at wrestling singlets, but they're not made for boobs. I always feel like such a bro in the whole jam shorts/rash guard combo and I am so not a bro, but it seemed to be my swimming lot in life. I was able to help Mel test out some of her samples and damn, it looked great and felt great."
Beefcake launched a Kickstarter earlier this month and has already surpassed its original goal of raising $10,500 twice over. The demand for a new kind of swimsuit that is not only fashionable but functional — and without a specific gender identity tied to its design — has been overwhelming. So far, Beefcake offers two modern updates based on the original 1920s one-piece suits. These black and white prototypes have an optional shelf bra and liner ("for those who want a little support and coverage," something likened to a built-in bra in a yoga top) and the bottom has "a grippy strip of silicone" to make sure the legs won't ride up higher than mid-thigh. There are very specific sizing details so that customers can find a more "feminine fit (i.e. tighter in the crotch)" if they prefer vs. those who would rather have something less form-fitting and looser but still applicable for swimming, surfing, waterboarding, or other activities that require a suit.
"A decision was made so that people who are either packing or born with outies down there could fit into these, and then people who weren't could just wear smaller sizes," Wells said. "The hardest part was deciding whether or not to include binders, deciding whether or not to include underwire. I haven't figured out how to make it perfect for everybody."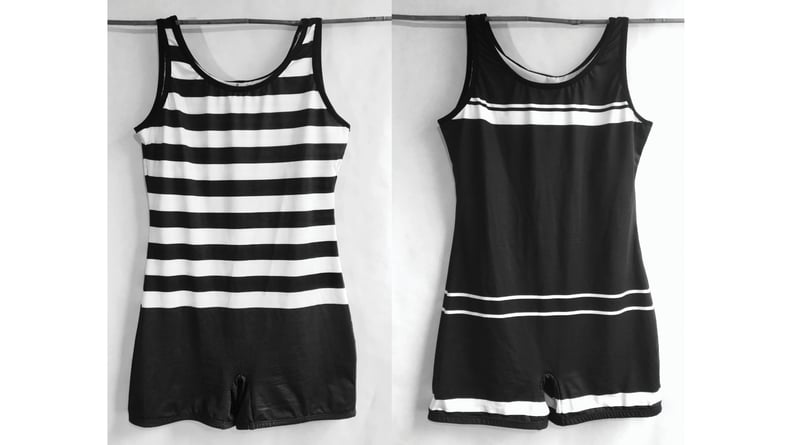 Wells said that the current "shelf bra" is a compromise — that with the wider straps and higher neckline, customers who want to wear binders underneath their suits or insert an underwire can do that comfortably. And while her target audience is people who could never find swimsuits they felt comfortable wearing, she's finding that Beefcake is exciting all different kinds of people looking for swimwear alternatives.
"A lot of feedback I got from people was that there aren't enough sizes in swimwear, so I wanted to meet that need first, because that was something I could do with my time and budget," Wells said. "I had so many people come back and be like, 'Hey, this is great, but I still don't fit into your clothing.' I was like, 'OK, that's something I can do. I can make them bigger.'"
Because of that, Beefcake will offer up to size 5X, something Wells partly credits to Portland's progressive views on fat positivity.
"I moved to Portland and met so many people who were fat positive and who were just very unashamed about having a bigger body, and that was radical to me," Wells said. "It shouldn't be radical — it's idiotic that it's radical."
While there's been a growing trend of gender-bending fashion over the last few years, from the popularity of lifestyle companies like Wildfang tailoring men's clothing for women's bodies and brands like Marc Jacobs readying unisex looks for the runway, Wells said that she's seen how certain brands catering to the same community as Beefcake have a lack of plus-sizing that alienates potential customers.
"As a tall lady who wears a 12-14, I don't identify as chubby — I think I'm pretty normal and I can't fit into their clothing," Wells said. "A lot of my bigger friends hate them."
As for the reason behind the lack of size options, Wells said she has heard the reasonings ("it uses more fabric; it's more cost effective to make small sizes; prototyping is more expensive; it's harder to find models"), but she thinks they're "bullsh*t." In Wells's opinion, brands should simply build in those costs to cater to all customers.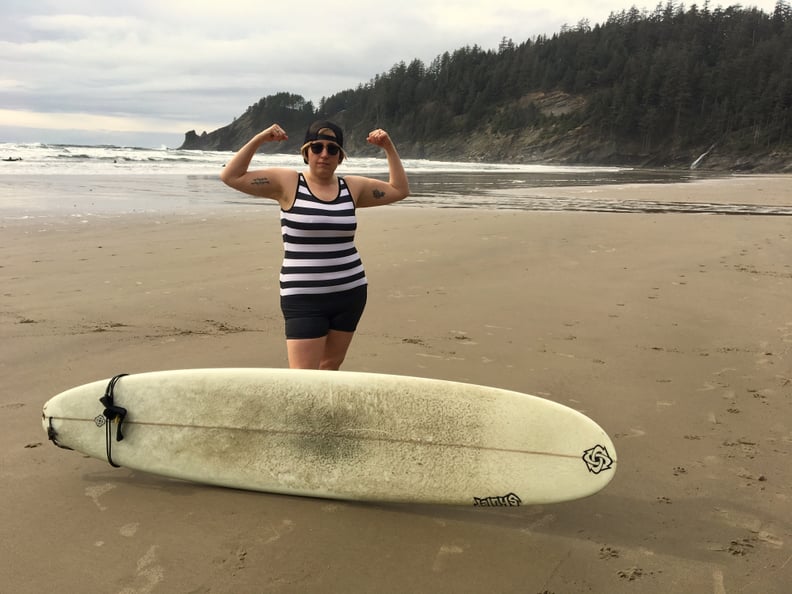 Beefcake (a tongue-in-cheek name, Wells said) has a very specific mission of taking away the shame people associate with swimwear, something she said is "so ingrained."
"If you look at old photos of people on the beach, [body shame] didn't used to be a part of our culture," she said. "The main excitement [I've heard from people is] 'I've been looking for a swimsuit like this for years.' . . . I think a lot of people are looking for swimwear that is more function than fashion, but not ugly. A lot of performance swimwear is not very fashionable — it's all about performance. And I think there's a lot of people who want something kind of in between."
Beefcake is all locally manufactured and will be sold online only, as she wants to keep the price wholesale at $95.
"They're more expensive than I want them to be, to be honest," Wells said. "I'm not doing 2,000 overseas — I'm doing 300 in Portland. Keeping it American-made is really important to me; not selling out is really important to me . . ."
Because she had never worked in fashion, Wells said she had to give herself permission to try and provide her friends and community with the kind of swimwear they'd always wanted.
"I feel women are so socialized to think we need to be 110 percent qualified before we try something, whereas a lot of dudes get socialized to jump in," Wells said. "So I finally just gave myself permission — why not try this?."
As of now, Beefcake will have a wide range of sizes (XS-5X) for its two flattering (and hip!) black and white styles, with hopes of more colors and customizable options in the future.
"The thing I like about [the name] Beefcake is the sense of confidence and action," Wells said. "I hope people wearing Beefcake swimsuits — I mean that's great if they want to just hang out poolside — but I hope they play volleyball or go surfing or swim with total confidence that their butt cracks aren't going to pop out, or their boobs aren't going to fall out."
You can purchase a Beefcake swimsuit (as well as other Beefcake swag) by donating to their Kickstarter campaign. Estimated delivery for the suits is May 2017 after the campaign closes May 5.