Jordana Kier is cofounder of reproductive health brand LOLA and Jennifer Weiss-Wolf is cofounder of Period Equity, the nation's first law and policy organization fighting for menstrual equity.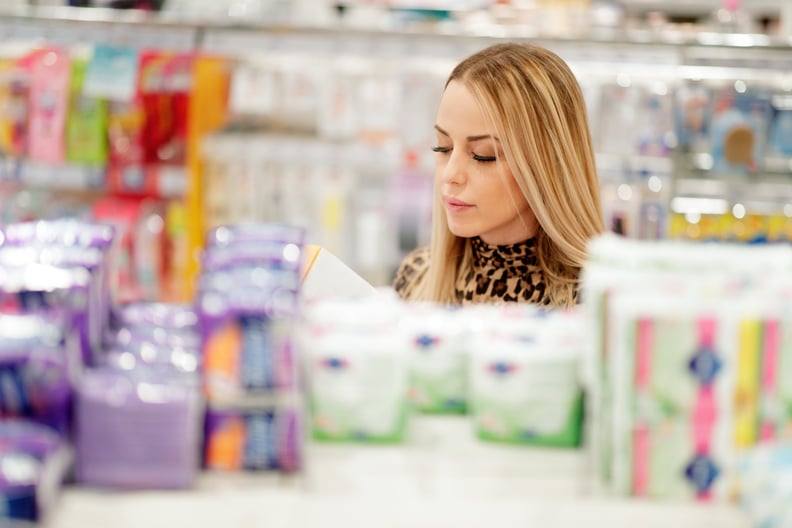 Licorice. Chewing Gum. Chocolate Bars. Amusement park rides. Lip balm. Do you know what these things have in common? In various states across the U.S., these products are exempt from sales tax, while menstrual products are not.
Last week, Period Equity and LOLA launched Tax Free. Period., the first ever national coordinated media, advocacy, and legal campaign to end the sales tax on menstrual products in the U.S. once and for all, because these items are and should be considered basic, biological necessities (for more than half the population.)
As of today, 35 states still tax our tampons.
The "tampon tax" — shorthand for sales tax on menstrual product purchases — is a key issue in the broader fight for menstrual and gender equity. As of today, 35 states still tax our tampons. Of the 15 that do not, five have no sales tax at all (Alaska, Delaware, Montana, New Hampshire, Oregon); five include menstrual products in a broad category of tax-exempt items (Maryland, Massachusetts, Minnesota, New Jersey, Pennsylvania); and five have taken action in response to direct advocacy — by passing laws (New York and Illinois in 2016; Florida in 2017; Connecticut in 2018) or ballot measure (Nevada in 2018). Other U.S. jurisdictions that have taken down the tax include Washington, D.C. and the cities of Chicago and Denver.
But we've yet to see meaningful, widespread action in our country. In 2019 alone, bills to make menstrual products exempt from sales tax were introduced in 22 states – all with overwhelming bipartisan and popular support. And yet not a single one has crossed the finish line.
Consider what happened in Tennessee. After tampon tax legislation failed to pass there earlier this year, a late-breaking budget surplus prompted the state to save its "hunters and shooters $500,000 annually across the state" by eliminating a gun ammunition tax, according to Representative Pat Marsh. Ammo over tampons? Seriously?
As of now, there is one bill that is still live in this legislative session— and that's in Maine.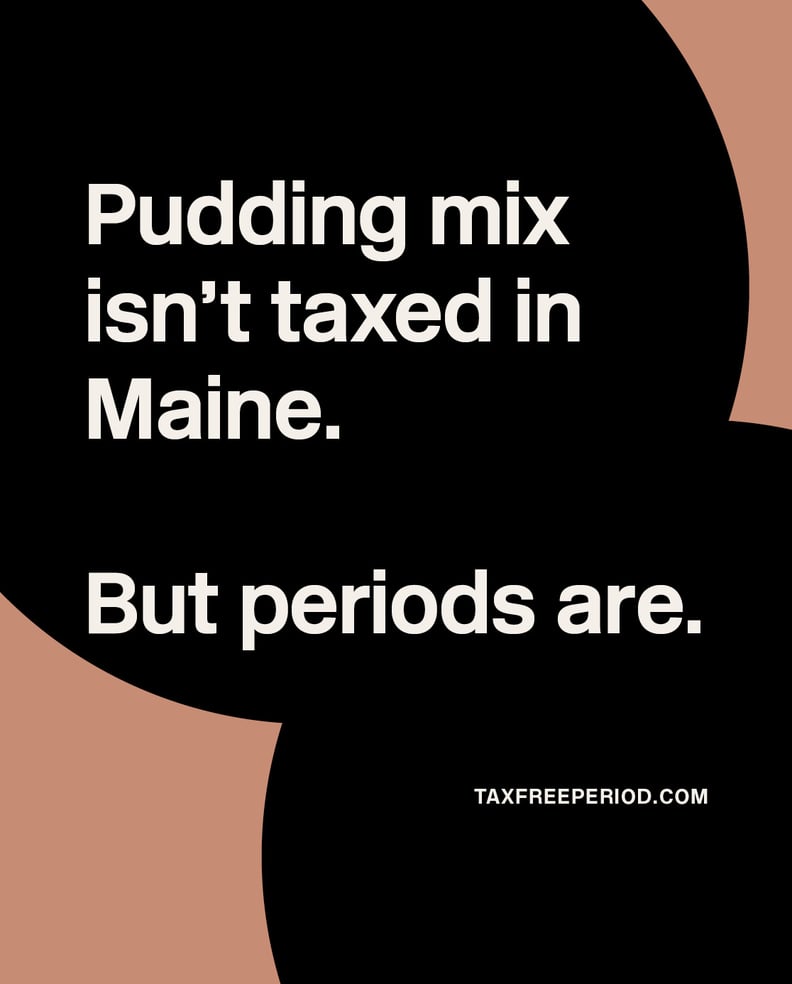 The tampon tax bill is en route to the governor's desk to be signed into law. That's the good news. The bad news is that the legislature passed this bill last year, too, and it was never signed. Why? Because the state believed it would lose too much money — approximately $1 million annually.
It's wrong for states to raise revenue via a tax on periods. Perhaps states could tax BBQ sunflower seeds instead (currently exempt in Indiana.) Or gun club memberships (currently exempt in Wisconsin.) Or erectile dysfunction pills (exempt, well, just about everywhere!)
Maine can and should end the tampon tax — now. And if it doesn't, we'll demand it with the whole nation watching. Tax Free. Period. is calling upon Maine's leadership – Governor Janet Mills and Appropriations Committee chairs, Senator Cathy Breen and Representative Drew Gattine – to seal the deal and end this discriminatory practice. You can help us apply the pressure to Governor Mills (and the 34 other governors currently on notice) by visiting TaxFreePeriod.com and downloading a state-specific social toolkit.
The tampon tax costs people with periods more than $150 million a year in the U.S.
We know that taking on and taking down the tampon tax will do a lot of good. It will lift a small financial burden; the tampon tax costs people with periods more than $150 million a year in the U.S. It challenges systems that are archaic. It helps us inch toward a model of economic and gender equity. And it is a gateway for getting people to talk and think about the wider implications of menstruation — social, health, economic, and otherwise.
But we also believe that the tampon tax amounts to sex-based discrimination, making it more than just unfair or inequitable, but illegal and unconstitutional.
Maine has the opportunity to do the right thing, right now. If this bill becomes law, Maine will become the first of the 35 states we've put on notice to take action.
How we treat menstruation in our laws matters. That's why we are committed to mobilizing national legal action to ensure the discriminatory tampon tax is eliminated nationwide. We hope you'll join us in our fight to make sure that 2020 is the year we see all fifty states become Tax Free. Period.