Where to Donate For Racial Justice
Organizations to Donate to in Support of Racial Justice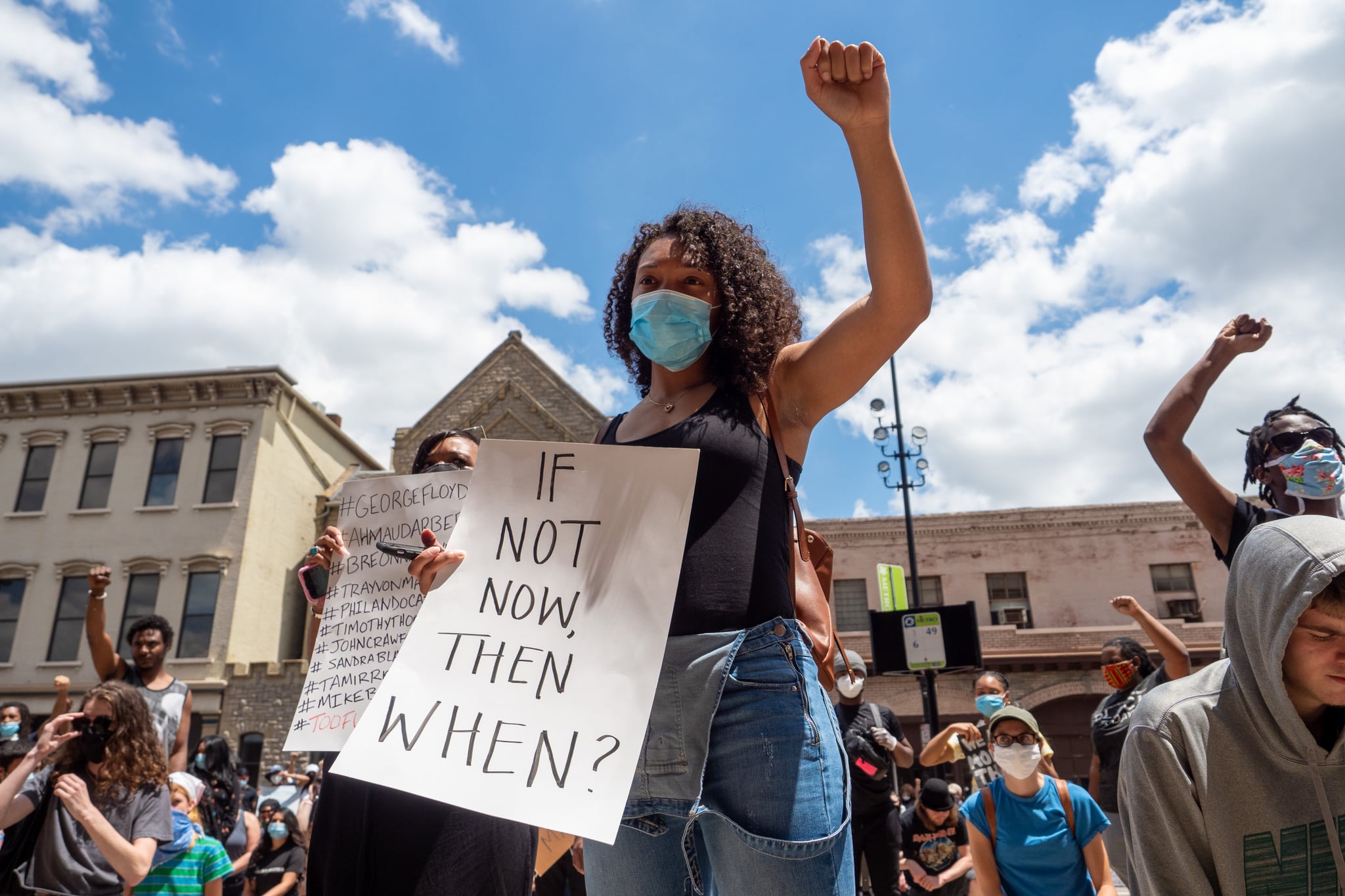 A woman protests during a march to city hall in Cincinnati, Ohio on May 30 to demand justice in the killing of George Floyd
Right now, as many of us look for ways to support racial justice and the Black Lives Matter movement, it can be challenging to decipher which organizations are the most reliable, or where our dollars can make the greatest impact. In the wake of the recent killing of George Floyd, yet another unarmed Black man who died while in police custody, people all over the world are speaking up about racial injustice, stepping out to protest, and seeking to contribute to the cause. There are many nonprofits and organizations that are working nonstop to support Floyd's case and family, as well as those protesting the needless killings of, and social injustices facing, Black people across America. If you're able to donate money to help support these causes, we've put together a noncomprehensive list of a few nationwide and local organizations that can use your help.
Color of Change
Color of Change leads a number of efforts to improve and support Black communities, including ending cash bail and stopping anti-Black violence.
NAACP Legal Defense and Educational Fund
The NAACP Legal Defense and Educational Fund fights racial injustice through legal action, via litigation, education, and working to improve inclusivity in judicial appointments and legislations.
National Lawyers Guild
The National Lawyers Guild is a longstanding progressive association consisting of various legal workers dedicated to protecting human rights. The guild's Mass Defense Program is currently working to provide legal aid to protesters.
Emergency Release Fund
The Emergency Release Fund is a grassroots organization offering aid to LGBTQ+ and medically vulnerable individuals in Rikers Island and ICE detention.
Louisville Community Bail Fund
The Louisville Community Bail Fund is a nonprofit organization that pays bail in the Louisville area for those protesting Breonna Taylor's murder. It also provides postrelease support to get protestors food and safety.
Atlanta Solidarity Fund
The Atlanta Solidarity Fund is an organization supporting protestors in Atlanta by paying bail costs and any other legal fees incurred while protesting.
Liberty Fund
New York City's Liberty Fund is the city's charitable bail fund that supports low-income people charged with misdemeanors, such as those protesting in New York.
Community Justice Exchange
The Community Justice Exchange's National Bail Fund Network will help you find local bail funds in your area to support. Each of these local organizations will help pay bail costs for protestors.
Know Your Rights Camp
Founded by Colin Kaepernick, the Know Your Rights Camp empowers youths through free seminars and educational programs on legal rights, often-overlooked histories, self-confidence, and more.
Bail funds in your own community
Donating to small, grassroots organizations in your own neighborhood and community is an important way to make an impact. Local bail funds, like those included on this list, collect funds to help bail out protesters who have been arrested. (The Minnesota Freedom Fund received such an influx of donations as protests in the city began that they are now redirecting donors to support other organizations.)
Official George Floyd Memorial Fund on GoFundMe
Floyd's brother, Philonise Floyd, started a GoFundMe to raise money for Floyd's funeral expenses, grief counseling, court costs, and education costs for his children. Though the fund far surpassed its $1.5 million goal — exceeding $14 million — it is still accepting donations.
Black Visions Collective
Black Visions Collective is an organization dedicated to Black liberation and collective liberation. It is based in Minnesota and seeks justice for the local Black community. In response to the overwhelming amount of donations it's received in recent weeks, Black Visions Collective is now encouraging donors to refer to its regularly updated list of Minnesota-based organizations in need of donations.
North Star Health Collective
The Minneapolis-based North Star Health Collective is a group of nurses, doctors, and healthcare providers who provide medical assistance for protestors and those at related events. North Star Health Collective is also redirecting support to a range of organizations listed on its website.
Image Source: NuPhoto / Getty