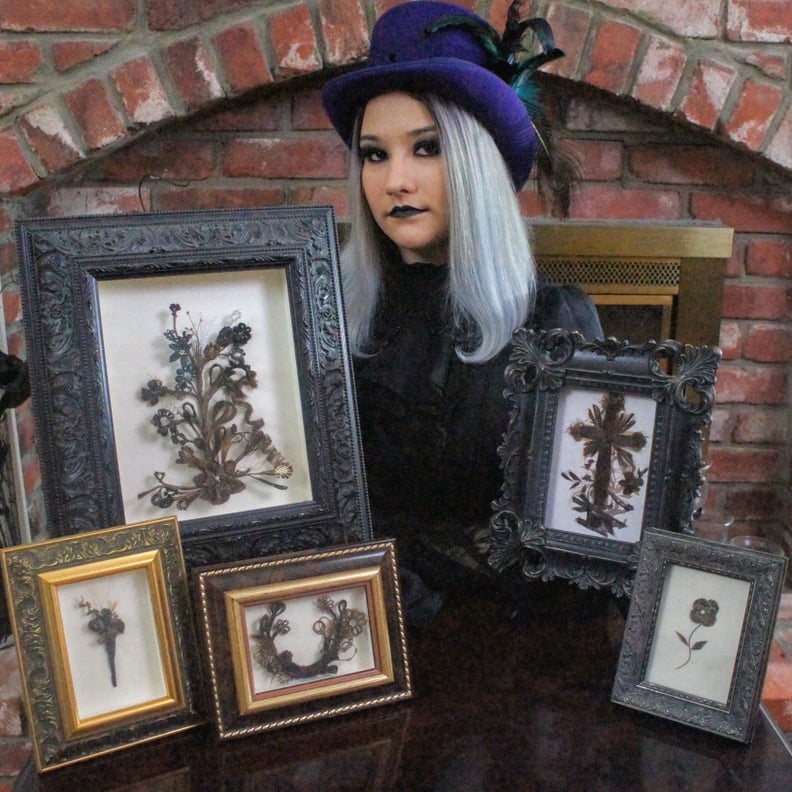 Courtney Lane, who practices the art of Victorian hairwork, with some of her creations. Photo courtesy Courtney Lane.
Sooner or later, the end is coming — for all of us. But women in particular have been at the forefront of the "death positive" movement, which aims to strip away the mystery and fear around the end of life and help us each find our own "good death."
Amber Carvaly is a mortician and service director at Undertaking LA, the funeral home she coruns with Caitlin Doughty. A women's studies major whose life's passion has been to work harder, better, smarter, and kinder as a human being, she soon found herself in the nonprofit industry, preparing meals and holding birthday parties for LA's homeless. When she lost her job after the economy crashed in the late aughts, she made friends with a funeral director. "It seemed like it had similar characteristics to what I was doing at the Downtown Women's Center," Carvaly remembers of their talks about funeral work. She wanted to continue helping people and decided to go back to school, this time to study mortuary science. "I had been emailing Caitlin throughout this," Carvaly says, "although we had never met." Eventually, Doughty asked if Carvaly was interested in helping her start Undertaking LA and the rest, as they say, is death-positive history.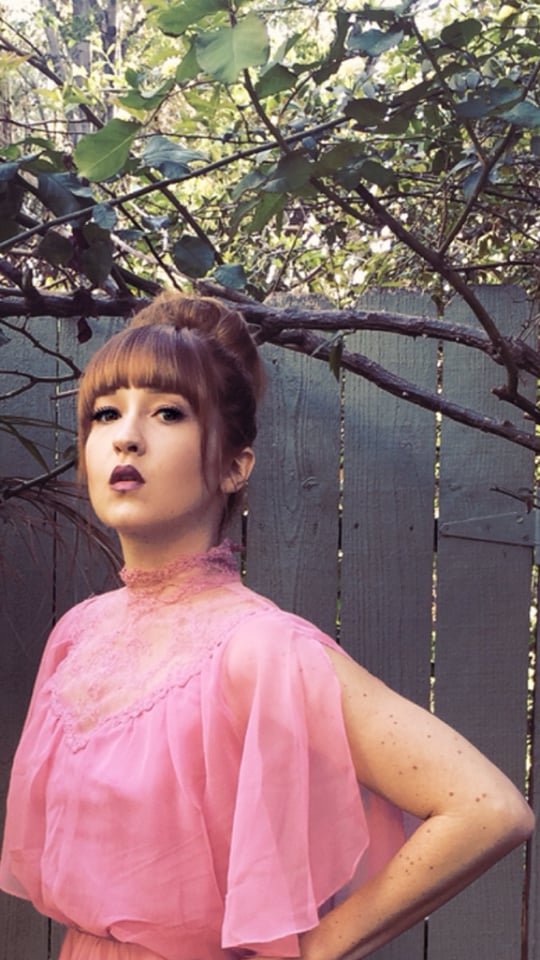 Amber Carvaly of Undertaking LA. Photo courtesy Amber Carvaly.
"It is not death that is important, but how we live our lives as we near it," Carvaly explains. "How we view and treat the dead is a reflection of society and our values. What I want is to change our hearts and souls and the way we literally see and process the world around us. I think our very existence and survival as a species depends on it." Carvaly's next big plan is to offer house death calls, where families are given a person to guide them through washing and dressing the body. "In my experience," Carvaly says, "families have not needed anything spiritual or extravagant. They just want someone to stand with them and help give them the confidence to use the strength they already have within themselves to start."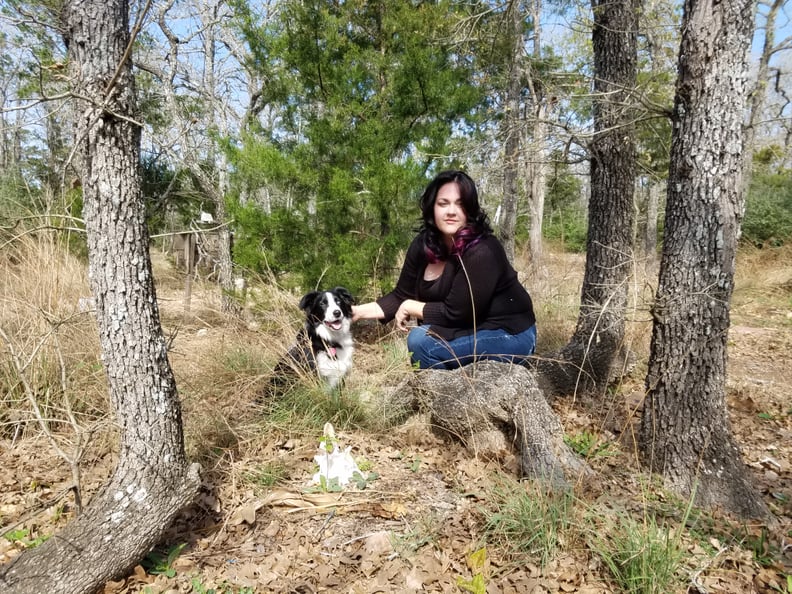 Melissa Unfred with her sidekick, Kermit. Photo courtesy Melissa Unfred.
The Summer before Melissa Unfred's senior year of high school, a local funeral home was featured on the news. They were a family-owned business looking for assistance and, as a joke, her mom turned to her and suggested she get a job. A budding rebel, Unfred did just that. "I was fascinated by the science and art involved in funeral service and embalming," Unfred says. "And led by such a strong woman, no less! Billie White Everett [the home's owner and one of the first female directors in Texas] made a huge impression on me."
These days, Unfred educates people about home funerals and green burial, which focuses on returning the body to the earth in its natural state by foregoing embalming and using biodegradable materials like wooden caskets. She partners with an Austin crematory that shares her core values and is one half of Texas's first certified therapy dog team working in funeral care, along with her furry sidekick, Kermit the dog. Originally adopted to be a pet and emotional support source for Unfred, Kermit's knack for interacting with others, particularly the grieving, quickly became apparent. Now, the two are inseparable during transfers to funeral homes after someone has died, at graveside ceremonies, and everywhere in between. Together, they're on a mission to clear out the smoke and mirrors of the funeral service, helping families understand their options so they can make an informed decision on what they want for themselves and their loved ones.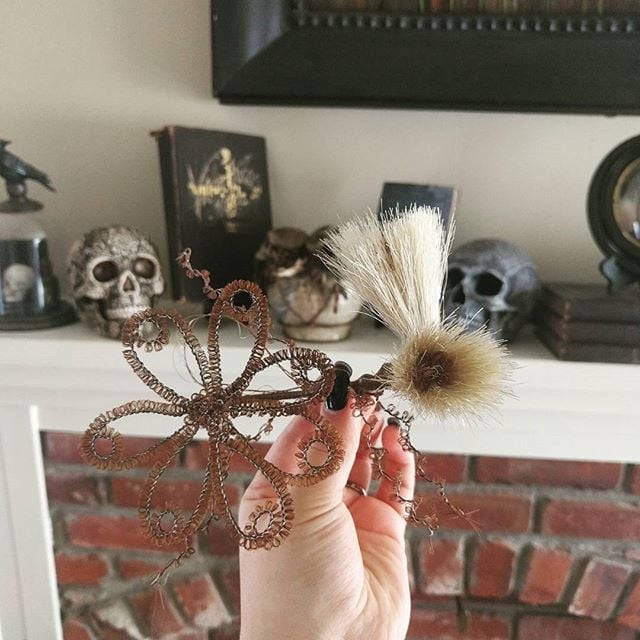 One of Lane's hairwork pieces. Photo courtesy Courtney Lane.
Courtney Lane of Never Forgotten braids hair for a living. She's following a tradition called "hairwork," which was part of the extensive Victorian mourning process. "What really makes hair art and jewelry special is that it can contain the hair of your loved ones," Lane says. Her clients might provide her with their own hair to make into a romantic gift or a snippet from their child's first haircut. Lane also works with cancer patients who lose their hair during treatment. "A cancer survivor once explained to me that this was an artistic statement that helped her feel like she wasn't losing her hair, but transforming it into something new and beautiful," Lane says. Very often, of course, the hair she's working with is that of a deceased family member; because hair doesn't decompose, Lane explains, it's a perfect relic with which to remember our dead.
In addition to custom work for clients, Lane also makes art out of antique Victorian hair and travels to give lectures and workshops on the misunderstood history behind hairwork and its elaborate techniques. The first time she showed her art at a convention, a man walked up to her table and asked, in what she calls a Disney villain voice, if she could make him "something truly evil" if he brought her the hair of his enemies. Since then, she has gotten so many similar requests that she added a section to the FAQ on her website. The answer is no.
The theme of education runs throughout the work of Lane, Carvaly, and Unfred. For while death is ubiquitous, it is also misunderstood and maligned. "I do completely believe that humans should not be afraid of dead bodies," Carvaly says. "By leading by example, I can show others that there is another way to approach our existence and demise. And that if I can do it, so can they."