The midterm elections on Tuesday, Nov. 6, were nothing short of historic. We saw Democrats reclaim control of the House for the first time in eight years, and several candidates across the country delivered historic wins for diverse representation. From the first Native American women — including the first LGBTQ+ Native American woman — elected to the House, to the youngest women ever elected to Congress, to the first openly gay US governor, the midterm elections reflected key progress for inclusivity. For the first time ever, more than 100 women have been elected to Congress, and that number could very well go up; as of the morning of Nov. 7, races are still being decided.
These victories amount to a Congress that looks more like our increasingly diverse nation. When white men comprise just 32 percent of the US population, there's no reason for them to hold 65 percent of all elected offices, and because of last night, we're closer to achieving parity. As a result of the historic victories of women and diverse candidates, powered in no uncertain terms by an influx of female volunteers and grassroots donors, we can be certain to see change.
That's because there are concrete, documented differences between female legislators and their male counterparts, from the issues they're more likely to work on to their levels of productivity. Female legislators on average introduce and pass nearly double the number of bills of male legislators, while primarily focusing on key, too-often-neglected domestic issues like health care, education, and civil rights. Frankly, female legislators' ability as candidates to overcome all the sexist barriers and hurdles that male candidates don't face lead to many female legislators being more skilled and tenacious in general. In a country where white male Republicans have been responsible for an estimated 75 percent of antichoice legislation in state legislatures, the election of more — and Democratic — women could be pivotal to protecting key women's rights, in an era fraught with uncertainty from the Supreme Court composition.
Here are some of the most impactful wins for diversity and American women from the midterm elections.
01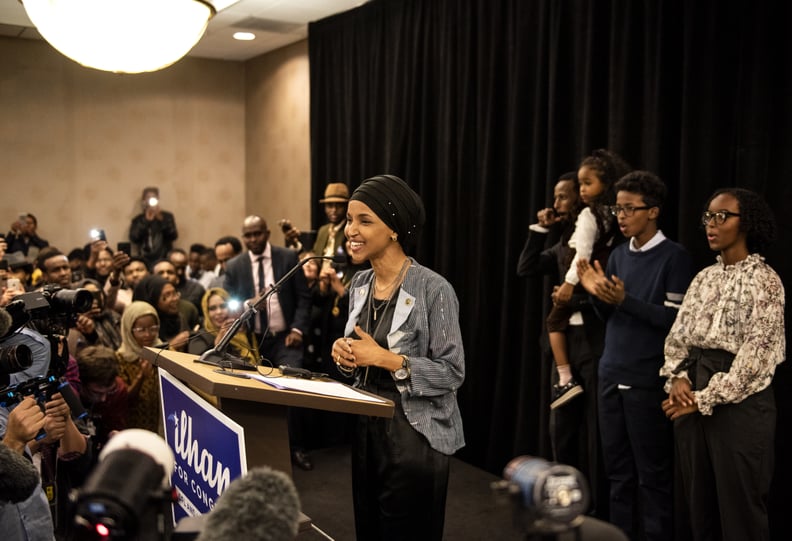 Women of color won key victories.
Congress elected its first two Muslim women in Ilhan Omar (D-MN-5, pictured) and Rashida Tlaib, D-MI-13, as well as its first two Native American women in Deb Haaland (D-NM-1) and Sharice Davids (D-KS-3). Sharice identifies as LGBTQ+, making her victory doubly historic.
02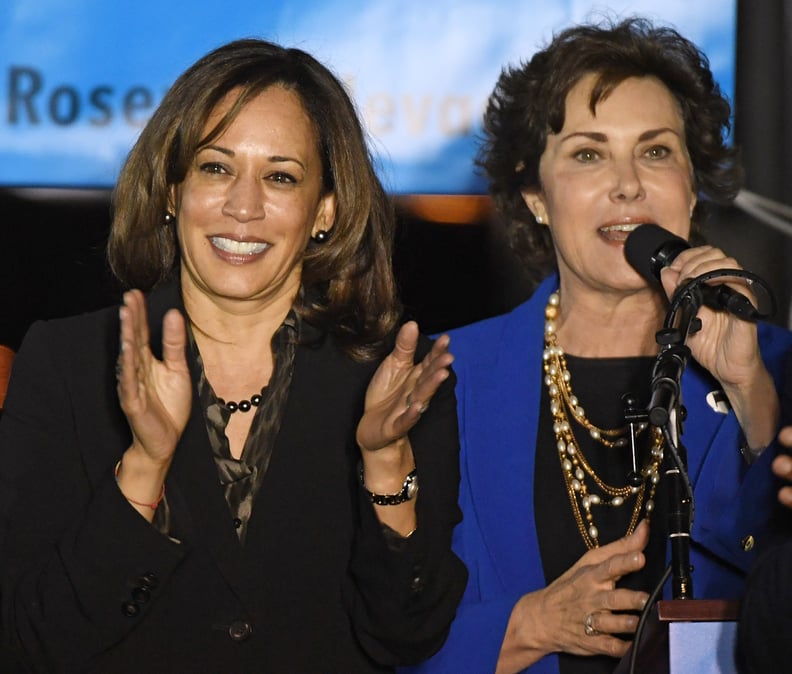 Record-breaking numbers of women have been elected to Congress.
03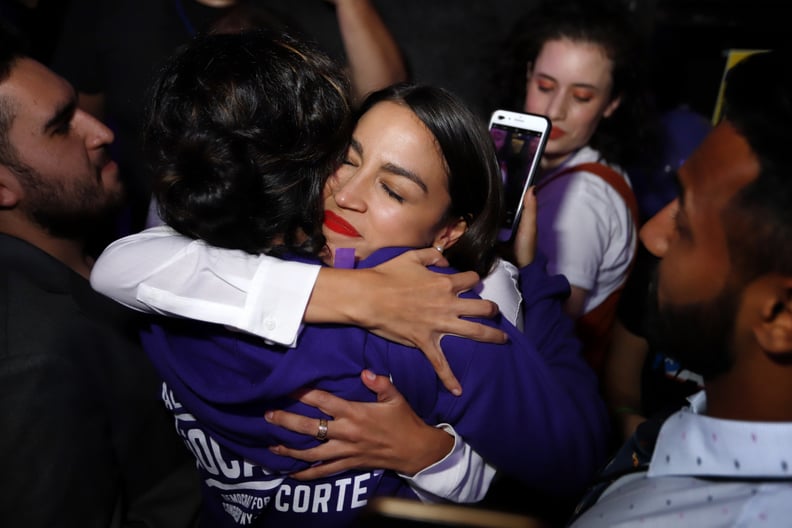 Young women also broke barriers.
Democrats Alexandria Ocasio-Cortez (pictured) of New York's 14th district and Abigail Finkenauer of Iowa's first district became the two youngest women ever elected to Congress at the ages of 29. Ocasio-Cortez won her race in a landslide victory in her predominantly Democratic district, while Finkenauer flipped a historically Republican seat in Iowa and will be the first woman ever to represent her district. Fun fact: in January, Ocasio-Cortez will also become the youngest person sworn into Congress in more than 200 years. (In 1818, 28-year-old John Henry Eaton earned that distinction.)
04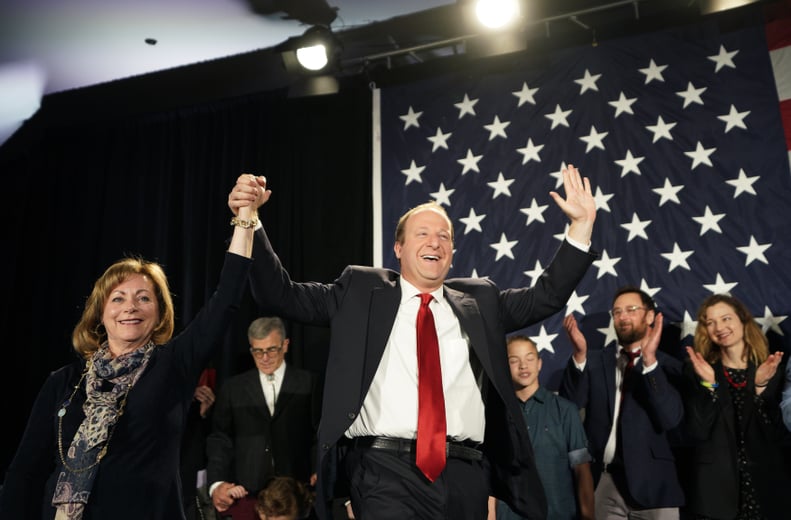 There were huge wins for representation on the state level.
05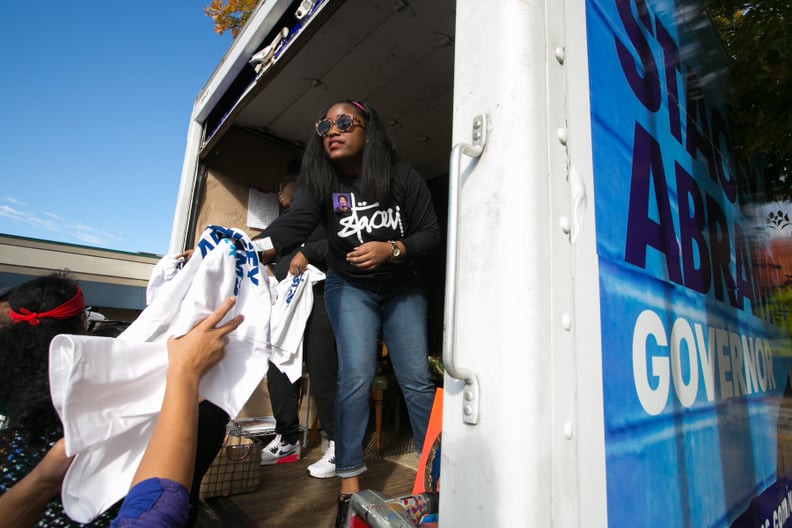 It wasn't just women running who made history.
Female volunteers and donors were key to pushing female candidates over the finish line this election cycle. Just two days before the election, data showed female donors had doubled the amount they gave to Democratic candidates in 2016, $308 million to $141 million. Of the $308 million American women raised for Democratic candidates, $159 million went to Democratic female candidates and $148 million went to men.
We may never know how many women volunteered, knocked on doors, and made calls to help progressive candidates win highly competitive races. But if the numbers of grassroots donations from women this cycle are any indication of levels of participation, it's clear that all women — not just those who ran and won — made history this year.
And yet, despite a number of historic House victories and critically important ballot measures, like one in Maryland that will allow automatic voter registration and one in Florida that will allow ex-convicts who are disproportionately people of color to vote, it was also a night muddled with several disappointing, narrow losses in widely watched races, including the losses of Missouri Sen. Claire McCaskill and Indiana Sen. Joe Donnelly, which could mean relatively unchallenged success for President Donald Trump's future judicial nominees.
In this sense, Tuesday night was emblematic of the Trump era in which we're living, as we attempt to balance celebrating meaningful victories with acknowledging and recovering from tough losses. The 2016 election saw the election of numerous historic female candidates, including the election of Democratic star Sen. Kamala Harris, just as it saw the election of Trump himself. The past two years have seen devastating policies from this administration and Republican Congress but have also seen powerful and deeply inspiring acts of resistance.
The truth is there will always be work to do. Had Beto O'Rourke, Florida gubernatorial candidate Andrew Gillum, and Georgia gubernatorial candidate Stacey Abrams all won their respective races, and had progressive Senate candidates and Democratic incumbents won their races, there would still be work to do. Many fundamental human rights in this country remain one conservative-majority Supreme Court decision, or one Trump executive order, away from being utterly slashed. In precarious times like this, there is always work to be done — and we sustain ourselves and move forward by celebrating the victories that we do take.