You've Never Heard of These 2 Women Before, but They Just Won a Major Award For Their Incredible Courage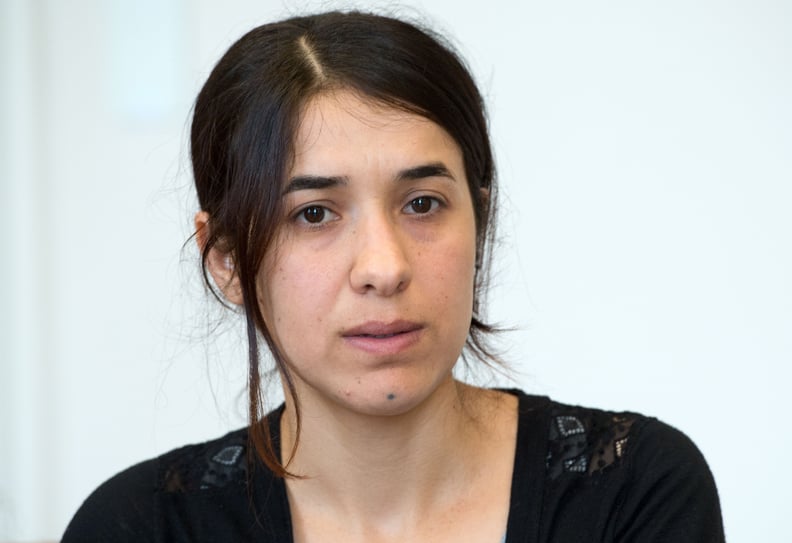 Nadia Murad during an interview in southern Germany, where she lives as a refugee.
Nadia Murad during an interview in southern Germany, where she lives as a refugee.
Thousands of Yazidi women are being held captive as sex slaves by ISIS in Iraq. Some women have courageously escaped their captors, risking their lives to do so. Nadia Murad and Lamiya Aji Bashar are two of those women, and they just won the Sakharov Prize, the European Union's most prestigious human rights award, for their bravery.
Murad, now age 23, and Bashar, a teenager, were captured by ISIS in 2014 when the militant group invaded their village near the northern Iraqi town of Sinjar. Yazidis are an ethnic minority found mostly in Iraq — their religion blends ancient faiths with Christianity and Islam, making them heathens in the eyes of ISIS. Since the Islamic State has spread over swaths of Iraq, they have made an effort to "exterminate" the Yazidis, killing thousands of men and taking the women as spoils of war.
Murad lost her six brothers and mother when they were killed by ISIS and was successfully smuggled out of the city with the help of a Muslim family. Since her liberation, Murad has advocated for the thousands of Yazidi women held by ISIS by creating a worldwide campaign to draw attention to them and serving as a UN good-will ambassador for victims of human trafficking.
Bashar also tried to flee several times before her family paid smugglers to rescue her in April. Her brother and father were killed by ISIS and while she was fleeing, a landmine exploded, leaving her blind and killing two other women who were also trying to escape. She too has become an advocate for the Yazidi community.
Both women now live in Germany and were nominated for the award by a liberal group in the European parliament called ALDE. In a statement announcing their nomination, an ALDE leader described them as "inspirational women who have shown incredible bravery and humanity in the face of despicable brutality."
The Sakharov award has been around since 1988 and is given to those who fight for human rights around the globe in memory of a Russian dissident and human rights activist named Andrei D. Sakharov; notable figures like Nelson Mandela and Malala Yousafzai have previously been awarded the prize. Recognizing Murad and Bashar is significant because it brings awareness to the Yazidi's plight, but also as Europe's refugee crisis continues to be unresolved.