Churro Lava Cakes
From Cafe Delites [1]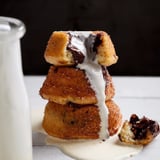 Ingredients
For the ganache:
4 ounces (110 grams) block chocolate of your choice (I used dark/semisweet)
1/4 cup canned lite coconut milk (or thickened/heavy cream)
1 teaspoon pure vanilla extract
For the churro cakes:
1 cup plain (or all-purpose) flour
1 tablespoon sugar of choice (white sugar, granulated sweetener, or coconut sugar can be used)
1/4 teaspoon salt
1/2 teaspoon baking powder
4 tablespoons light butter/spread of choice, melted (or canola oil/melted coconut oil)
1 large egg
2 teaspoons vanilla extract
1/2 cup low-fat milk (or almond milk)
For the coating:
1 tablespoon light butter/spread of choice, melted
1/4 cup sugar of choice
1 teaspoon ground cinnamon
Directions
First make the ganache. Break up the chocolate block and combine the chocolate and coconut milk (or heavy cream) together in a microwave-safe bowl. Microwave on high for 30 seconds. Stir and heat again for another 20-30 seconds until cream is hot. Stir again, mixing well to melt the chocolate through the cream. Once ganache is glossy and creamy, stir in the vanilla extract. Cover and place in the refrigerator until set (about an hour).
Once the ganache has set, preheat oven to 176ºC/350ºF. Lightly grease 8 small ramekins (to fit 1/4 cup of batter) or a 12-count muffin tray; wipe over excess with paper towel and set aside.
Churro cakes: In a large bowl, whisk all of the dry ingredients together. Make a well in the center and add the oil, egg, vanilla, and milk. Whisk the batter until smooth and lump free.
Remove ganache from the fridge; spoon 1 tablespoon of ganache into the center of each ramekin (or muffin hole); pour 3-4 tablespoons of batter over the ganache to cover.
Bake for 20 minutes, or until they are golden in color and a toothpick inserted into the sides of a cake comes out clean.
Allow them to cool for 5 minutes; loosen the edges of the cakes with a butter knife and transfer them onto a baking tray. Brush each cake over with a light coating of melted butter; combine the sugar and cinnamon together in a shallow bowl; gently roll each cake into the cinnamon sugar mix until evenly coated. (Be very gentle, they are very soft when first taken out of the oven).
Optional: Warm remaining ganache in the microwave (or over stovetop) until warm (or to make it liquid in consistency again) or mix in a tablespoon or two of extra milk or cream. Cut a small indent into the top of each cake, and fill with the ganache.
Information
Category

Desserts

Cuisine

South American

Yield

8 servings
Nutrition
Calories per serving

211