Savory Pizza Waffle
From Nicole Iizuka, POPSUGAR Food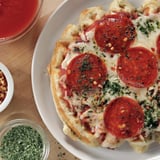 Ingredients
2 cups all-purpose flour
2 teaspoons baking powder
1 teaspoon black pepper
2 teaspoons salt
2 teaspoons Italian seasoning
2 large eggs
2 cups whole milk
1/2 cup butter, melted and cooled slightly
3/4 cup parmesan cheese, grated
3/4 cup gruyére cheese, grated
Nonstick cooking spray
1 1/2 cups pizza sauce
1 1/2 cups mozzarella cheese, grated
30-35 pepperoni
Dried basil, to garnish
Red chili flakes, to garnish
Special equipment:
Waffle iron
Directions
In a bowl, mix together flour, baking powder, pepper, salt, and Italian seasoning. Set aside.
In a second bowl, whisk together eggs, milk, and butter until combined. Slowly whisk in the dry ingredients until incorporated. Fold in the cheese to the batter.
Heat up the waffle iron and coat with nonstick cooking spray. Then spoon 1/4 cup of batter into the center of the iron. Cook according to directions on the waffle iron. When done open the top, spread sauce on top of the waffle, sprinkle cheese, and place a few pepperoni. Then hold the lid and close the waffle iron 3/4 of the way to melt the cheese. Rotate the waffle 180º and repeat on the other side. Serve warm with dried basil and red chili flakes. Repeat with remaining batter and ingredients until 4 waffle pizzas are made.
Information
Category

Appetizers, Finger Foods

Cuisine

Italian

Yield

Serving Size: 4

Total Time

19 minutes, 59 seconds