Old-Fashioned Chicken and Biscuits
From Slow Cooker Family Favorites [1] by Maggie Shi
Notes
Chicken and biscuits is one of my all-time favorite meals. There's something I find incredibly comforting about the combination of chicken, tender veggies, creamy broth, and buttery biscuit; it's like a chicken pot pie, but even better. These "biscuits" are more of a cross between something you'd bake in the oven and a lighter dumpling that steams on top of a chicken stew. Making this meal in a slow cooker is especially fun because the biscuits cook right on top of the chicken and broth.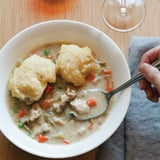 Ingredients
For the stew:
4 carrots, peeled and diced
3 stalks celery, diced
1 yellow onion, diced
1/4 cup all-purpose flour
1 1/2 pounds boneless, skinless chicken thighs, cut into bite-size pieces
1 tablespoon poultry seasoning
1 teaspoon salt
1 1/2 cups chicken broth
1 cup frozen peas
1/2 cup heavy cream
For the biscuits:
1 cup all-purpose flour
1/2 teaspoon salt
1 1/2 teaspoons baking powder
2 tablespoons unsalted butter, melted
1/2 cup whole milk
Directions
To make the stew: In a slow cooker, toss the carrots, celery, and onion with the flour. Place the chicken on top of the vegetables and sprinkle with the poultry seasoning and salt. Pour the chicken broth over the chicken and vegetables.
Cover and cook on low for 5 to 6 hours, or until the chicken and vegetables are tender.
Make the biscuits shortly before the stew is done: In a large bowl, whisk together the flour, salt, and baking powder. Whisk in the butter, then the milk. Set aside.
After 5 to 6 hours of stew-cooking time, stir the frozen peas and heavy cream into the chicken stew. Drop heaping tablespoons of the biscuit batter on top of the chicken mixture, spacing them evenly. Cover and cook on high for 1 hour, or until the biscuits have puffed up and are cooked through.
Serve the chicken stew in bowls topped with the biscuits.
Information
Category

Main Dishes

Cuisine

North American

Yield

Serves 6