Easy Lunch Noodle Bowl
From Sarah Lipoff, POPSUGAR Food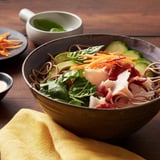 Ingredients
Noodle bowl:
2 cups chicken stock
1 bundle (2 ounces) buckwheat noodles
1 strip HORMEL® NATURAL CHOICE® Original Uncured Bacon [1], crumbled
1/4 avocado, sliced
1/2 cup spinach, roughly chopped
2 slices HORMEL® NATURAL CHOICE® Oven Roasted Deli Turkey [2], shredded
1/4 cup shredded carrot
1/4 cup thinly sliced cucumber
Basil sprig
Lime wedge
Sauce:
1 tablespoon light mayo
1 teaspoon rice wine vinegar
1/4 teaspoon sriracha
Salt and pepper to taste
Directions
Preheat your oven to 450˚F.
Pour the chicken stock into a medium saucepan and bring to a simmer. Add the buckwheat noodles and stir. Cover and let simmer for 5 minutes.
While the noodles are cooking, line a sheet tray with foil and bake the strip of bacon at 450˚F until bubbling and brown. Remove and drain on a folded paper towel.
While the noodles are cooking, prep the rest of the ingredients for topping the noodles. If you're bringing to work, assemble the spinach, turkey, shredded carrots, sliced cucumber, and avocado in one container and the bacon in a separate small container so it stays crisp.
Mix together the ingredients for the sauce and set aside. If bringing to work, pour into another small container.
Once the noodles are cooked through, pour into a bowl along with the remaining broth. Start layering on the ingredients having fun with the arrangement. Position the turkey to one side, surround shredded carrots, thinly sliced cucumber, and avocado. Then sprinkle with bits of bacon and drizzle the sauce on top. Finish with fresh basil and a big squeeze of lime.
Information
Category

Salads, Main Dishes

Cuisine

North American

Yield

1 serving

Total Time

9 minutes, 59 seconds