Lavender Honey Lemonade
From Kale & Caramel [1] by Lily Diamond
Notes
When I was young, my mother doused us both liberally with lavender, when I was sick, when we traveled, when I had bad dreams: It's the singular scent that most invokes the memory of motherly caretaking in my mind. But as much as lavender helped me heal numerous ailments, its mellow waft made me overwhelmingly melancholy after my mother died. I turned to other scents and memories, waiting for the moment when lavender's aroma would not sting my heart.
My return to lavender has been gradual, a subtle reckoning with memory and a reclaiming of a remedy as my own. In the alchemy of time, scents and flavors recovered their initial meaning, unwinding the trauma they took on in loss and grief. Lavender, eventually, became a tonic for ease once again. Tasting it, smelling it, drinking it, I was stronger knowing it held the specific healing powers my mother once taught me.
Now, lavender is a reminder of sweet grace on street corners, of the beauty that can thrive in the heat of an urban Summer, of transformation through scent and memory. So, while lavender is elegant in taste and potent in herbal qualities, it is for me an avenue of individuation — a route to becoming the healer that once healed me. In liquid form, it's the perfect refresher on a hot Summer day or a mellow Spring morning. Drink and feel vitality, possibility, ease.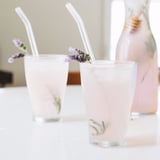 Ingredients
2 teaspoons dried edible lavender buds
4 cups water
2 large lemons, juiced (about 1⁄4 cup plus 2 tablespoons juice)
5 to 6 tablespoons honey or sweetener of choice, or to taste
Ice cubes, for serving
Directions
Place the lavender buds in a reusable or disposable tea bag or cheesecloth pouch and seal. Bring the water to a boil. Add the sealed bag of lavender. Steep for 10 to 15 minutes, then remove the sachet. Cool completely.
Combine the lemon juice, chilled lavender water, and honey. The steeped lavender water will turn an extraordinary shade of pink! Stir or shake to combine, and serve over ice.
Make it a cocktail: Vodka, St. Germain, gin.
Information
Category

Drinks, Summertime

Cuisine

North American

Yield

Serves 2 to 4