Toffee Crunch, Waffle, and Caramel
From Fridge Cakes: Over 30 No-Bake Desserts [1] by Jean-Luc Sady
Notes
For this recipe, you have to cover the cake with cream once it has been removed from the mold because you can't pour the hot ganache over the whipped cream in the mold.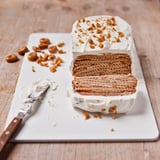 Ingredients
Cake:
10 1/2 ounces (300 grams) superfine sugar
1 teaspoon lemon juice
10 fluid ounces (300 milliliters) whipping cream
3 ounces (90 grams) butter, diced
10 1/2 ounces (300 grams) thin waffle biscuits [2]
Topping:
9 fluid ounces (250 milliliters) whipping cream
1 1/2 ounces (40 grams) hard toffees, crushed into pieces
Directions
Pour the cream for the topping into a large bowl and place in the freezer for 25 minutes.
To make the cake: First heat the sugar with 4 tablespoons of water and the lemon juice in a heavy-bottomed saucepan over a high heat, until caramelized. Deglaze with the cream and continue to cook for a further 1 minute. Remove the pan from the heat, add the butter and stir to melt. Leave to cool for a few minutes until the caramel thickens.
Line the mold with cling film (plastic wrap). Put a layer of waffle biscuits in the bottom, filling all the spaces. Pour over the semi-liquid caramel. Repeat these layers five times. Finish with a layer of waffle biscuits. Refrigerate for at least 3 hours.
For the topping: Whip the chilled cream using an electric whisk or a food processor until thick. Turn the cake out onto a plate. Using a spatula, cover with the cream, then scatter over the broken toffees.
Recipe excerpted with permission from Fridge Cakes by Jean-Luc Sady, published by Hardie Grant Books, RRP $12 hardcover.
Information
Category

Desserts, Frozen

Cuisine

North American

Yield

9 servings